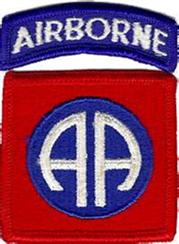 Staff Sergeant Spencer Free Wurst was born in Erie, Pennsylvania on December 19, 1924.

He left school at age 15 and joined the National Guard in Erie on April 19,1940. Spencer trained with the 112th Infantry Regiment, 28th Infantry Division, before transferring to the newly-formed parachute infantry. In 1941, he was on a truck with other soldiers returning from maneuvers to Indiantown Gap Military Reservation when the attack on Pearl Harbor was announced.

After training in the newly-formed Parachute School at Fort Benning, Georgia, at age 17, he was proudly wearing his wings as a newly-qualified paratrooper with the 82nd Airborne Division. As he once put it, "The United States had no doctrine about airborne warfare, and the Army had never written anything about parachute operations. We wrote the book as we went along, and we added, changed, and deleted as we matured."

Spencer served in the European Theater of Operations from North Africa in 1943 through Germany in 1945. For most of this time, he was a squad leader or platoon leader in Company F, 505th Parachute Infantry Regiment, the famous unit that liberated the first town in Normandy, France, Ste.-Mère-Eglise (portrayed in the classic film The Longest Day). Spencer made three of the four combat jumps with the 505th PIR, earning two Purple Hearts in Normandy, the first one on D-Day in the perimeter defense of Sainte Mère Eglise.

In Holland, he was awarded the Silver Star medal for his role in the battle for Hunner Park, where 500 Panzer Grenadiers under the command of Captain Karl Euling, were defending the highway bridge over the Waal river in Nijmegen. Spencer is featured in Cornelius Ryan's famous account of the Holland Campaign, A Bridge Too Far.
During the Ardennes Campaign, his company, along with E company, participated in some of the fiercest fighting on the northern shoulder of the Bulge. Known as the Battle for Trois Ponts, F and E companies with an anti-tank gun and crew from the 80thAA Battalion, prevented remnants of the 1st SS Panzer Division and the 6th Panzer Army from crossing the Salm River to the east side where the village of Trois Ponts was located.
Near the end of the war, Spencer attended Officer's Candidate Training School in Fontainebleau, France, and graduated first in his class. After V-E Day, he elected not to remain with the Division for occupation duty in Berlin, and was flown home on the "Green Project," as one of the highest of the "high point" men in the 82nd Airborne.

Back in his native Erie, Spencer was eager to settle down and raise a family. "First I wanted to find a wife," he stated. "Next, I would take off my chutes." In 1946, he married 20-year-old Mildred Shugart, of Erie, whom he described as "the most devoted, kind, and gentle wife a man could ever ask for." In 1974, Spencer and Millie moved to Clymer, N.Y., after raising their family in Harborcreek (1946-1974). Spencer retired from General Electric in 1982 after 35 years as a metallurgic technician.

Spencer rejoined the 112th Infantry, 28th Division, where he had a successful career in the Pennsylvania Army National Guard as a platoon leader, company commander, regimental S-3 and finally, commander of the 112th Infantry Regiment, the unit he first joined as a 15-year-old boy. His service included two years active duty as a tank company commander in one of the first four American divisions of NATO. He ended his military career in 1975 as Assistant Chief of Staff, G-3, and retired with the rank of Colonel after 35 years of service.

In 1990, Spencer F. Wurst was named a "distinguished member of the 505 Parachute Infantry Regiment" by the Secretary of the Army, in recognition of his "special place in regimental continuity, tradition, and esprit de corps." He was inducted into the OCS Hall of Fame at Fort Benning in 2000.

In 2004, he served as President of the 112th Infantry Regiment Association. For the 60th anniversary of the Holland Campaign, World War II magazine published his account of the ferocious fighting in Nijmegen, "Against All Possible Fire" (September 2004). His memoir of his war experiences, Descending from the Clouds, published by Casemate Publishers in 2004. The book was a main selection of the Military Book Club and a History Book Club selection. The Library Journal stated that Spencer's book "ranks as one of the best war memoirs written by a World War II veteran."

Colonel Wurst's combat decorations and awards include: Silver Star Medal; Bronze Star Medal; Purple Heart medal with one Oak Leaf Cluster; Europe-Africa-Middle East Medal with an Invasion Spearhead, one Silver Campaign Star (5 campaigns), and one Bronze Campaign Star for a total of Six Campaigns; Combat Infantry Badge; Parachute Wings with Three Combat Jump Stars; and Presidential Unit Citation with Cluster (two awards). He also received the following Foreign Combat unit Awards: French Fourragères (three awards); Dutch Orange Lanyards (two awards); Belgian Fourragères.

In 2008, Spencer was admitted into the French National Order of the Legion of Honor and received the Croix de Guerre, France's highest military decoration. During his years of service from 1940 to 1975, he received 12 Non-combat Army Service Awards and numerous Pennsylvania Army National Guard Awards. Spencer passed on March 16,2015, he was interred at Arlington National Cemetery.