Paratroopers of the 505th Parachute Infantry Regiment
This page is dedicated to Robert Johnstone Young

Private First Class Robert Johnstone Young was born February 6th 1917 in Wishaw, Scotland. Known as Bert to his family, he was the fifteenth of sixteen children born to Daniel and Margaret Young. His mother passed away in 1920 when Bert was three years old, he was raised by his older brothers and sisters. He immigrated to the United States with his family in 1926. They settled in the Flatbush area of Brooklyn New York. He attended and graduated from Erasmus High School. After high school he was employed as a pipe fitters helper at Todd Shipyard in Brooklyn. Bert initially received a draft notice in August 1941 but failed his physical exam which took place at Fort Jay on Governors Island. Determined to serve his country, he went to Camp Upton in Yaphank, Long Island to enlist. This time he passed his physical and entered the Army on October 15th 1941. After basic training, his first duty assignment was with the quartermaster attachment at Columbus Air Base in Columbus, Mississippi. He volunteered for airborne duty at least in part because the jump pay would help support his family. His four week jump school training was with the 1st Parachute Training Regiment, company E, at Fort Benning in July 1942. On August 7th made his fifth "leap" and the next day he proudly received his silver parachute wings. "Scotty" as he was now called by his fellow paratroopers, was assigned to Company C, First Battalion of the 505th Parachute Infantry Regiment. In 1943, his letters give an indication he was moved to G Company.
After his 17th leap he wrote in his jump log "Received very sad news. If I continue jumping the doc told me in four years I shall be cripple for life. Disease of the knee, due to shock hitting the ground. But I still think I'll make fifty before that occurs." According to his jump log he made a total of 18 jumps, or "leaps" as he called them. The last was the night of July 9-10, 1943, my 18th leap. In his jump log he wrote "A Combat Jump on Sicily. Something I looked forward to since starting my training at Fort Benning, Georgia." A Scottish newspaper, The Wishaw Press and Advertiser reported, "Bert was a paratrooper and had served through most of the fighting in Sicily and Italy with the American Army. Finally, however, he contracted an illness through which he lost the power of both arms and he was in a hospital for five months. It was then decided to repatriate him to America…" On March 7, 1944, Bert arrived at Stark General Hospital Charleston, South Carolina from overseas. On March 8, 1944, Scotty died of Toxic Encephalomyelitis and Bronco Pneumonia. He was interred beside his father in Cypress Hills Cemetery in Brooklyn, N.Y. His last entry in his jump log was the following "Here I go again, I hear those trumpets blow again."
http://www.wwiimemorial.com/Registry/plaque_wardept.aspx?honoreeID=1313522 
We would like to thank Bob VanderSpek, Berts' nephew, for his biography and photograph.
Robert "Scotty" Young after he received his wings.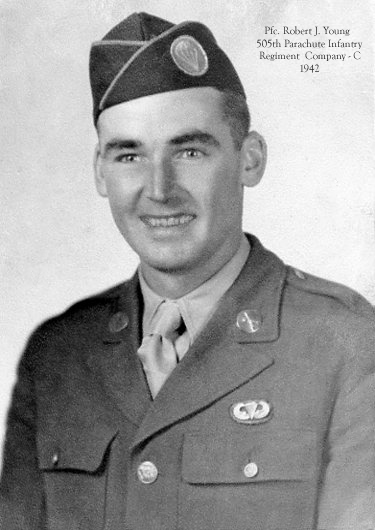 | | | |
Copyright © 2012 505rct.org, All rights reserved.
Webmaster