Ronald H. Wynn enlisted into the Army on January 6th 1941 from Jacksonville, Florida. He was originally with the National Guard serving in a Coastal Artillery unit. Ron went on to serve with the 505 Parachute Infantry Regiment in company F. He received his combat infantryman's badge in Sicily.
Staff Sergeant Ronald Wynn of F company in Sicily 1943.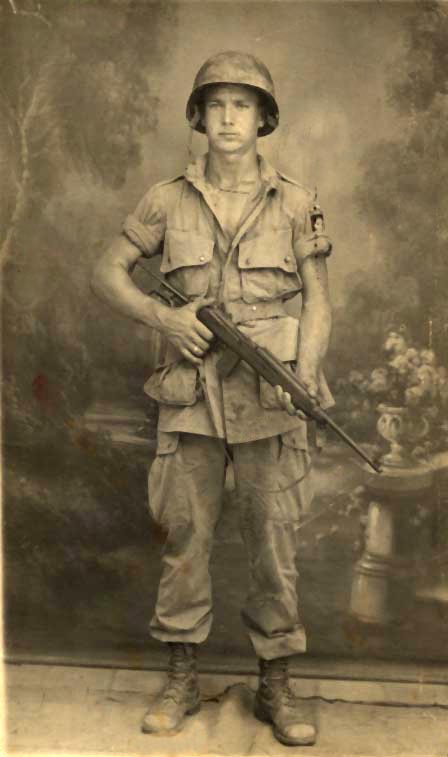 Private Ronald Wynn receives his jump wings.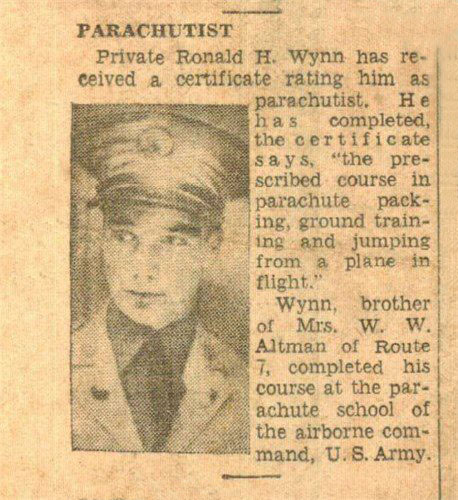 The trooper on the left is unknown, Ronald Wynn
is on the right.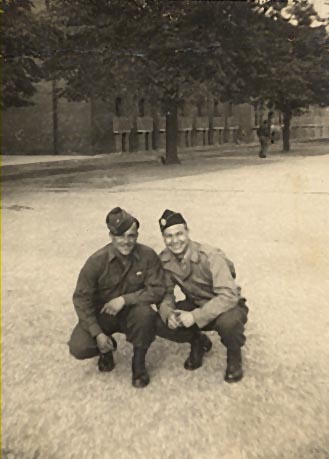 Mrs. Wynn's four sons are seving in the armed forces.

(Caption below for the news article above)
Shown here are the four sons of Mrs. O.W. Wynn, Route 7, Box 339.
All four are now serving in the armed forces, and one of them has seen
plenty of active service, while two more have just finished training for
the big scrap.
John B. Wynn, is an old timer in the Navy. He was stationed on the air-
craft carrier Lexington for six years, and took part in the battles of Midway
and the Coral Sea. More recently he has been with the U.S. forces in
Africa. He is a chief machinists mate.
Ron H. Wynn, youngest of the quartette, recently finished training with
the parachute infantry at Fort Benning, Ga.
Jess Willard Wynn is a member of the Army Air Corp., he finished training
this week at Keesler Field, Miss. Lynn Wynn is a private in the regular
Army. He volunteered for service in September, and is now stationed at
Fort McClellan, Ala.
Photo and newspaper clippings are courtesy of Ronald's son Ryan.