The following is from an email sent by Trooper Solari's daughter, Janie Solari Thompson.
My father, Lawrence R. Solari died on November 23, 1950 as a result of shrapnel injuries he incurred on June 24, 1944 in Normandy. I was told he dove head first into a foxhole and his leg was nearly blasted away. He was in military hospitals for 1 & 1/2 years straight. It was at Hammond Hospital in Modesto, California where he met my mom.
He was a pathfinder, 82nd Airborne, 505, Co.F. He was in stick #10 on H-Minus hour. I didn't know about his military career until historian, Dave Berry, responded to my internet inquiry a couple years ago. Dave Berry and I identified my father in stick #10 from photos I have of my father during that time period. He is in the middle of the photo (which appears in "All American All the Way") with blackened face and Julius Eisner's hand is resting on his shoulder.
I was only 10 months old when my father died. He would have been 33 years old when he died and was an "older" veteran in Normandy at 27 years of age. My early childhood memories include my Mother taking me to see "The Longest Day" and her telling me my father's company went into that burning town of Ste.-Mere-Eglise, and that John Wayne portrayed somebody that would have commanded my father's troup. John Wayne portrayed Lt.Co. Vandervoort in the movie.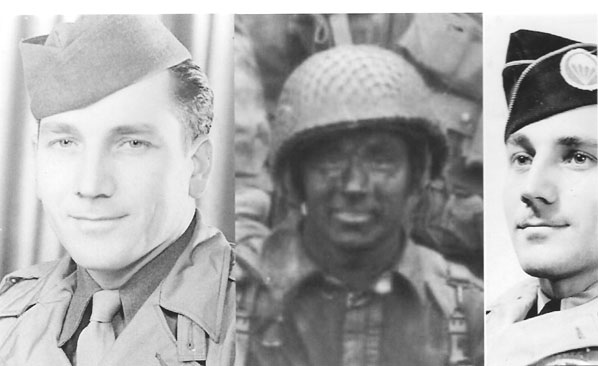 Below is the 2nd Battalion Pathfinder team before jumping into Normandy ahead of the D-Day landing. Lawrence Solari is number 17.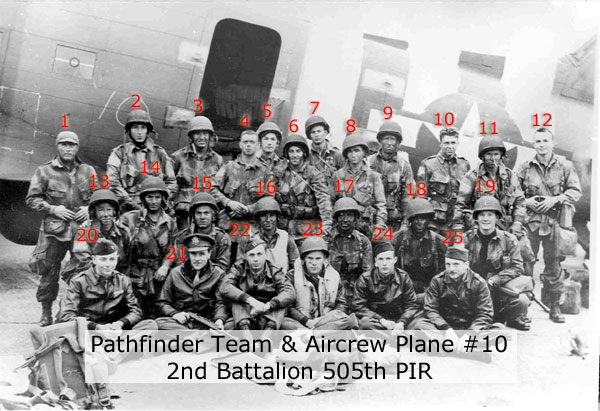 This is the same picture without the numbers.