George Stewart Sipple of Larksville, Pennsylvania, known as "Stewart" to family and friends, enlisted into the Army on July 25th 1940 from Philadelphia. He was a member of C Battery of the Sixth Field Artillery Battalion at Fort Bragg, NC where soldiers were trained on every type of artillery and cared for the horses and mules that transported the weapons.
Early in 1942 George volunteered for the parachute troops, his incentive was the extra $50/monthly for hazardous duty pay, a premium parachutists earned allowing him to send more money home to his family. The volunteers trained for four weeks, George was one of 112 that made the fifth qualifying jump from a C-47, earning their wings from Fort Benning's Infantry School on April 17th 1942.
The War Department authorized the creation of a Test Battery in February of 1942 to develop a system whereby artillery is dropped in pieces into combat zones along with field artillery parachutists. Upon landing, the parachutists quickly locate and assemble their weapons, enabling them to provide timely support to parachute infantry units. George was one of 199 enlisted soldiers from Fort Bragg that volunteered for this new type of unit. All participants were required to have earned their jump wings previously.
September 24th 1942, the 456th Parachute Field Artillery Battalion, the first unit of its kind in the history of the U.S. military, was activated at Fort Bragg, North Carolina. Many members of the original Test Battery became cadre for the 456th, George served in A Battery of same. In October, the Battalion was permanently attached to the 82nd Airborne Division.
George, now a Staff Sergeant, boarded the S.S. Monterey, a converted cruise ship, on April 29th 1943 and sailed with the Division in a convoy to North Africa. They arrived in Casablanca on May 10th then travelled by boxcar to French Morocco where training continued for five weeks in the dessert. June 16th the Division was again on the move, traveling 1000 miles for two weeks to an airfield in Tunisia, the starting point for the Invasion of Sicily, codename Operation Husky.
On the night of July 9th/10th 1943, George made the combat jump into Sicily, participating in the first ever nighttime combat drop by the U.S. military. On July 12th, he was severely wounded by machine gun fire while running to a foxhole. The gunner continued firing as George lay flat on the ground but due to the hilly terrain the gunman could not lower the sights enough to hit him again. George sustained a compound fracture of the left femur.
He was taken to a Sicilian farmhouse until transportation to a Field Hospital became feasible. While at the farmhouse George avoided being shot a second time when he rolled off and under a bunk to escape enemy fire coming through a window.
George was treated at the 11th Field Hospital in Sicily, then transported to the 26th General Hospital in Algeria where he was admitted on July 20th 1943. During the next eight days, he was placed in traction, underwent three surgeries and fitted with a body cast. A medical review board convened on August 11th to assess his condition and concluded he was unfit for military duty and recommended he be returned to the States for further treatment.
George remained hospitalized overseas until September 6th 1943 when he sailed for the United States arriving September 22nd. He was admitted to the Thomas England General Hospital, Atlantic City, New Jersey. A news article in the Atlantic City Press December 12th 1943 (see clip below) features him and two other bedridden soldiers listening to radio broadcasts via the recently installed central radio system. George, like so many other soldiers, was confined to a hospital bed for several months and radio was a welcome source of entertainment.
George was reassigned as a Sergeant in Headquarters & Service Company, 2nd Parachute Training Regiment, Fort Benning, Georgia.
He was in poor physical condition and considered 30% disabled when discharged from the medical care detachment at Fort Benning on November 25th 1944.
George was awarded the Purple Heart and Good Conduct Medals.
Bio courtesy of George's daughter Carol..

Private First Class George Sipple 1942.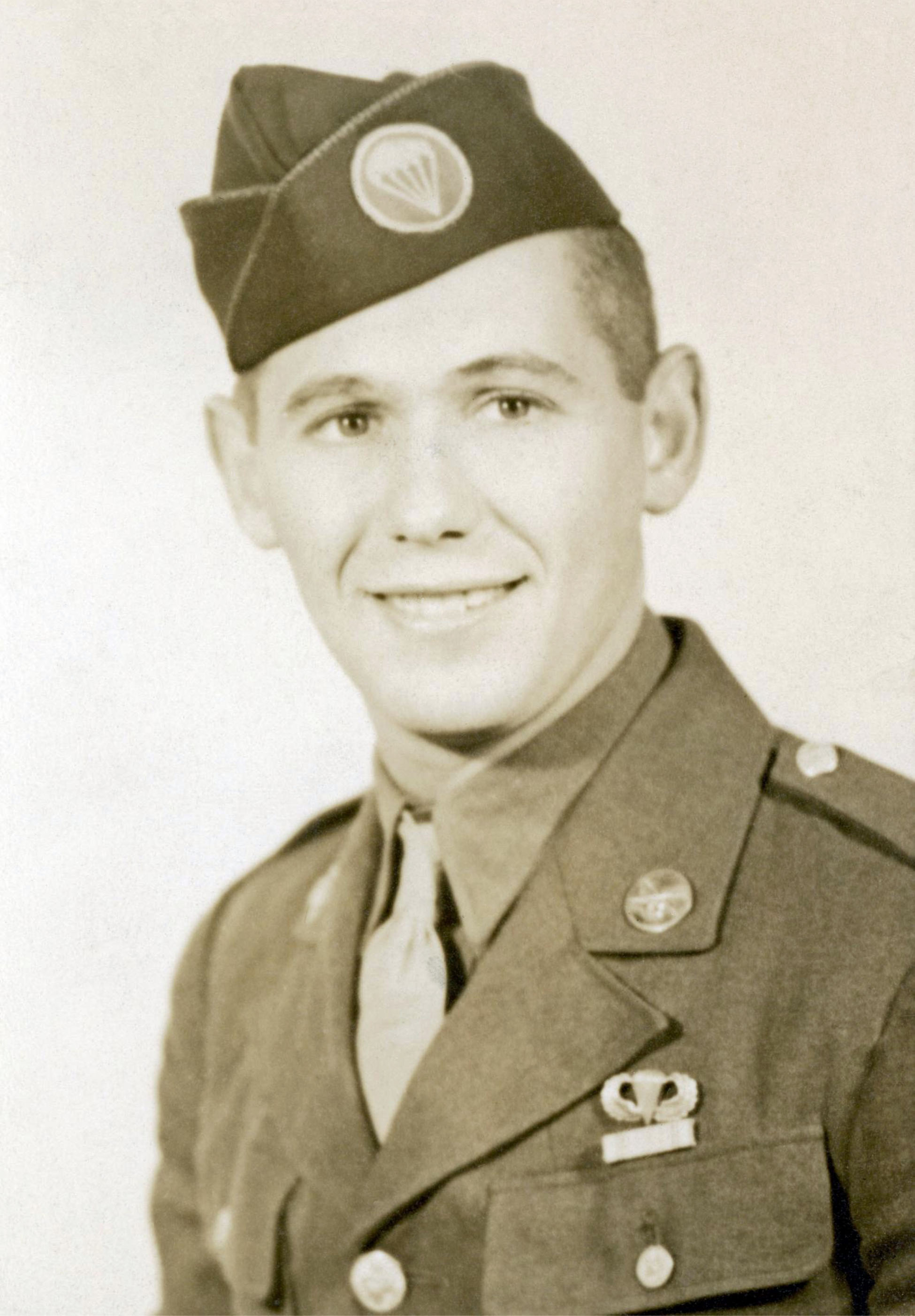 Private George Sipple 1940.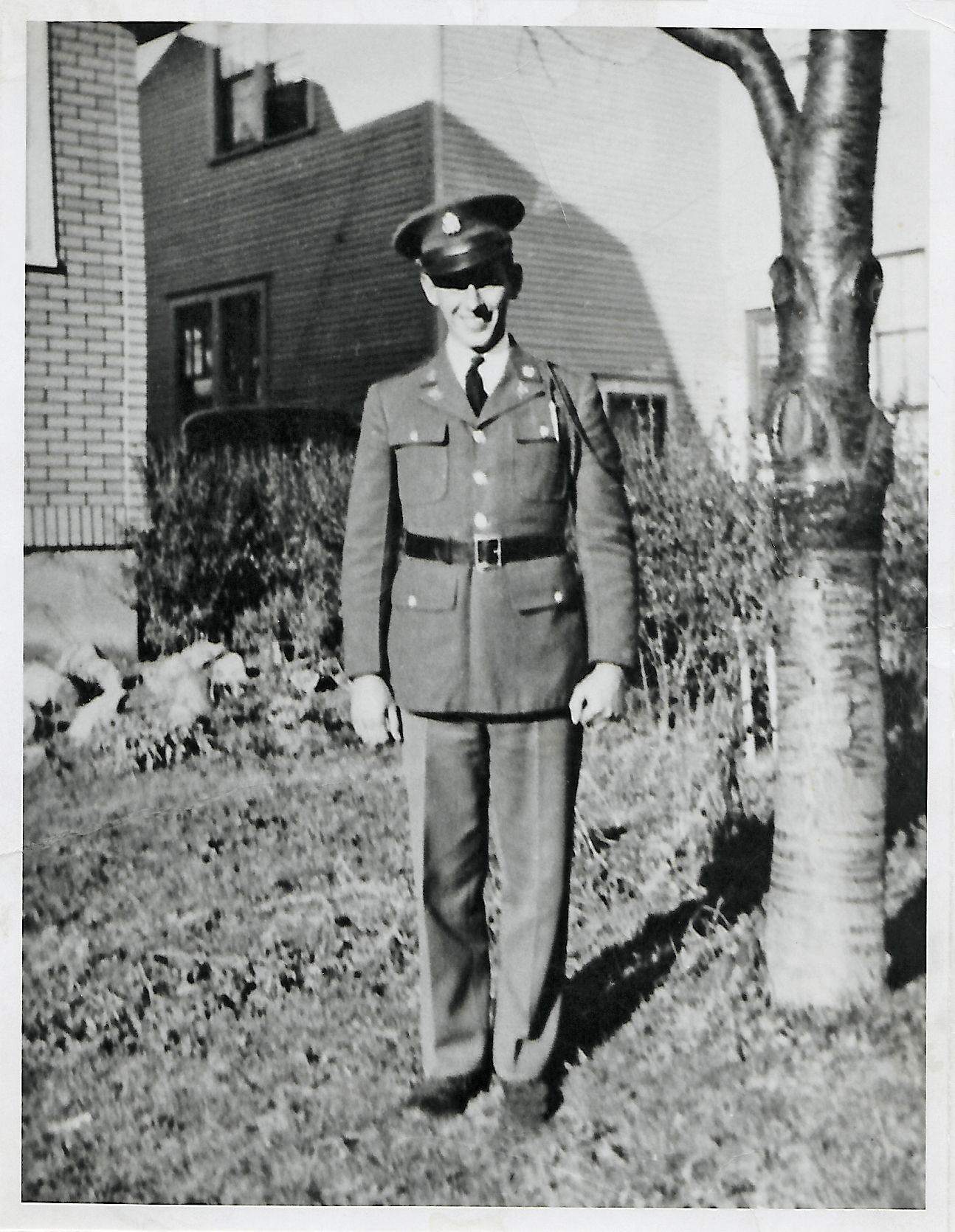 Before he became a paratrooper, Private First Class George Sipple
served in the 6th Field Artillery Battalion, Battery C in August of 1941.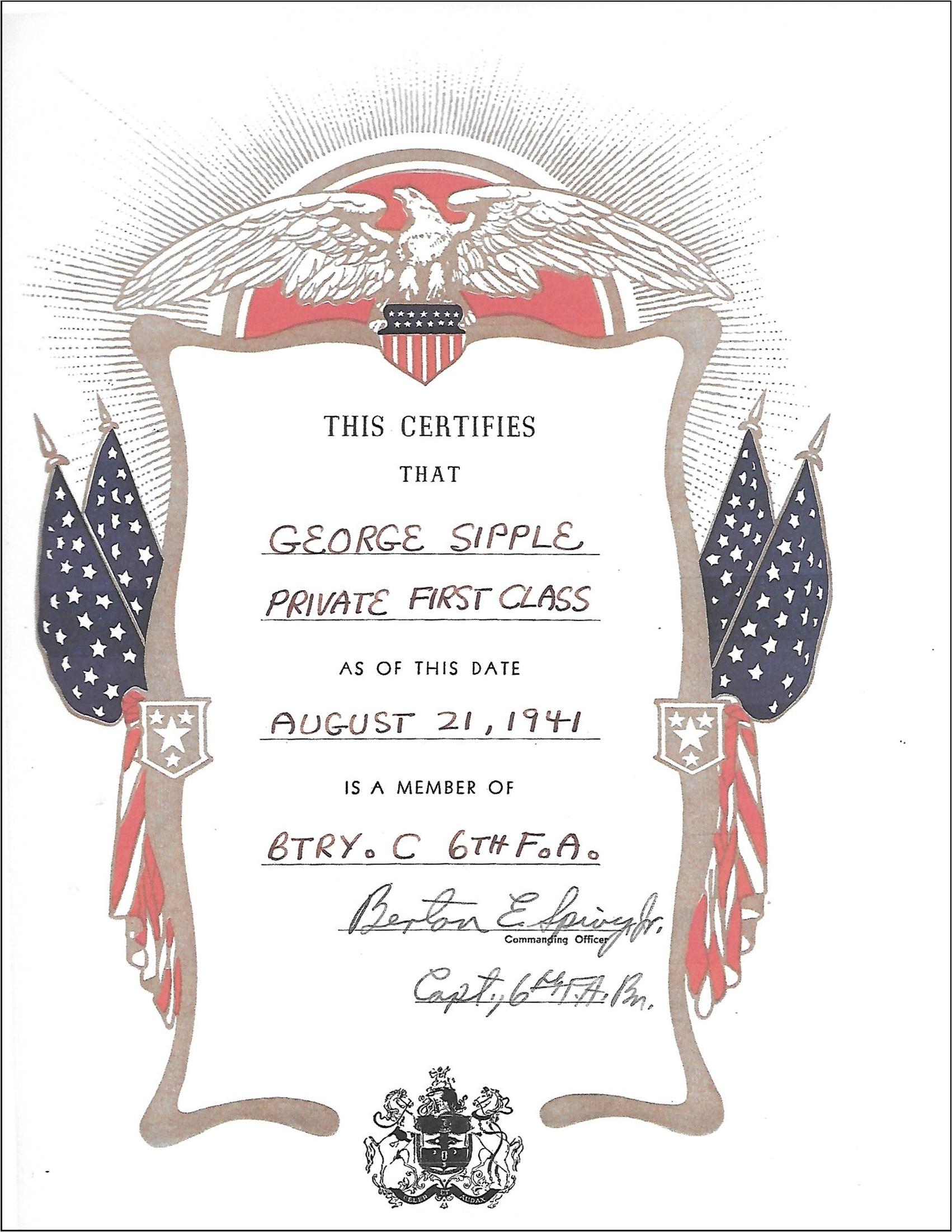 Pfc. George Sipple, Parachute Field Artillery test Battery - 1942.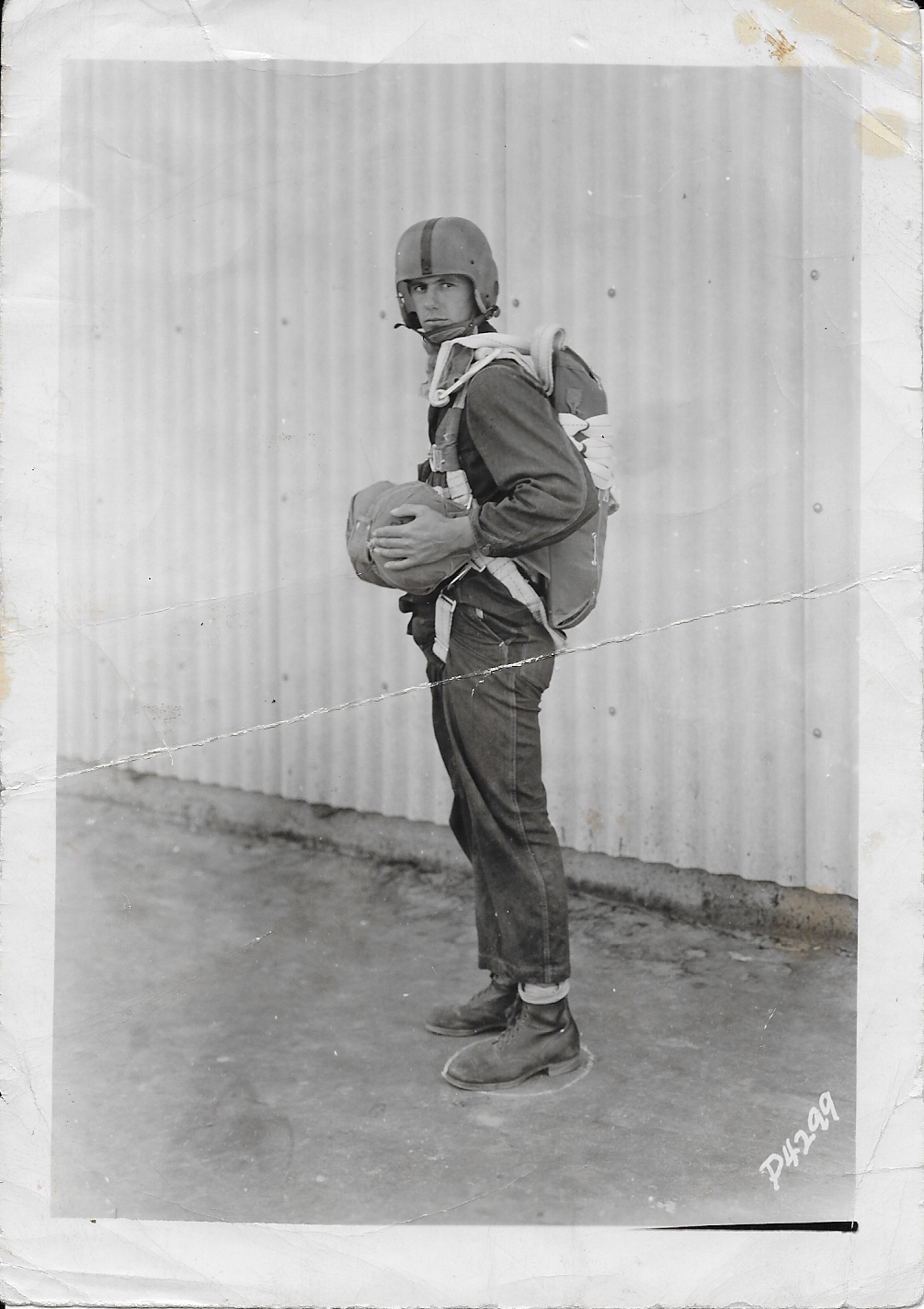 Pfc. Sipple receives his wings with the Field Artillery Test Battery in 1942.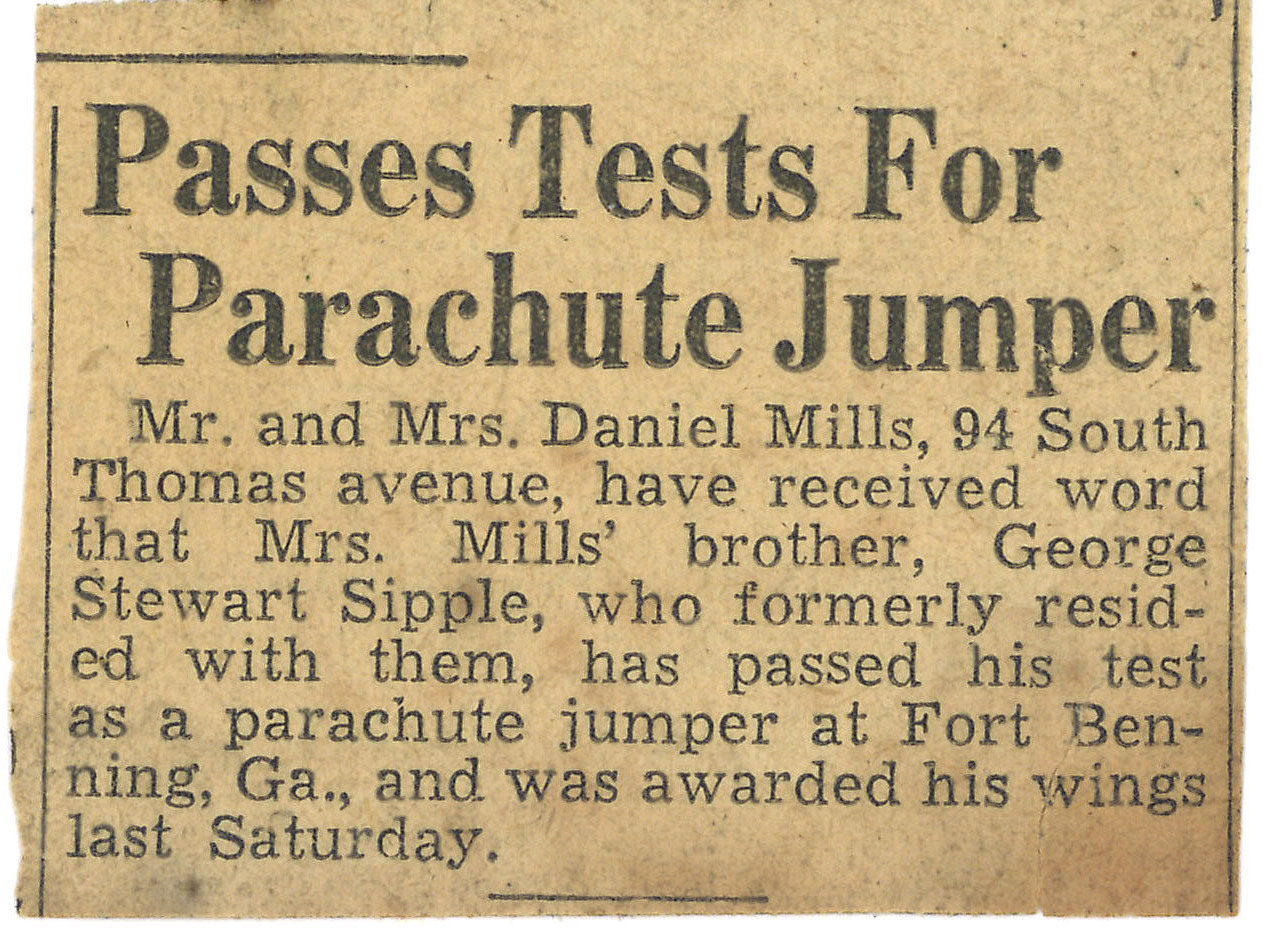 A rare jump certificate from the Infantry School at Fort Benning.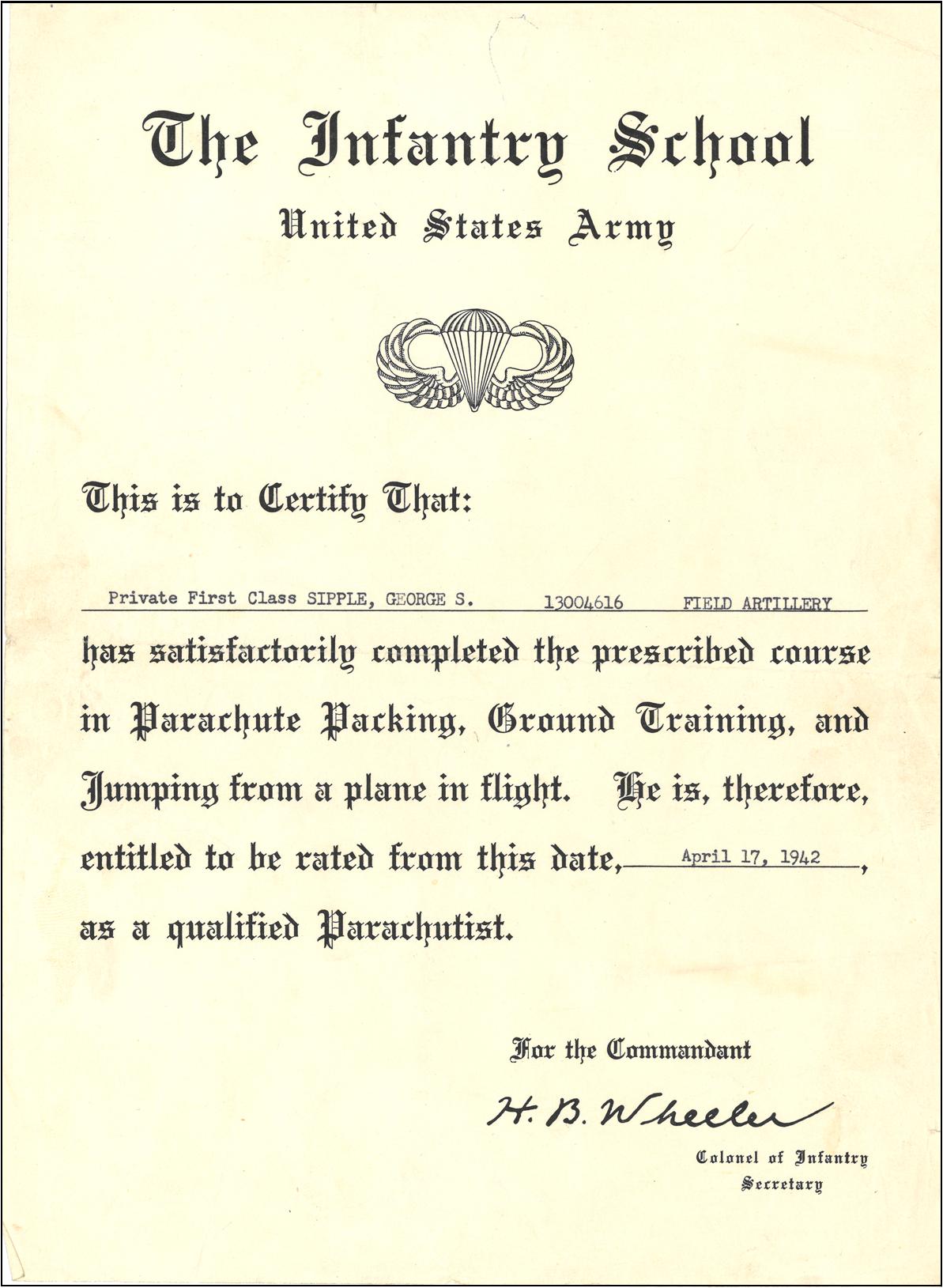 George Sipple's post card from jump school. Parachute Field Artillery Test Battery. Front side.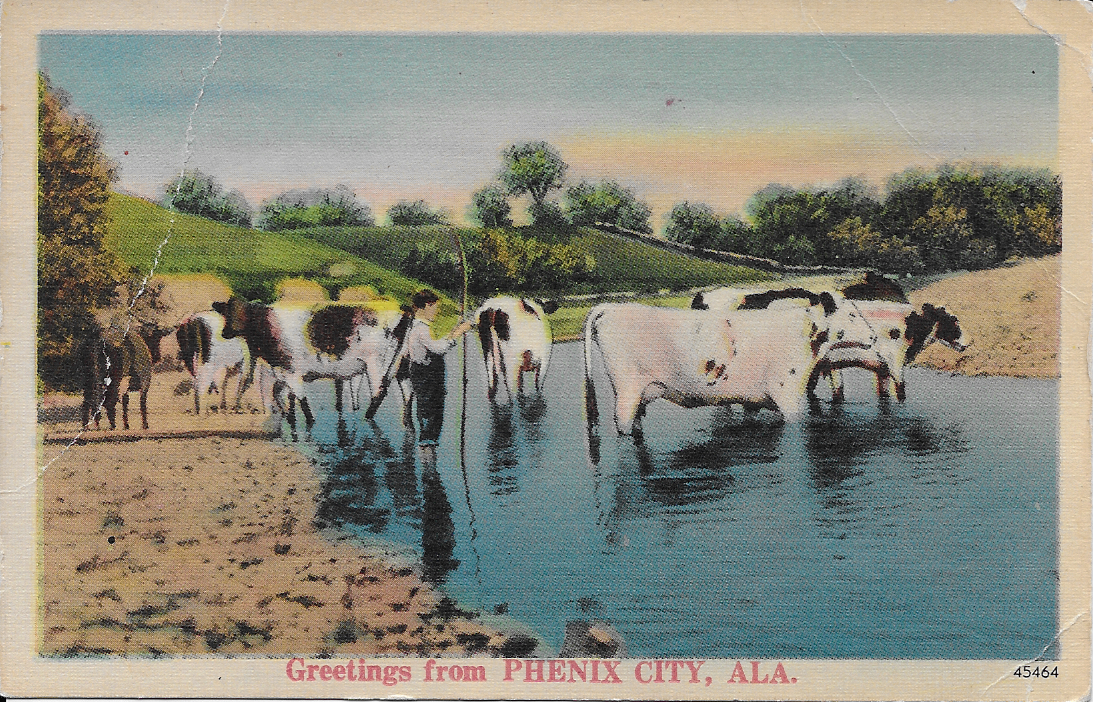 Private George Sipple's post card from jump school. Parachute Field Artillery Test Battery. Back side.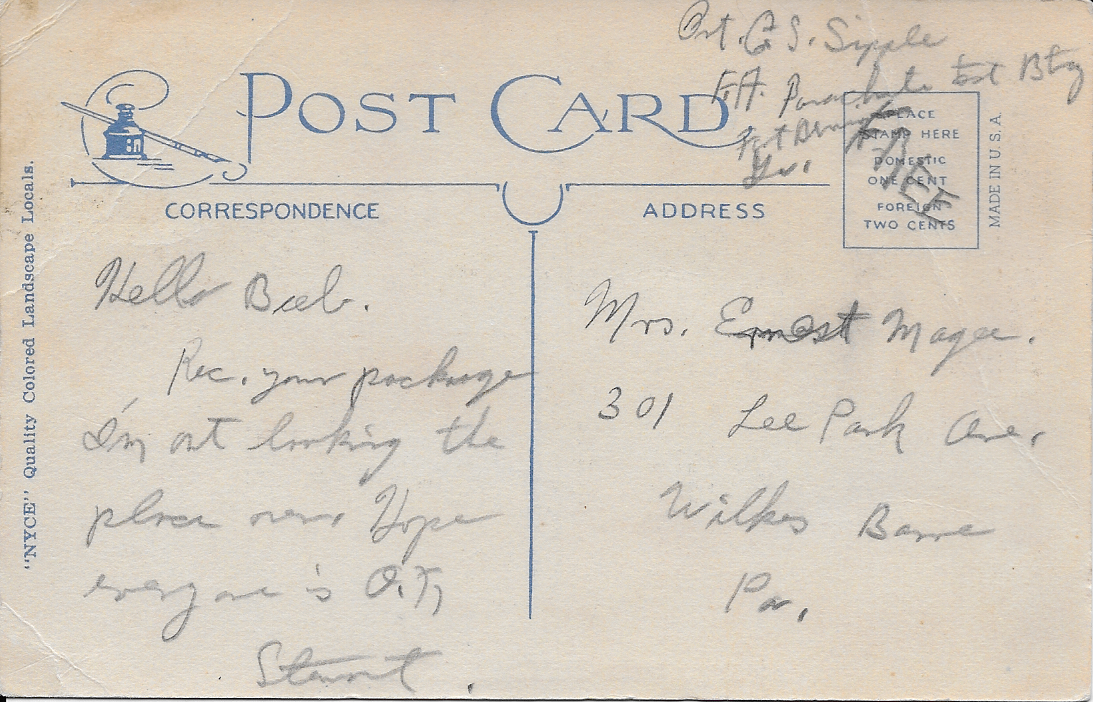 The original Field Artillery Parachute Test Battery photo,
Pfc. George Sipple is in the top row 11 paratroopers in from the left. Double click here for a larger image with names.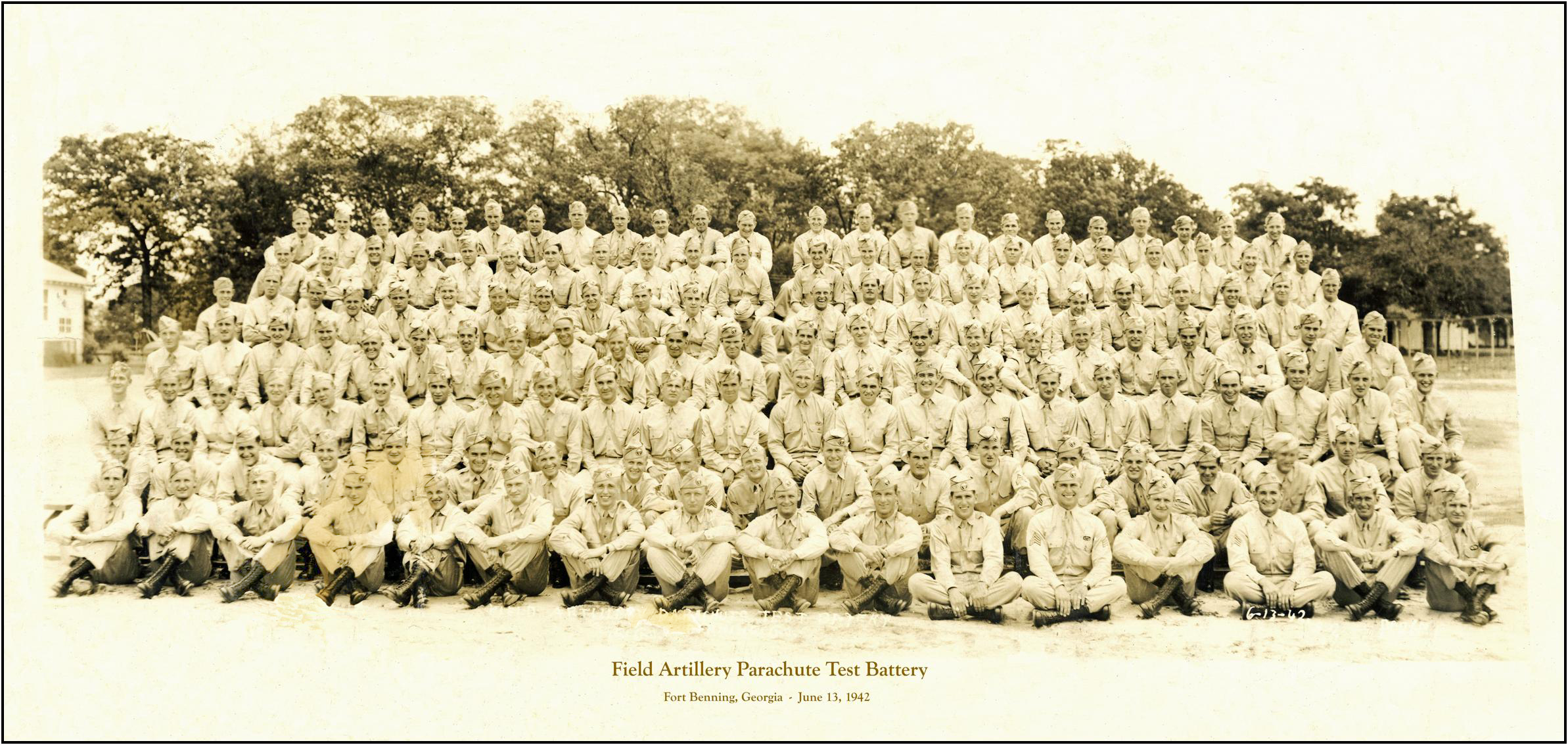 Staff Sergeant Sipple wounded in Sicily July 12,1943.
News article from the Times Leader of Pennsylvania, October 1st 1943.

Courtesy Newspapers.com
Letter from Senator Joeseph Duffy, October 1943.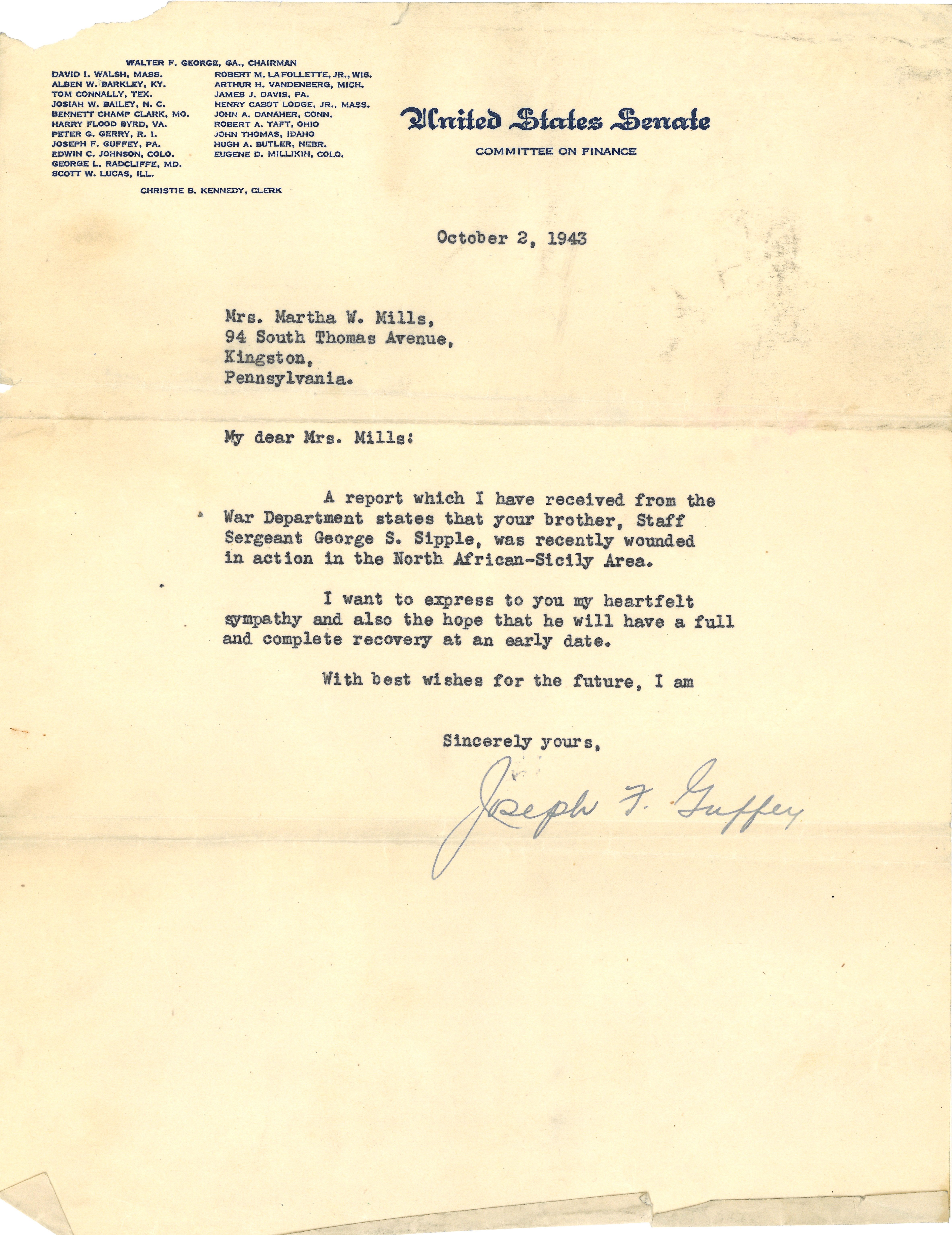 Staff Sergeant George Sipple was seriously wounded in Sicily. He spent
month after month in hospital beds. George was interviewed for the news
story below. The article tells of how helpfull it is for bedridden veterans to
while away the hours listening to a radio.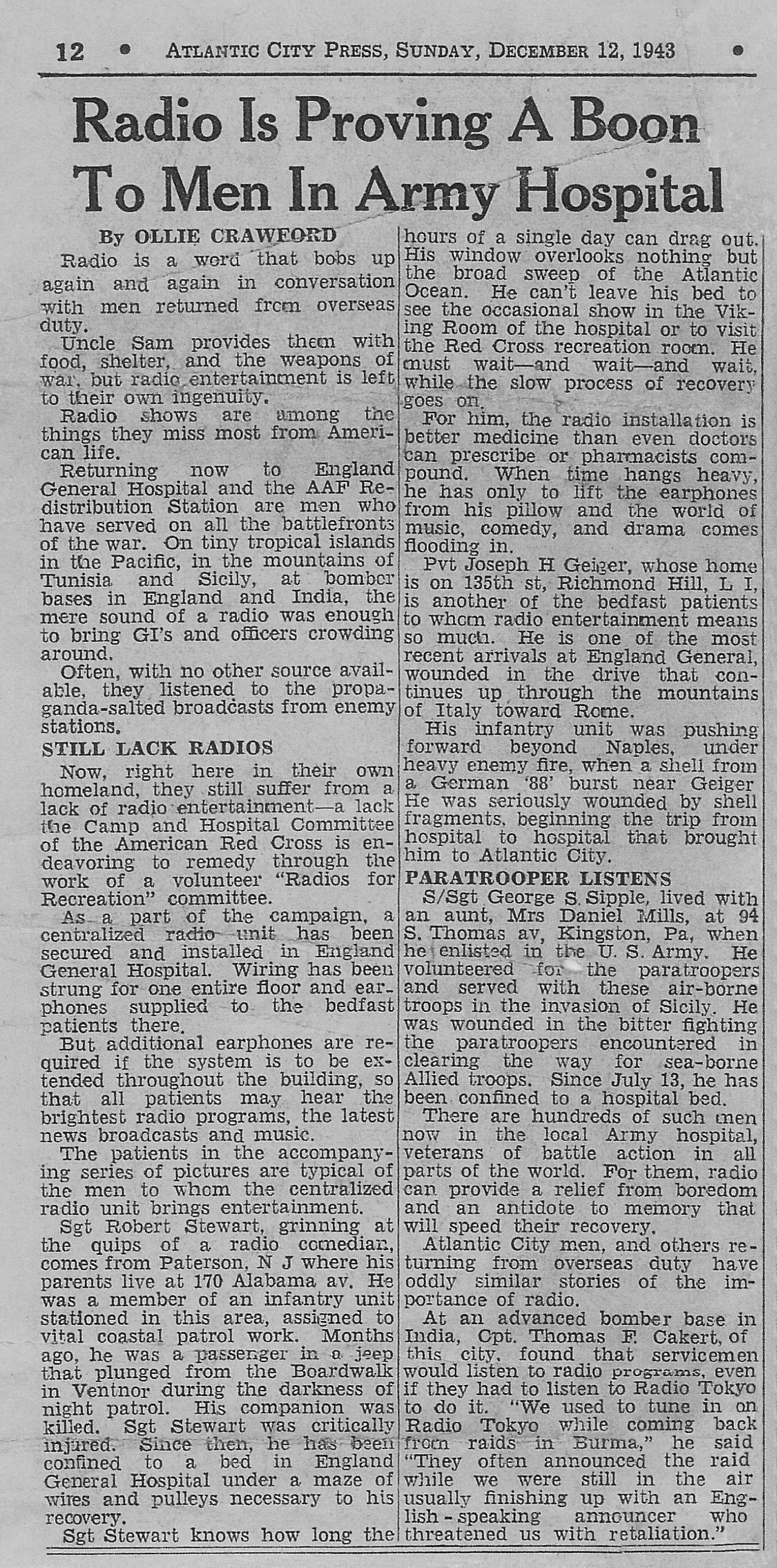 Staff Sergeant George Sipple's, Enlisted Record 1940 through 1944.

George Sipple's Honorable Discharge November 25th 1944. .