Paratroopers 505th Parachute Infantry Regiment
This page is dedicated to Frankie B. Schneider
February 26, 1951
New Holstein Man Dies of Injuries in Freak Mishap;
A freak accident involving two trucks resulted in the death Monday of Frank Schneider, 28, of New Holstein. The accident occurred in New Holstein Monday morning and Schneider died that afternoon at St Nicholas hospital. According to Sheriff Cornelius Kosmosky, Schneider was on the ground attempting to hook a tow chain on a truck stalled in an alley near the Depies Feed Mill. Walter Depies, operating another truck, was backing up to the stalled vehicle so that the hook-up could be made. Schneider told Depies to come back farther and evidently raised his head as Depies backed up. His head was crushed between the bumper of the stalled vehicle and the other truck. Schneider told county officers before he died that Depies was not at fault. No inquest was held, according to County coroner Dr John Knauf of Stockbridge. Francis B. Schneider was born at Jericho Nov. 18, 1922, the son of Mr. and Mrs. Frank Schneider. He attended schools at Charlesburg and new Holstein and was employed as a salesman by the Depies Feed Co. of New Holstein where he resided. He married Miss Evelyn Geiser June 22, 1949, at St. Mary's church, Chilton. He was a member of the Holy Name society of Holy Rosary parish, New Holstein. Survivors include his wife, his year-old son, Duane; three brothers, Norbert of Kiel and Arno and Joseph of St. Anna; three sisters, Mrs. Helen Seichter, Mrs. William (Loretta) Hoerth and Mrs. Howard (Marie) Muenster, all of New Holstein.
Funeral services were held at Holy Rosary church, Rt. Rev. Msgr. George A. Schemmer officiating. Burial was in the parish cemetery.
Chilton Times March 1, 1951 .
HQ Company, 3rd Battalion paratrooper, Frankie B. Schneider after the war.
Private First Class Schneider earned the Bronze Star medal.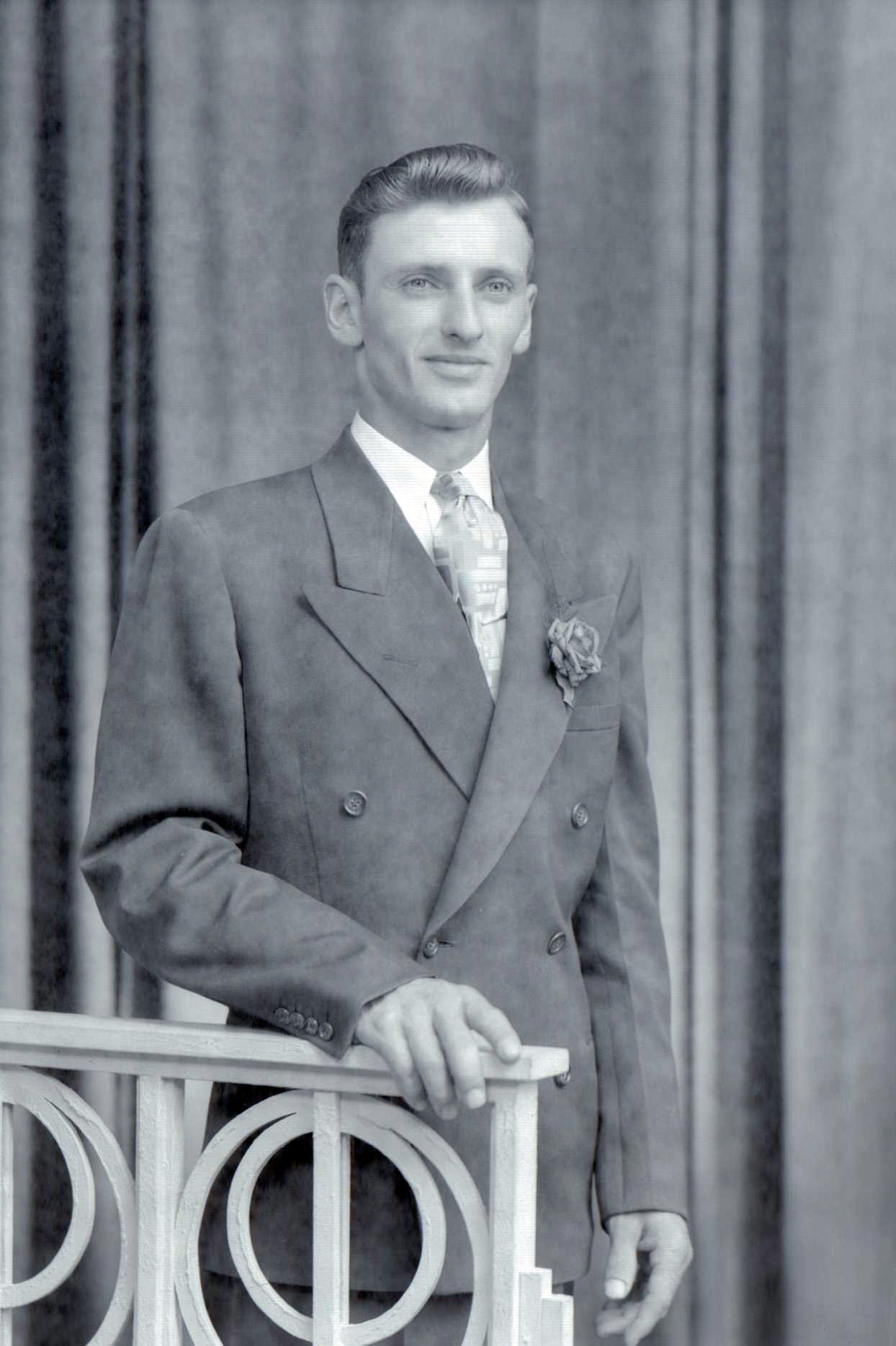 .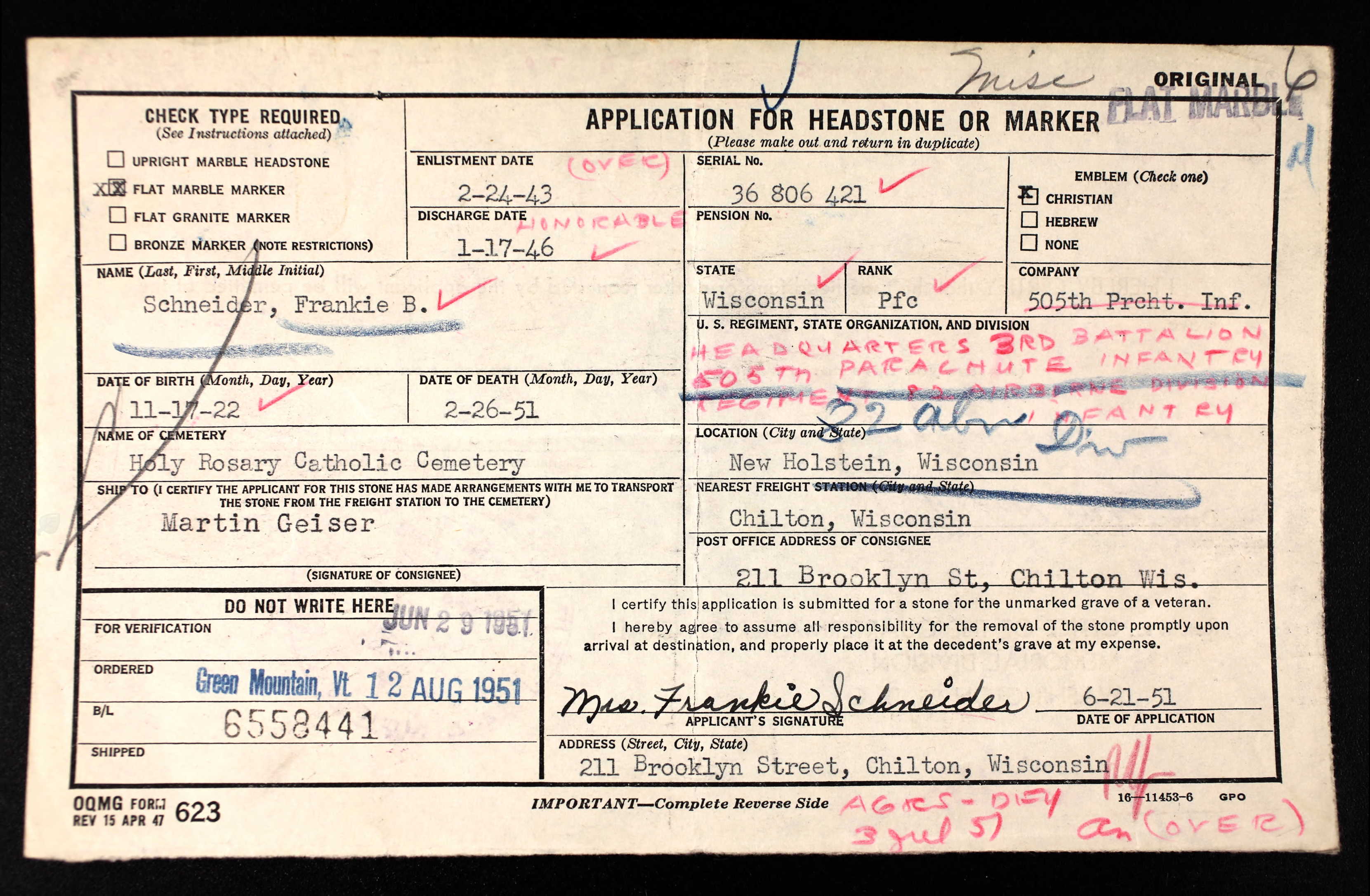 -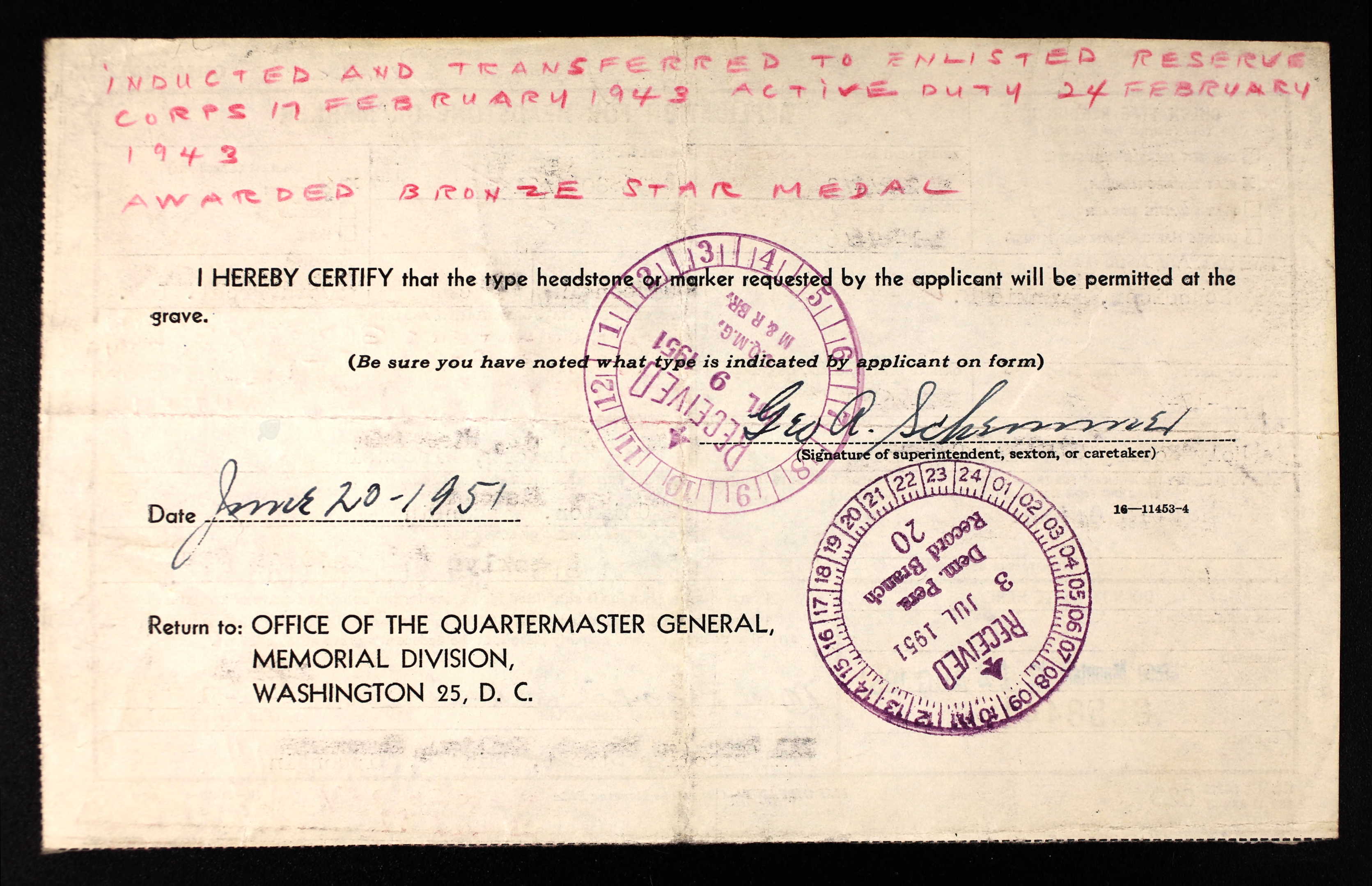 Draft Registration Card side 1.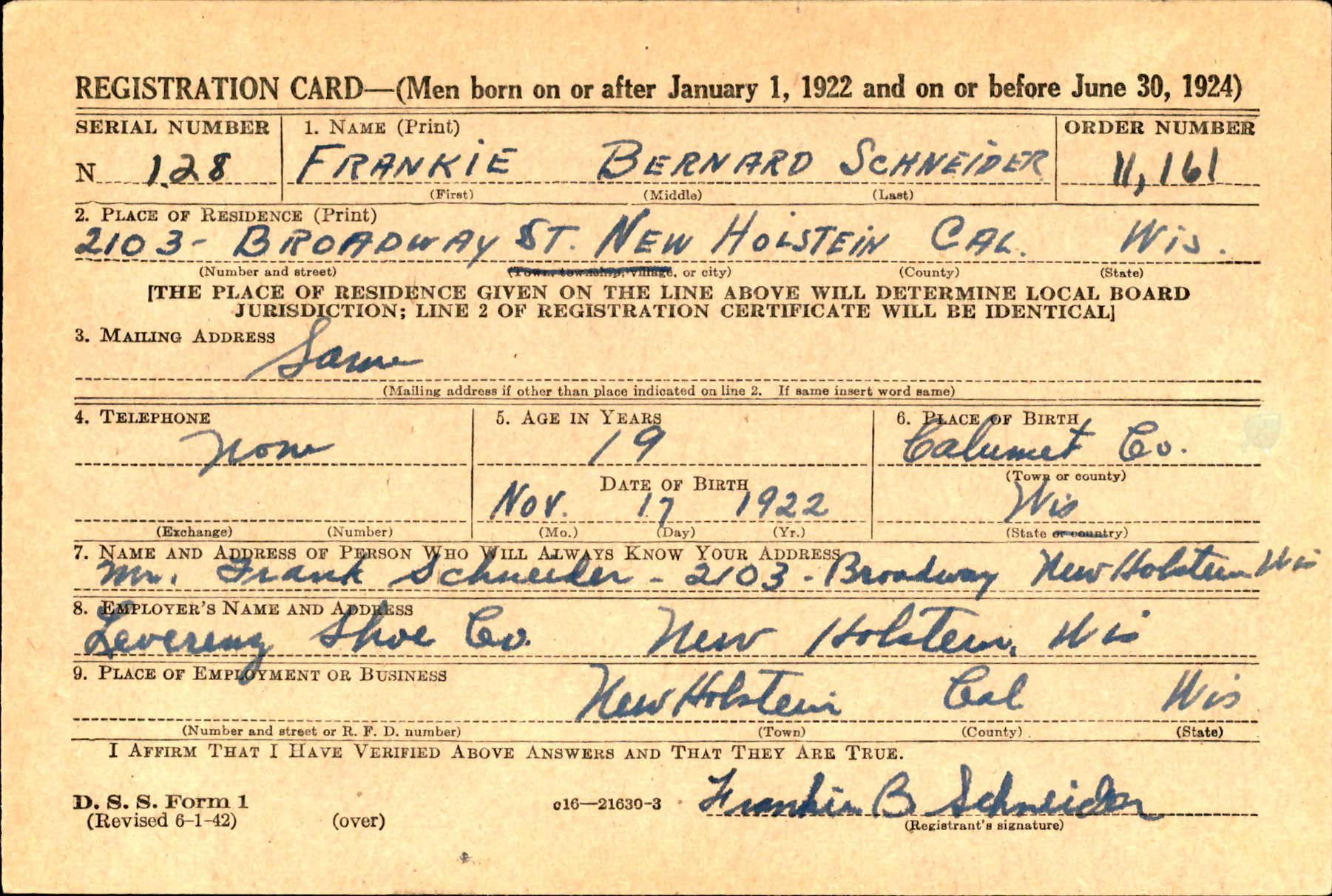 Draft Registration Card side 2.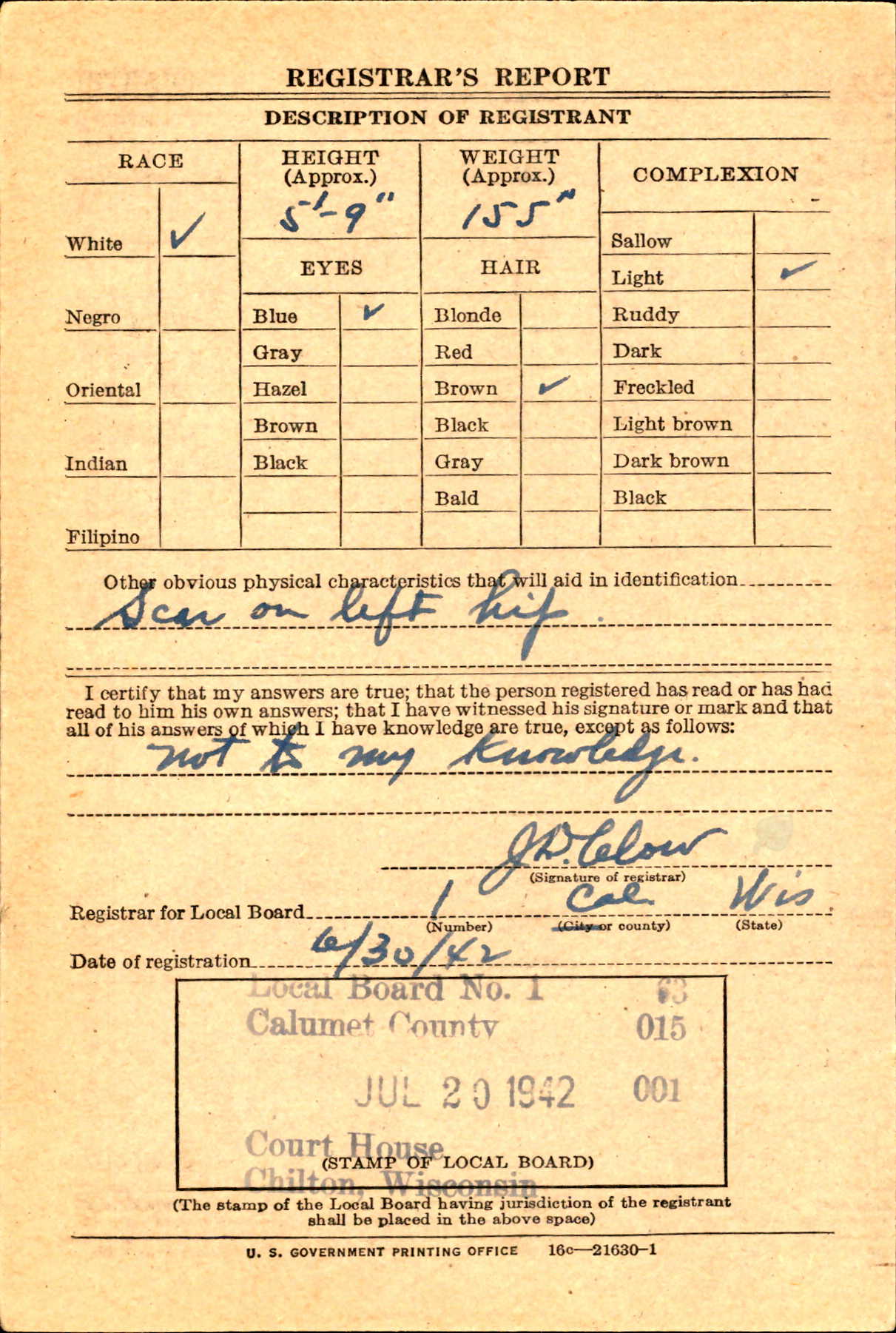 | | | |
Copyright © 2012 505rct.org, All rights reserved.
Webmaster