For almost 75 years, 2nd Lieutenant Raymond Paul Raux was not "officially" represented on the 505 Regimental Combat Team's "Roll of Honor". He spent a few weeks at most with the 505, and more than likely, for this reason, his name did not find it's way onto the original 505 Regimental Combat Team roster created by 505 Parachute Infantry veterans, James "Joe" Meyers and Bob Gillette.
Raymond Raux's enlistment papers and several documents found on Ancestry.com have helped us learn more about him. Here is what we have discovered; Raymond was born in Gainneville, France in 1910, he came to America with his mother and sister, his father passed while the family was living in France. He completed a four year college degree, specializing in teaching secondary school students*. In 1942, he was living in Nassau county on Long Island. Raymond entered the Army at 32 years of age on June 6, 1942 from Fort Jay on Governors Island, a small island located off the southern tip of Manhattan in New York's upper harbor. His Army serial number (32358404) indicates he was drafted and initially served as an enlisted man. At some point during late 1942 or early 1943, he was commissioned as a second lieutenant, serial number (0-1305111). On February 14,1943 Raymond married Doris Katherine Strobridge in Gettysburg, Pennsylvania**. We know from his marriage certificate he was serving at Camp Ritchie, Maryland in February of 1943***. During the war, the Camp trained 19,600 intelligence troops. Raymond came to the 505 Parachute Infantry Regiment early in the month of July, 1943, just days before the invasion of Sicily on July 9th. 2nd Lieutenant Raux's name suddenly appears on Regimental Headquarters Company payroll records somewhere between July 1st and July 8th of 1943. This was the first and only time his name appeared on 505 payroll records.**** It is purely speculation on our part, but we believe 2nd Lieutenant Raux may have been assigned to 505 Regimental headquarters company as an intelligence officer. (DVD Ritchie Boys)
* See enlistment papers below.
** See marriage certificate below.
*** On June 19, 1942 the United States Army activated the Military Intelligence Training Center (MITC) at Camp Ritchie, Maryland. During WW-II 19,600 intelligence troops were trained. We're fairly sure Raymond was one of them.
**** See Payroll records below. (courtesy of Airborne In Normandy Research.)
--------------------------------------------------------------------------------------------------------

* Private Raux's U.S. Army entry papers in 1942.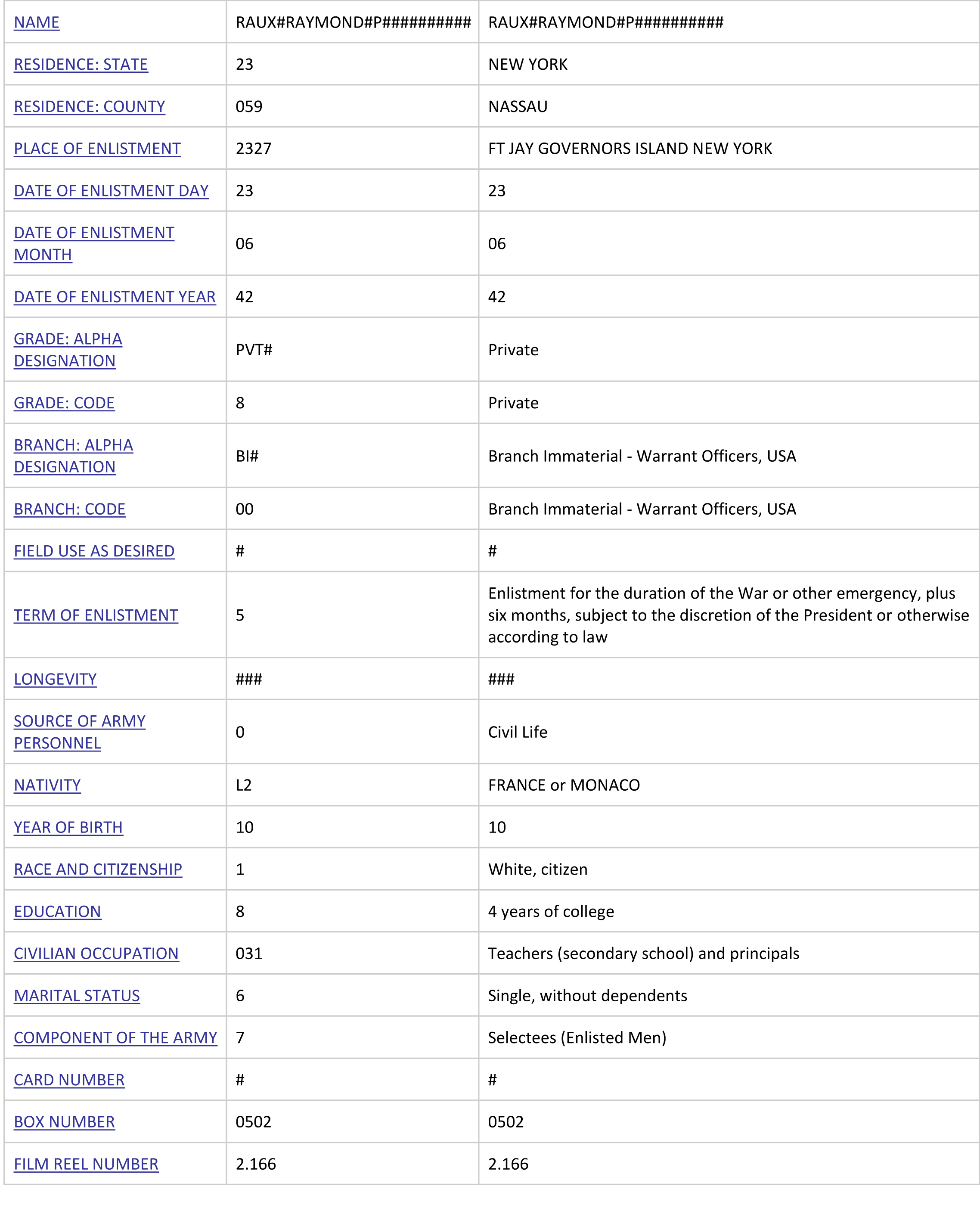 ** Below, Raymond Raux's marriage certificate February 14,1943. ( Ancestry.Com )



*** On the line for residence, Raymond answers, Camp Richie, Maryland.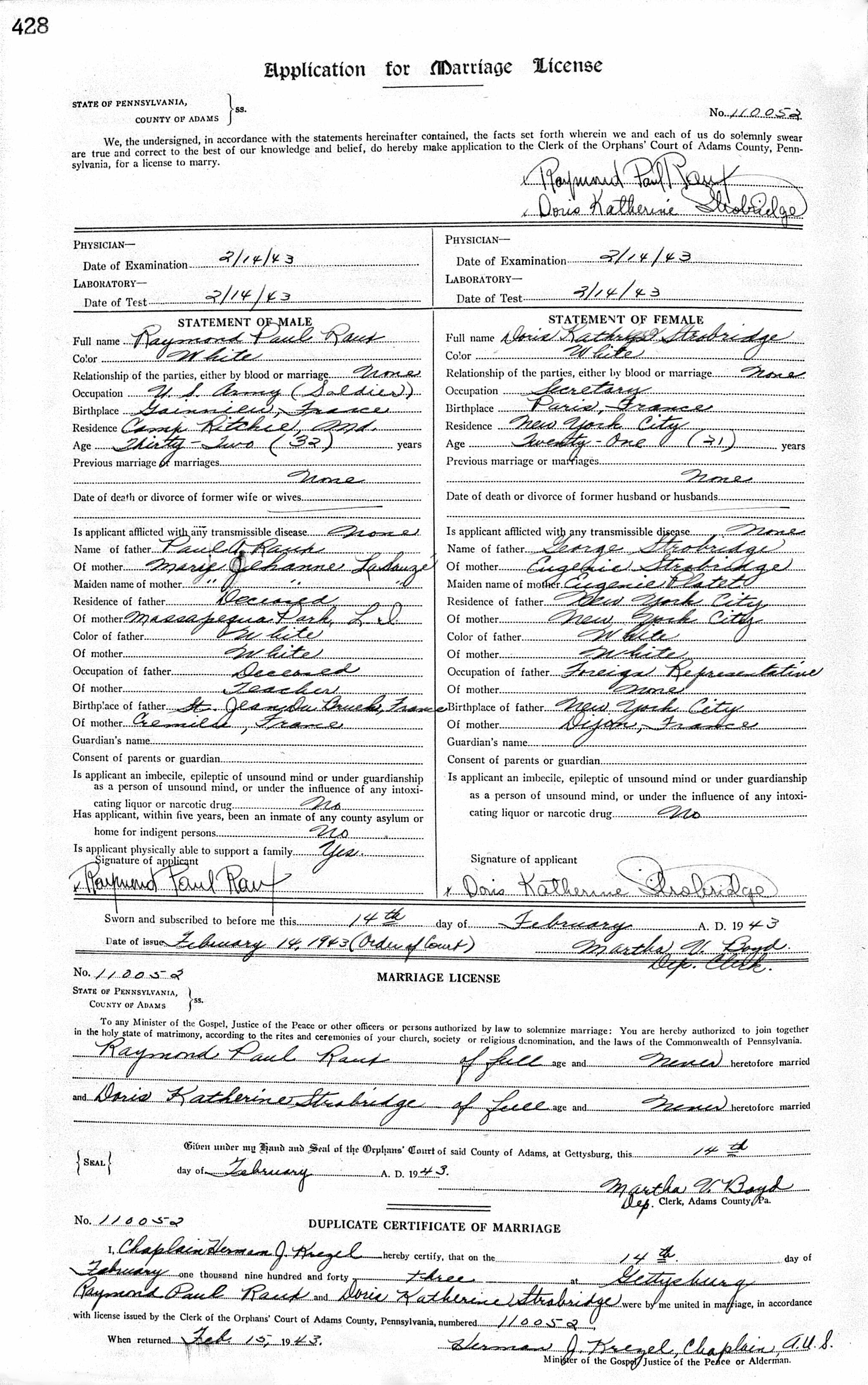 **** Payroll July 1943 505 Parachute Infantry officers.
(Courtesy of Airborne In Normandy Research)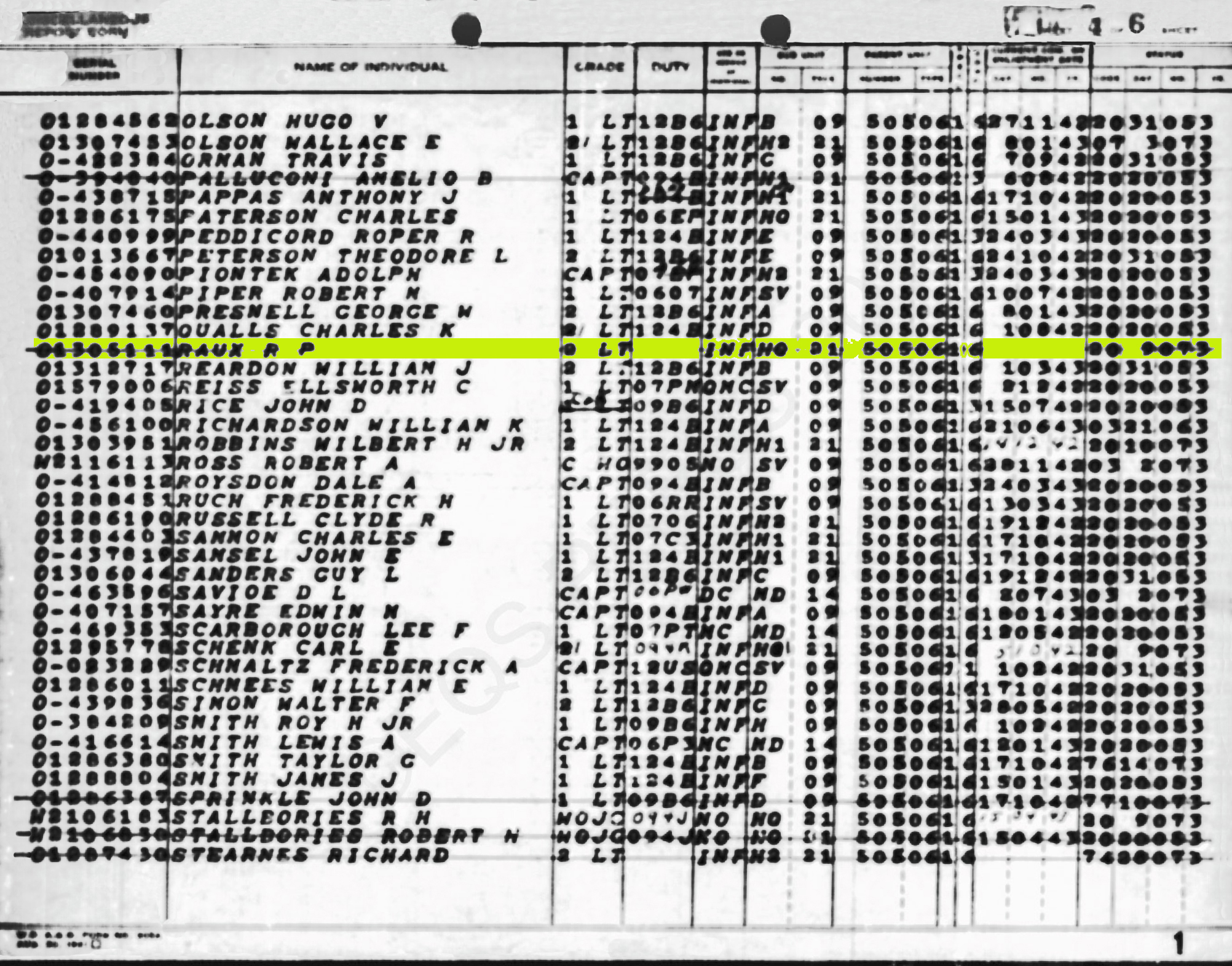 There are 5 names with lines drawn through them;
1)Captain Palluconi was captured on July 14,1943 during Sicilian campaign.
2)2nd Lieutenant Raux was killed in action July 10,1943. (pillbox)
3)2nd Lieutenant Sprinkle was killed in action July 10,1943. (pillbox)
4)Warrant Officer Robert Stallbories was a duplicate line.
5)2nd Lt. Richard Stearnes reason unknown. (not listed on original 505-RCT roster)
(Our thanks to 505 Parachute Infantry veteran Robert "Bob" Piper and Jan Bos of Holland, for initially bringing our attention to Lt. Raymond Raux several years ago.)
================================================================
The following was collected and told by Jan Bos of Holland.
2nd Lt Raymond Paul RAUX, ASN 01305111, who was a paratroop officer with the 505th Parachute Infantry Regiment.
Lt RAUX was killed in action on 10 July 1943, attacking a pillbox in Sicily.
I received his Individual Burial File from the National Archives. The file - over 100 pages - contain copies of the correspondence between the RAUX family and the US government. Until yesterday I did not know that Lt RAUX was with the 82nd Airborne Division, he is not listed in the Roll of Honor 82nd Airborne Division that was made by the Historical Section of the National Liberation Museum 1944-1945 at Groesbeek [Holland]. The file contained several very interesting documents.
Lt RAUX was buried in the temporary American cemetery GELA [Sicily] in plot-grave I-96-1148. Burial was at 14:00 hrs on 22 November 1943. Through error his remains was first buried in the enemy plot at the Gela cemetery in grave EA-7-48 !!
When the government started the program "Returning the dead" after the European hostilities, all remains from all temporary cemeteries were exhumed and reburied in a bigger temporary cemetery. For the GELA [and other three cemeteries in Sicily] all remains were exhumed and transported to the temporary Mount Soprano cemetery at Nettuno, south of Rome (1947-1949 period), from here the remains were either repatriated or buried in Europe.
Lt Raux was buried in the temporary cemetery Mount Soprano in plot-grave TGI-96-1148 on 15 April 1947 at 19:00 hrs. Among the documents in the burial file I found correspondence of Lt Raux's family who decided to have him buried in a private cemetery in France.
Lt Raux was buried more than once:
An isolated fieldgrave
GELA - enemy plot-grave EA-7-48 on 1 August 1943
GELA - plot-grave I-96-1148 on 22 November 1943
Mt Soprano - plot-grave TGI-96-1148
Neuilly (near Paris) France
The reason why Lt RAUX was buried in France was the fact that his mother was a Francaise Jehanne LaSauze-Raux, who returned to France after the war. She wanted her son be buried close to her home.
Lt RAUX was married to Doris Shobridge from New York on 14 February 1943 in Gettysburg, PA.
Document "Case history of Unknown" states:
Reburial report received for Unknown American, code H-462-054-1, whose remains were disinterred from an isolated grave are grid coordinates H-462-054. Tooth chart and fingerprints could not be accomplished due to deterioration of the body. Report stated that the deceased was a 2nd Lt in the 82nd Airborne Division and that there was found with the remains a helmet with 2Lt insignia, jacket with the letters AA and a shovel cover with M1530. On the reverse side of this Reburial Report the following notation appeared" "This body was buried through error in grave EA-7-84 on 1 August 1943 as that of an enemy dead.
Result of investigation: A list of personnel from the 82nd Airborne Division KIA in the vicinity of grid coordinates given above from which the deceased was disinterred, was submitted by the Theatre, on which the name of 2nd Lt Raymond Pa. Raux, 0-1305111 appeared. Form 404 was sent to the Theatre for completion but results were negative.
The Field was interrogated relative to the possible recovery and burial of 2nd Lt Raux, but no report of interment was on record of the deceased. However, the Field submitted the following data as the result of information volunteered by Major Robert M. Piper, 0-407914.
On 10 July 1943 at a crossroad approximately 3 miles south of Vittoria, a party which included Major Piper and Lt RAUX approached some pillboxes. Lt RAUX approached the nearest one and went on alone in an attempt to talk them into surrender. Lt RAUX went down the concrete steps leading into the pillbox, talking and demanding surrender. When he stepped into the passageway he was shot and fell. Major Piper and others in the party called to him, but since they received no answer nor did he move or an attempt to return, he is believed to have been killed instantly. The enemy dragged Lt RAUX inside and shut the door. Later on in the action the pillbox was reduced completely by C Block and all the enemy were killed and buried in the rubble.