Lieutenant Charles Kenneth Qualls entered Army service in 1937. Charles initially served with a National Guard unit, the 179th Infantry Regiment, B Company, from Pawnee, Oklahoma. The 1940 census indicates Private First Class Qualls was stationed at Fort Shafter in Honolulu, Oahu, Territory of Hawaii. Charles was serving with a Military Police Company. After serving two and a half years in Hawaii, Charles returned to the United States to attend OCS [ officers' candidate school ] at Fort Benning, Georgia. When he graduated from jump school, 2nd Lieutenant Charles K. Qualls came to the 505 Parachute Infantry Regiment, D company in September of 1942. Charles made four combat jumps with the 505 Parachute Infantry Regiment, Sicily, Italy, Normandy and Holland. He was wounded in Normandy, France on June 16th 1944. Lieutenant Qualls was evacuated to England and hospitalized for his wounds.
On the evening of December 24,1945, British Field Marshall Montgomery had the 505 Parachute Infantry Regiment pull back from their positions along the east bank of the Salm river. The Field Marshall wanted to "tidy up the battle lines, [adding] one can't win a big victory, without a tidy show." From the town of Trois Ponts to just south of Grand Halleux, the 505-PIR was to withdraw to a new defensive line at Basse Bordeux, Belgium.
Following the 505's Christmas eve pull-back along the Salm river, increased patrolling began in the abandoned area. It was learned from captured Germans the area was being held by the 62nd Volksgrenadier Division, a slightly better than average German division, but not on par with the Panzer divisions the 505-PIR had fought previously along the Salm days earlier. On December 26, 1945, Lieutenant Charles Qualls was leading a daylight patrol into the abandoned pull back area, when he went to the aid of a wounded patrol member, Lieutenant Qualls was killed. Charles is interred at Sunny Lane Cemetery, Del City, Oklahoma USA.

1st Lieutenant Charles K. Qualls, a Purple Heart medal recipient, was awarded the Silver Star medal, posthumously, for his actions on December 26, 1945.




2nd Lieutenant Charles Kenneth Qualls, August, 1942.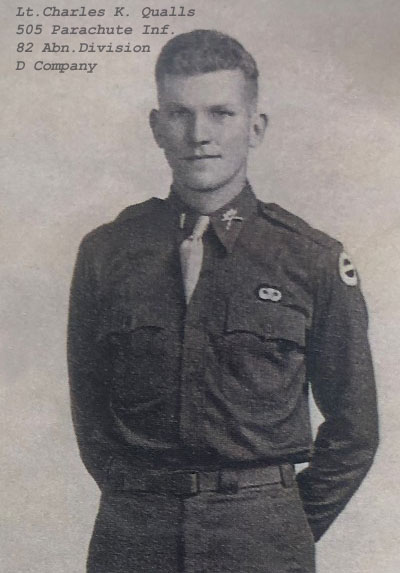 The Capitol Hill Beacon, Oklahoma City, Friday, January 26,1945.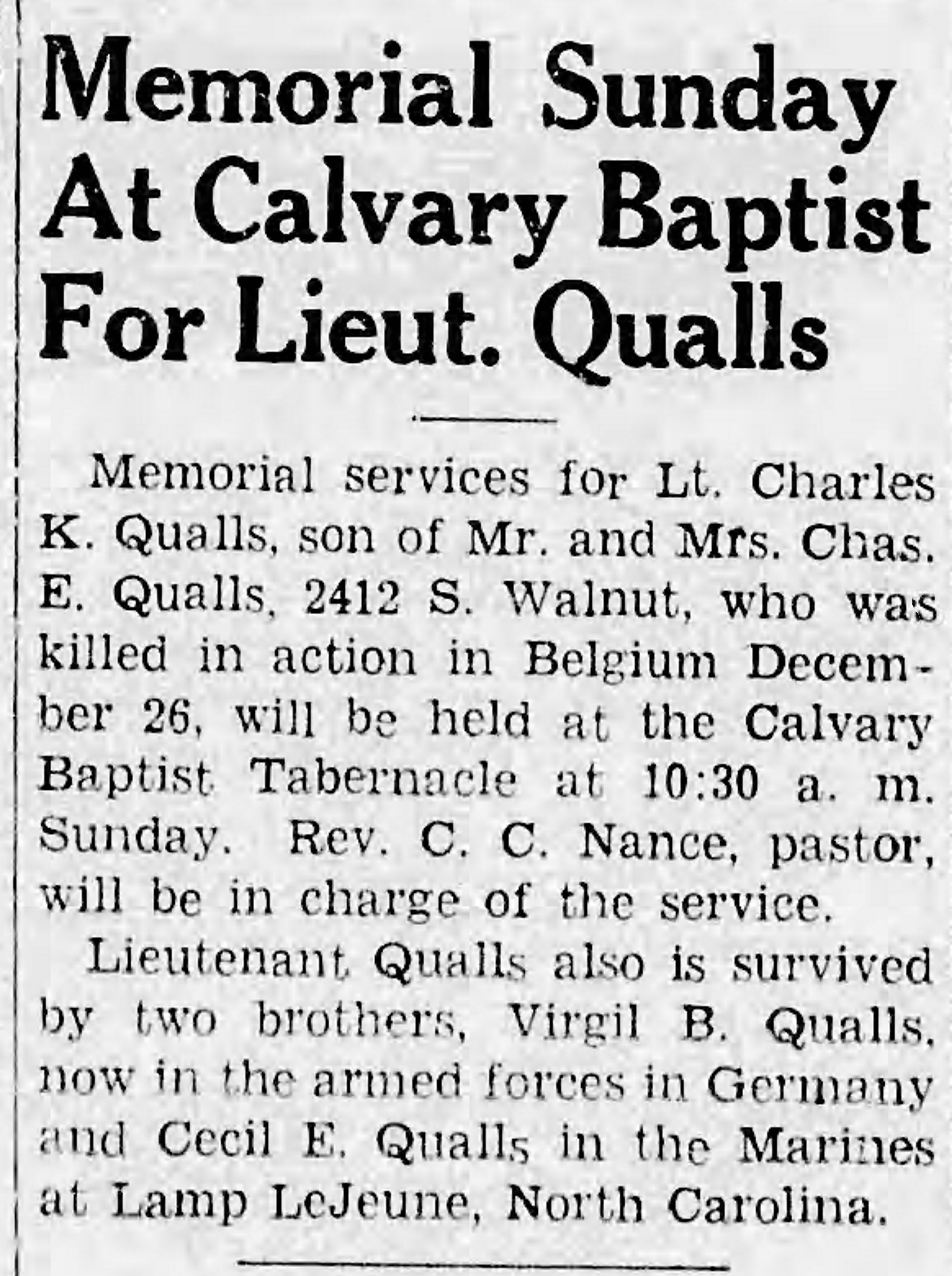 Left side, Lt. Charles Qualls was loaned to
to E company for the Normandy campaign.
He was returned to D company July 26,1944.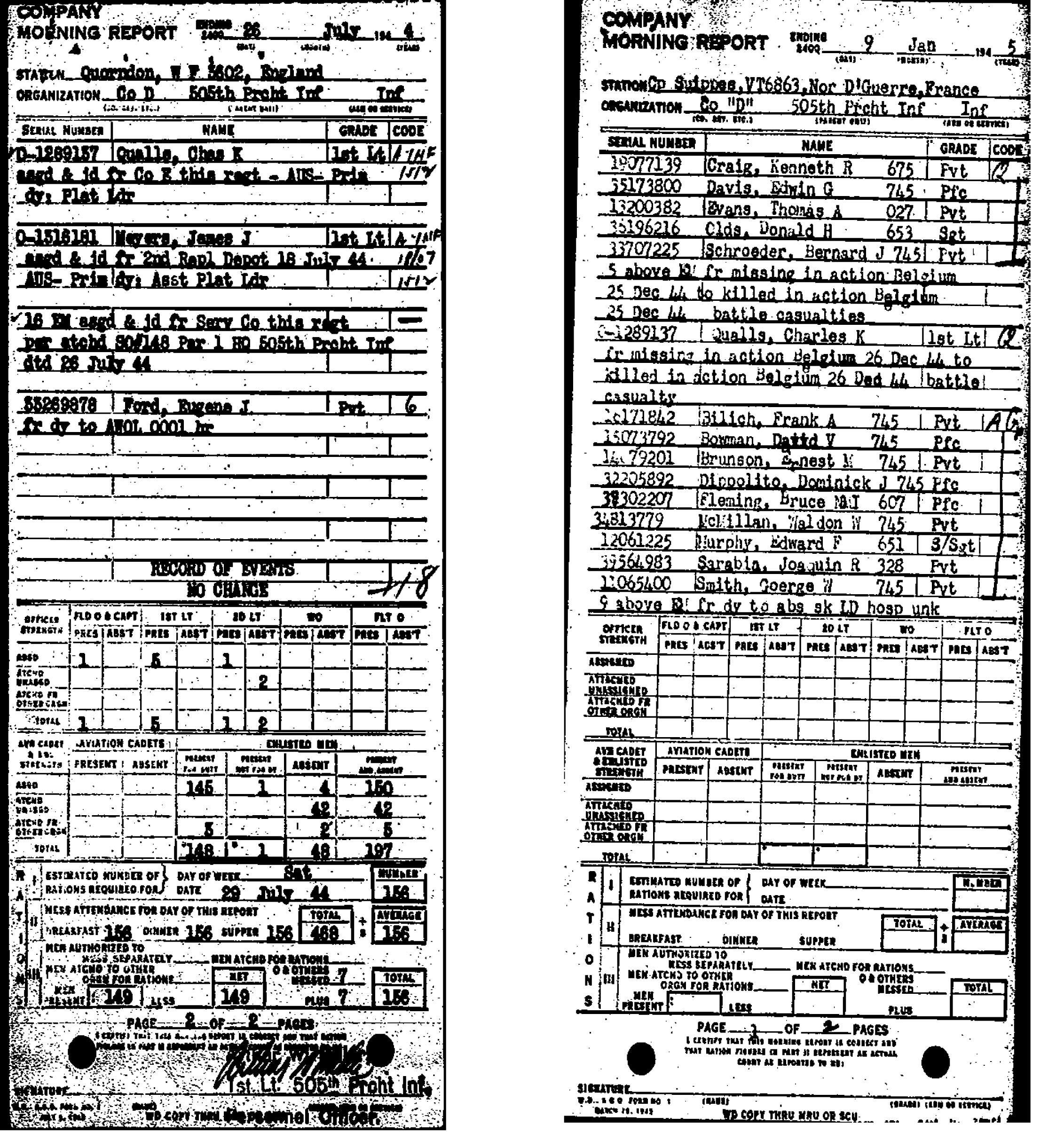 (This web page was created January 2023)