The following was from trooper Polachek's great-neice.
Unlike his three other brothers, that thought they better enlist before they were selected, Nick was drafted Nov 1942 from Cleveland. He was the sixth child of eight born to Ukrainian immigrants. Brother Steve served with the 37th Infantry in the Pacific, Brother Mike was kept stateside as a cook due to to age restrictions, and Brother Frank was an aircraft/engine mechanic stateside & in the pacific. Nick is the only family member that did not make it home. He was buried at Normandy American Cemetery.
He was assigned to the 82nd Airborne, 505th PIR, C. Co, 1st Battalion. He made combat jumps at Sicily, Salerno, and Normandy where he was KIA. Following the Salerno drop he was MIA for 28 days before he made his way down from the mountains & back to the unit. I don't know anything about those 28 days.
His remains were identified and buried in July of 44, then reburied once the permanent cemetery was completed. The family was not notified until Aug 1944.
Nick married prior to his departure to Melba Sachs. They had no children.
Below is Private Polachek's obituary, followed by the the only known photo of him which was taken from the newspaper.
Pvt. Nicholas Polachek, 28, serving as a paratrooper with an air-borne division, previously listed as missing on June 6, 1944 in France, was killed on that date, according to word received from the War Department by his wife, Melba of 3324 E. 142nd Street. Pvt. Polachek was the son of Louis Polachek of 9026 Harvard avenue, Newburg Heights. He was a veteran of the Sicilian and Italian campaigns. Previously he was reported missing in the landing at Salerno, but made his way to safety after 28 days in the Italian mountains. A graduate of South High School, Pvt. Polachek worked at the American Steel & Wire Co. before entering the service in November 1942. He went overseas in April 1943. Surviving him was his father, his wife, who lived with her mother, Mrs. Joseph Sacks, at the E. 142nd street address; four brothers, Lt. Steve, in the South Pacific war zone; Sgt. Michael, at Camp Barkeley, Tex.; Sgt. Frank at Great Bend, Kan.; Wesley, and three sisters, Mrs. Mary Hasychak, Mrs. Martha Lynch, and Mrs. Katherine Ziccardi. His mother Eva was deceased. Services were held at Holy Name Catholic Church, 8328 Broadway.

Pvt. Polachek is interred in the American Cemetery at Normandy. (Normandy Cemetery is situated on a cliff overlooking Omaha Beach and the English Channel just east of St-Laurent-sur-Mer and northwest of Bayeux in Colleville-sur-Mer).

Information as gathered from the Cleveland Press & Plain Dealer, July 19, August 15 & 16, 1944.
The only known picture of Private Nicholas Polachek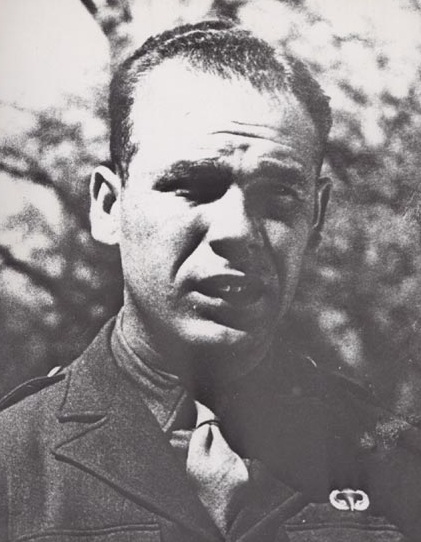 Privat Nicholas Polachek's final resting place at the American Cemetery at Normandy