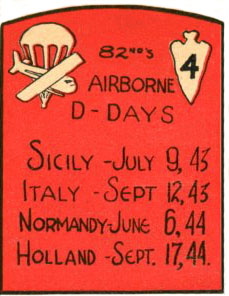 Born in Iowa, William Dale Owens enlisted into the Army on February 26th 1942 from Bellwood, Butler County, Nebraska. Bill served in A company making all four combat jumps during the war. On his third jump, D-Day, June 6th 1944, his company parachuted into a drop zone just west of the town of Saint Mere Eglise, France on the Normandy peninsula. Company A's objective that day was to take and hold, until relieved, the La Fiere bridge that spanned the Merderet River. This would prevent the German Army from reinforcing their positions on Utah beach. They were successful and accomplished their objective on D-Day taking the east side of the bridge. On D-Day + 1 the German's launched a counter attack with tanks, artillery and infantry. The paratroopers were shelled most of the day, He received his Combat Infantrymen Badge in Sicily. Staff Sergeant Owens was awarded the Purple Heart medal with oak leaf cluster and the Silver Star medal for his actions at the La Fiere causeway. (Many of his squad and platoon mates thought S/Sgt. Owens deserved the Distinguished Service Cross medal "at the least". Some thought he should have received the Medal of Honor.)


All photos and memorabilia compliments of the James J. Ricci family collection.
A special thanks to Mark Ricci, James Ricci's son.




(Below; Bill Owens' letter to General Gavin, March 16,1959.)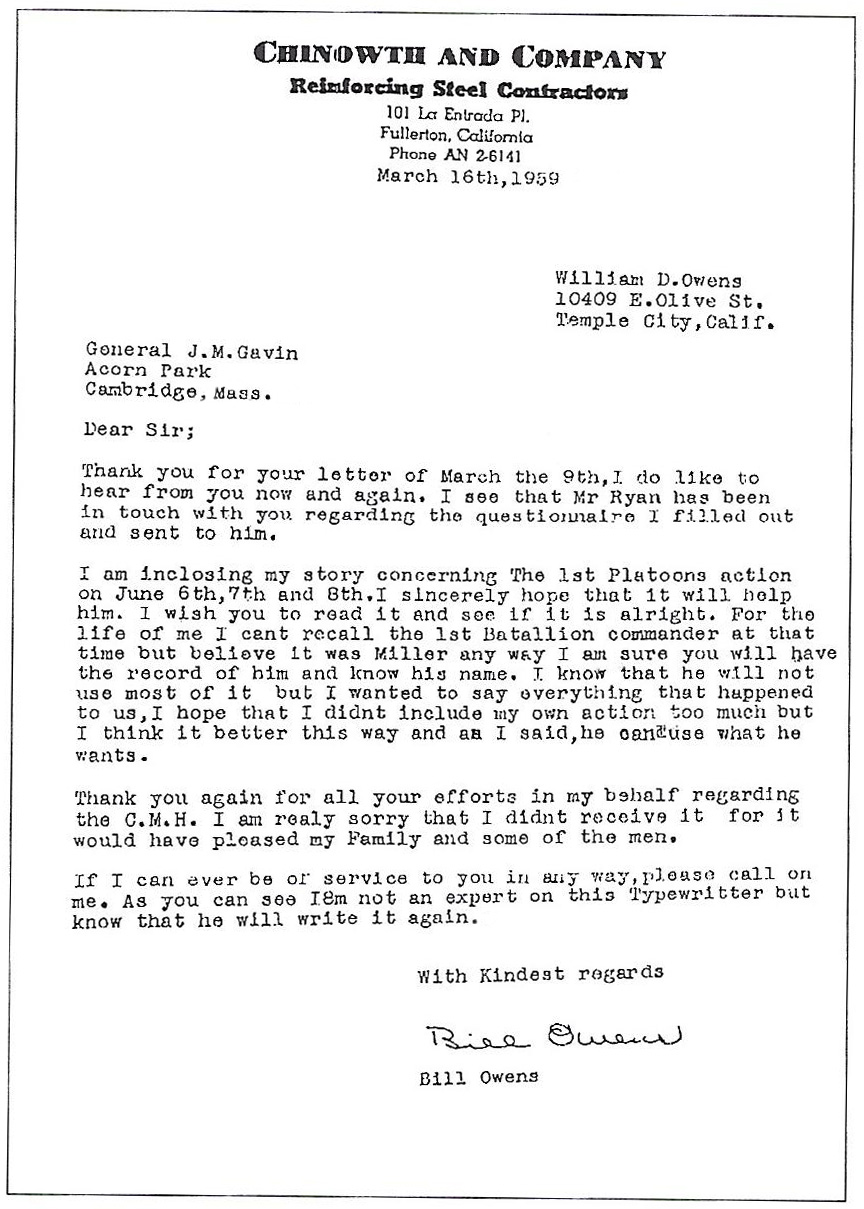 The following account is from Staff Sergeant William D. Owens of A company, it took place on D-Day June 6th, and 7th D+1 1944 at the La Fiere causeway, it is written as it appeared in General Gavin's book "On To Berlin"



"I had the first squad. We placed our antitank mines right on top of the road where the Germans could see them, but could not miss them with their tanks. We placed our two bazooka teams where they had a good field of fire. There were two men to a team. As I recall, it was about 8 AM when we first heard armored vehicles coming from across the river. We let them come on. It was an armored column with trucks of infantry. When the lead tank got approximately 40 feet from the mines, the tank stopped. Then our bazooka teams let loose and both got direct hits, disabling the first tank(they were old French Renault tanks with comparatively thin armor). This blocked the road, and as there were deep ditches and water, the other tanks could only retreat. Then they tried to get the infantry through to knock us out. All we had was small arms and some 60 mm. mortars, but we succeeded in driving them back. The Germans pulled back on the other side, and in about a half-hour or so, they began throwing 88s and 120 mm. mortars at us. They really clobbered us. All our communications were knocked out. And the fellow, Private Ross, with our walkie-talkie, took a direct hit with an 88, so from then on, as far as we were concerned, we were a lost platoon. Then they sent the infantry again, and again we drove them back. Our platoon leader, Lieutenant Oakley, was badly wounded(he died a few hours later). After he left, I began crawling around, getting all the ammunition and grenades from the dead and wounded, for I knew we would need every round we could get our hands on. I took stock of what weapons we had, and it turned out to be a good thing, for right after that the Germans hit us again. They must have received reinforcements, for the artillery shells and mortars were coming in like machine gun fire. I don't know how it was possible to live through it. Then the infantry came again and we gave them everything we had. The machine gun I had was so hot it quit firing. I took Private McClatchy's BAR, he had been wounded earlier, and fired it until I ran out of ammunition. I then took a machine gun that belonged to a couple of men who took a very near it. They were killed. The gun had no tripod, so I rested it across a pile of dirt and used it. With this and one other machine gun and a 60 mm. mortar, we stopped them, but they had gotten to within 25 yards of us. I really thought we we had it, but then they threw up a Red Cross flag and stopped firing. I quickly stood up and stopped my men. I sent a man back to see if he could find some help for us. I moved to where I could get a good view of the causeway. I estimated that I could see at least 200 dead or wounded Germans scattered about. I don't know how many were in the river. It took them about two hours to get there wounded out, then they started shelling us again, but not as bad as before. About two in the morning I heard a tank on the causeway and thought here we go again. Then I heard them trying to push the disabled tank out of the way and I knew if they succeeded we would be through, so I took a couple of Gammon grenades (plastic C) and crawled to approximately 30 or 40 yards from them. It was quite dark. The first grenade I threw missed and hit the disabled tank instead of the one (tank) that was trying to move it. The Germans didn't take any more chances, they put the tank into reverse and moved back. They continued shelling us all day long, but it was only sporadic. They never tried to get the infantry across again after they raised the Red Cross flag."

(Staff Sergeant Owens' unit was relieved by the 508th Parachute Infantry that night after the second day of fighting.)
William D. Owens.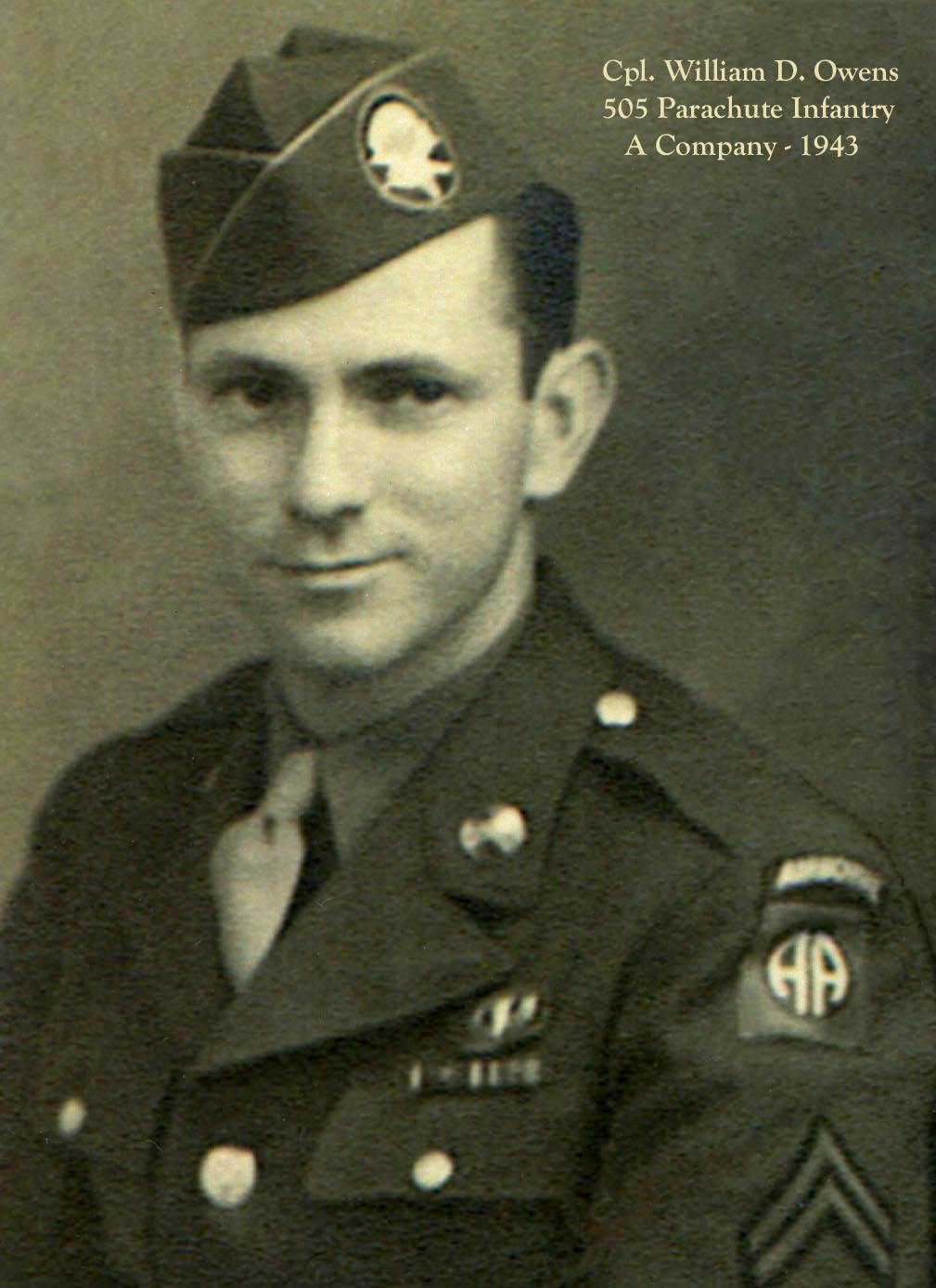 Fort Bragg, early 1943.

This photo was taken after the 505 Parachute Infantry, Regimental jump, of March 29,1943.
Jack Hopkins, Jim Ricci, Al Niedbala,Bill Owens and Bernard Tomardy.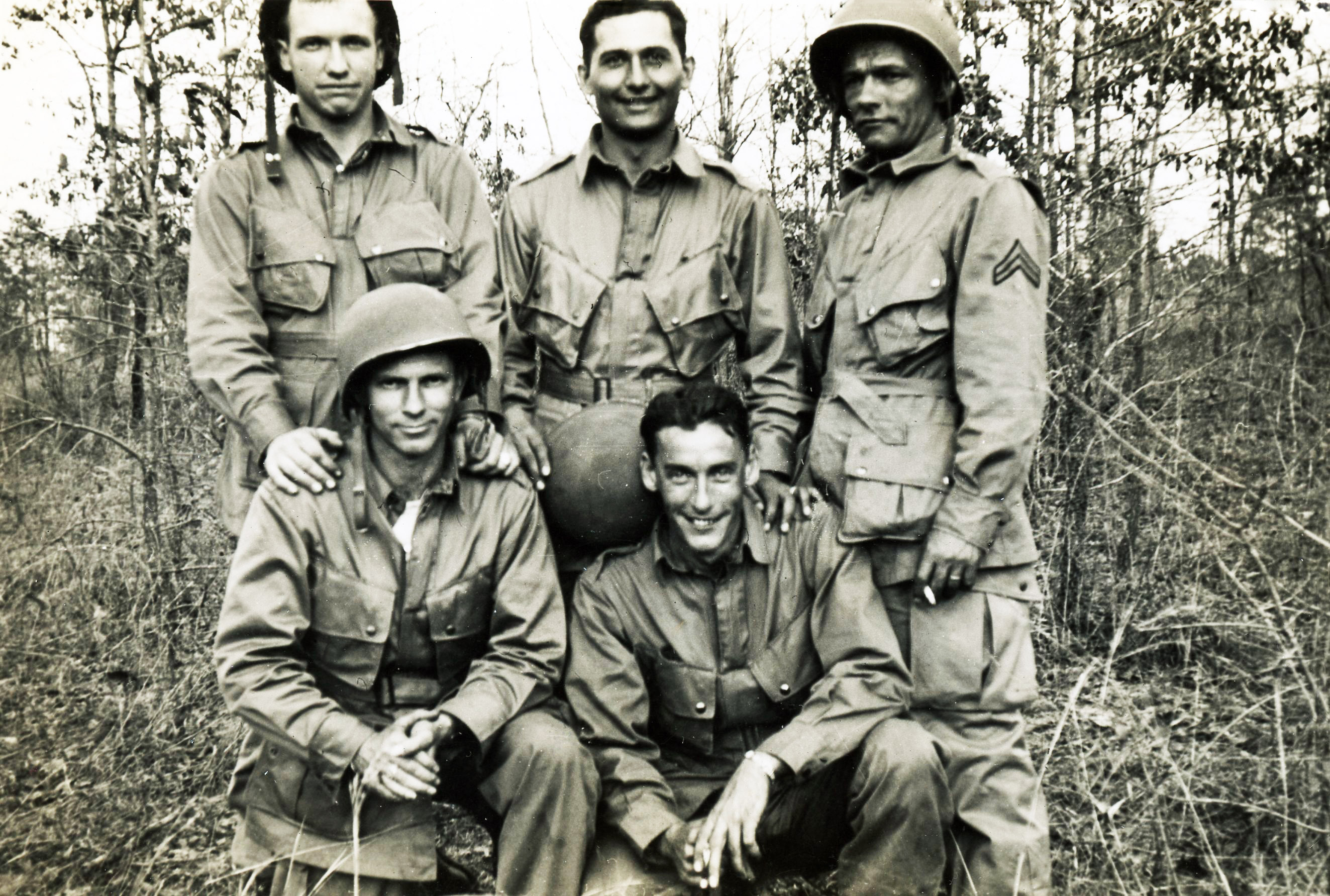 Staff Sergeant Bill Owens, France 1944.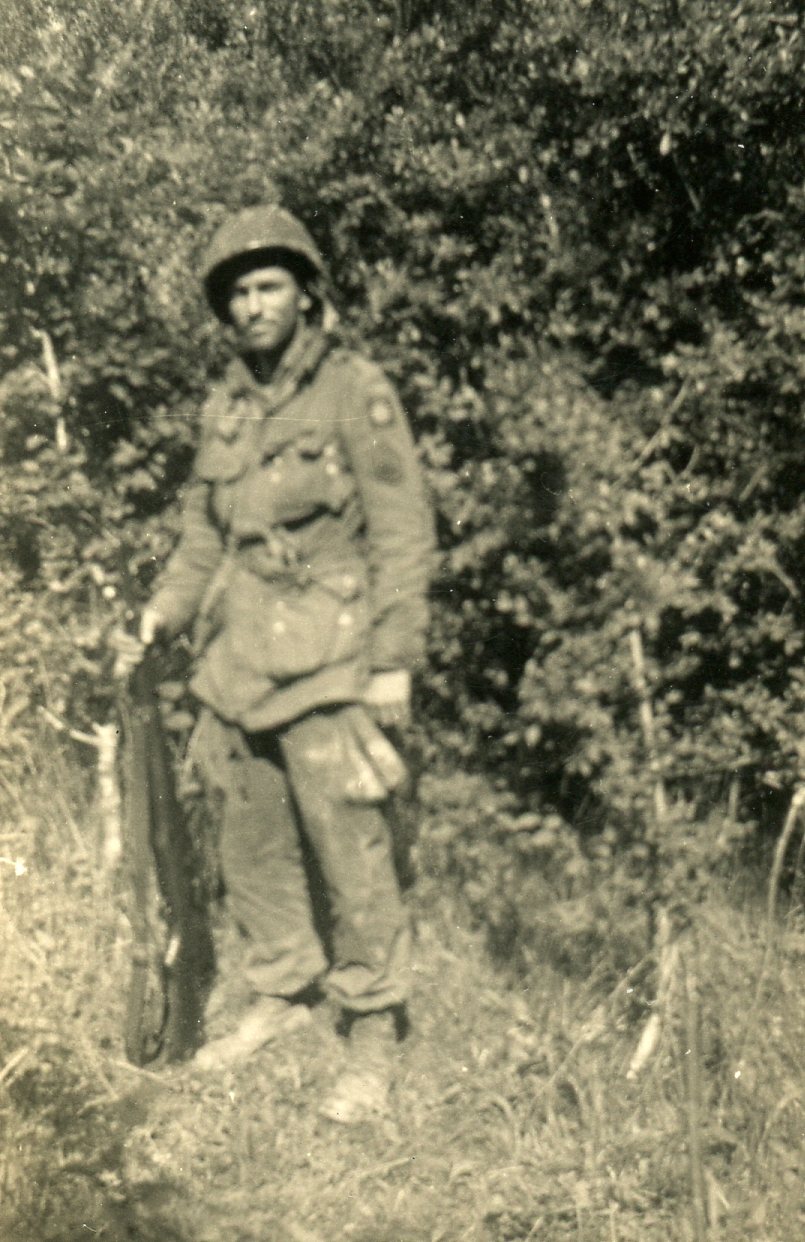 Staff Sergeant Bill Owens, England 1944. (after D-Day)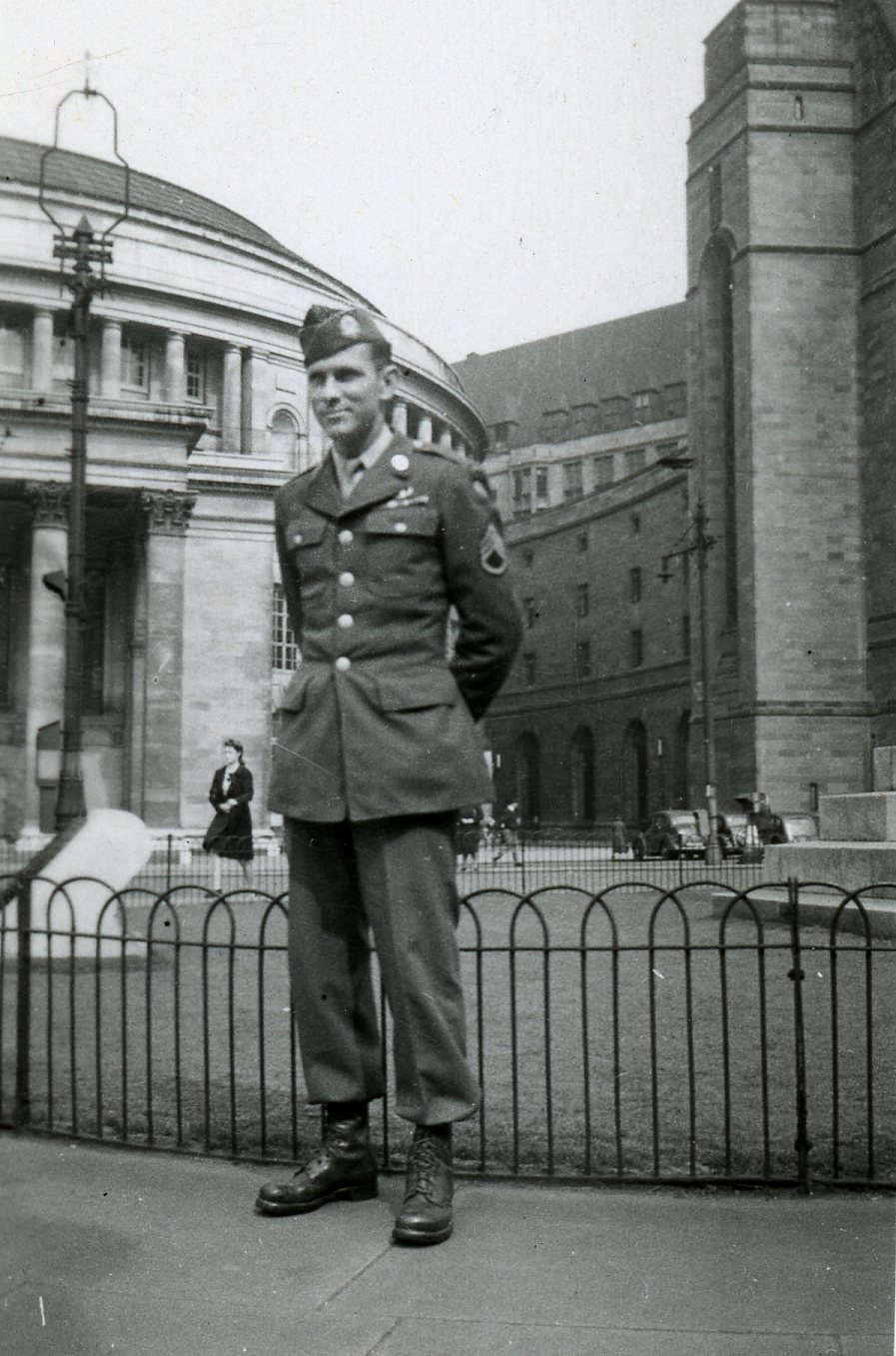 Bill Owens.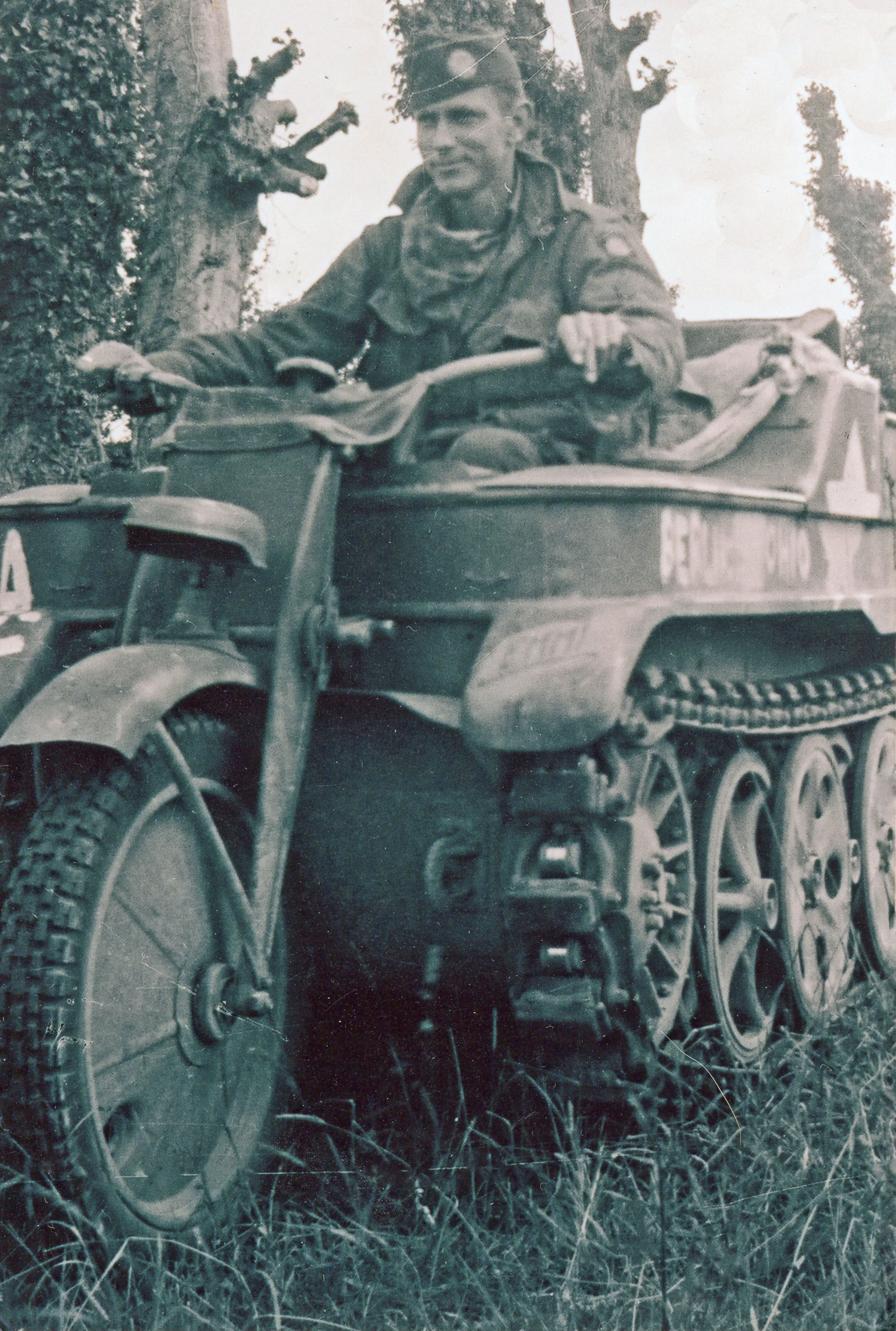 S/Sgt Bill Owens wearing a German pickelhaube helmet.
Holland 1944.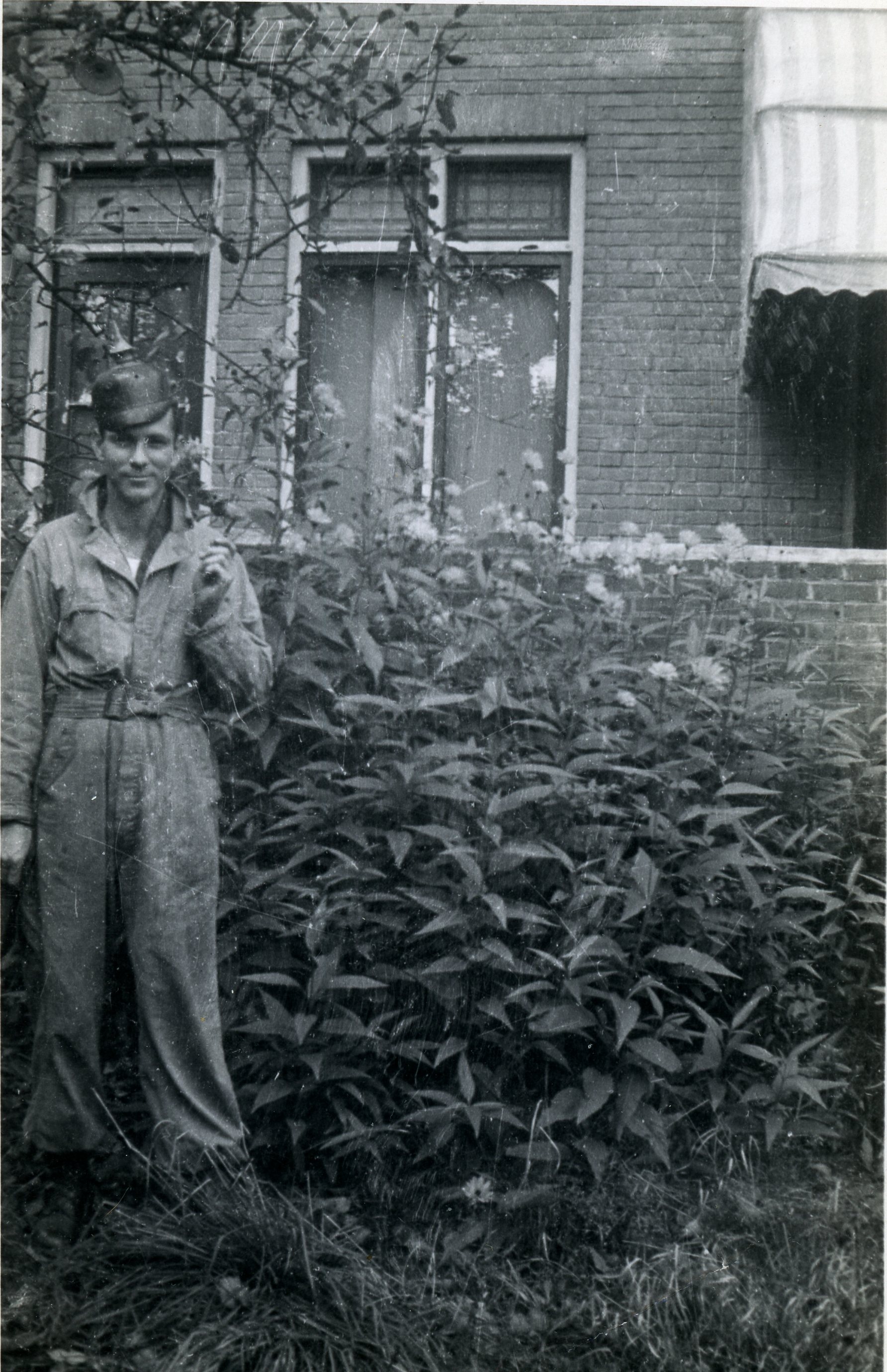 Bill D.Owens, James J. Ricci and Joe G. Anderson, 1944.