I could not let the passing of Dennis O'Loughlin go without a tribute to a very remarkable individual. A few years ago I visited Dennis at his place in Elk Creek, Montana and spent one of the most interesting afternoons that I have ever had. You see Dennis had a nickname in the area and was known to the locals as Two Gun Denny, I've enclosed a picture and you can readily see why he had the handle of Two Gun.
After WW2 Denny cared for an ailing aunt until her death he then made a claim on some land near the summit of a mountain where he eked out a living panning for gold and doing odd jobs. Dennis built a cabin there, without running water, electric, or indoor facilities and lived there through many very cold winters, he cut his own wood and made do with very little help. His contact with the outside world was limited to a radio he had hooked up to an antique generator that he would run for about 10 minutes a day while he listened to Paul Harvey. His best friend, Otis Sampson would drive up from his home in California and together they would raise a little hell, search for gold and help each other over the rough times. You see Dennis most likely saved Otis' life when "E" Company was handed a job to assault the Germans holding the Nijmegen Bridge. The Company caught hell and several were killed and wounded on that day in September 1944. One of those KIA was Camille Gagne who was profiled in Tom Brokaws first book "The Greatest Generation". (Camille was the father of Bob Gagne who was a high school classmate of mine and lives very near me yet today). The company was under intense artillery fire and was about a block and half away from the entrance to the bridge when a sustained barrage came down on the men of "E" company. Several were killed and wounded one of the wounded was Otis Sampson who sustained serious injuries that ended the war for him. Dennis was injured but managed to get back to an aid station and liberated a jeep to get back to his platoon and started hauling out the wounded –I have enclosed a picture of Dennis driving that jeep and the wounded man is Otis. The incredible picture was in James Gavin's book "On To Berlin".**
**(May 2015, Webmaster's note ; From the book "On To Berlin" the trooper in the picture mentioned here is probably Staff Sergeant Herbert J. Buffalo Boy of D Company. Although in Dennis's book "Fierce Individualists" he mentions on page 178 that Staff Sergeant Herbert J. Buffalo Boy was stripped to his waist. See last picture on bottom of page.)
**(The picture below of Dennis driving Otis to the aide station on the back of the jeep is from the 1946 book, "Saga Of The All American" in the Nijmegen, Holland section. Otis mentions this picture in his book "Time Out For Combat" page 264.)
Dennis kept a diary during the war and in the 50's compiled his diary into a chronological manuscript and with the help of some relatives in Minnesota had it published in 2004 with the title "Fierce Individulists". His account of the assault on the bridge at Nijmegen is absolutely bone chilling. Dennis wrote frequently and I'm sure the family will find a treasure trove of papers that will serve to show what a real individualist is, there are few like him.
I had the chance to visit with Otis at his home twice this past winter and he spent a good deal of time speaking of his best friend---Dennis O'Loughlin.



"Rest in Peace Dennis", Steve Anderson, Hugo, Minnesota.
)
Dennis O'Loughlin - 1945.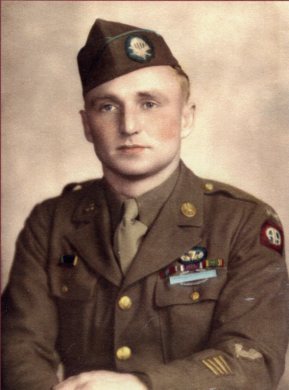 Dennis, inside his cabin,
in the mountains of Montana.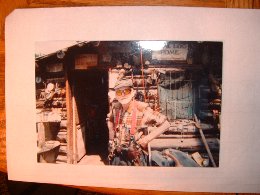 Dennis O'Loughlin driving Otis Sampson to the aide station.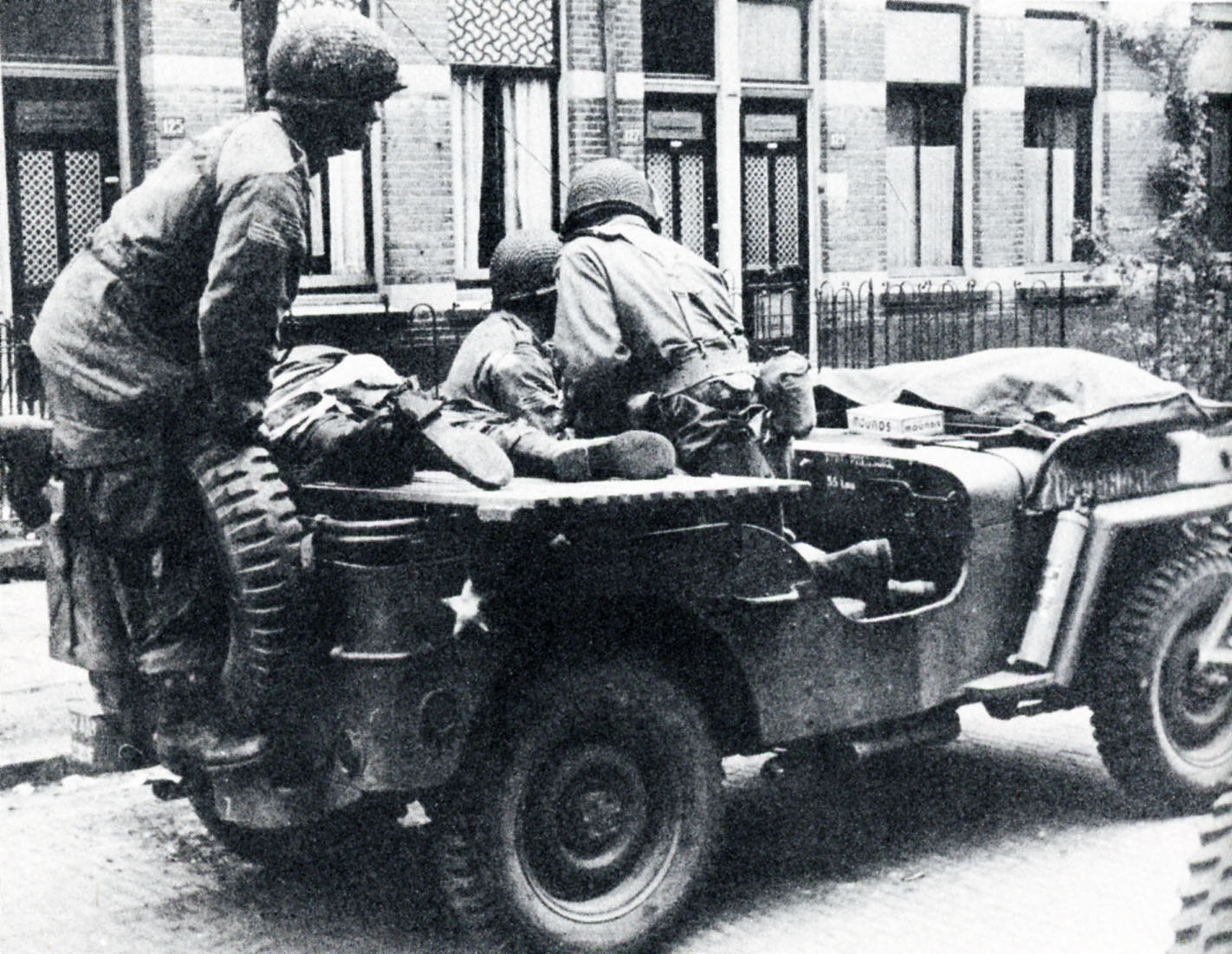 Dennis O'Loughlin driving Staff Sergeant Herbert J. Buffalo Boy of D Company to the aide station. From the book "On To Berlin".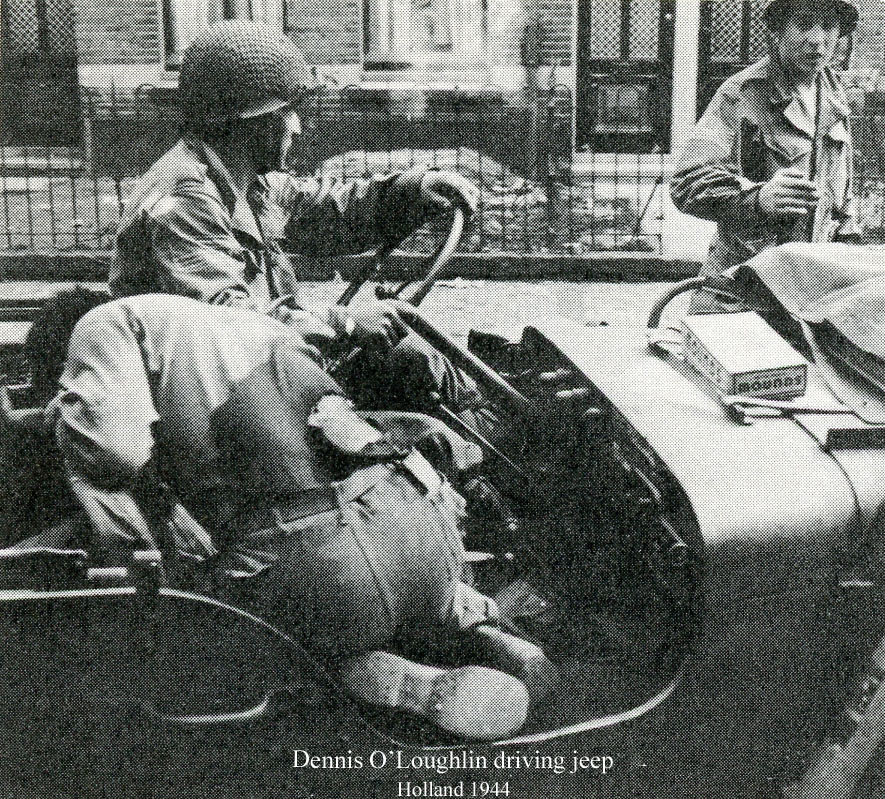 Dennis O'Loughlin's discharge document, 1945.