Captain Daniel B. McIlvoy, better known as "Doc" McIlvoy, served as
the 3rd Battalion surgeon in 1943. He also served as the assistant regimental
surgeon for the 505th. Later in the war, promoted to Major, he became the
505th's Regimental Combat Team surgeon.
Annie McIlvoy Zaya, Doc's daughter, has sent us the following:
COLONEL DANIEL B MCILVOY REGIMENTAL SURGEON
82ND AIRBORNE, 505TH RCT (Regimental Combat Team)
WORLD WAR II

Submitted by Annie McIlvoy Zaya
8031 Pepper Pike, West Chester, Ohio 45069
mazaya2000@cinci.rr.com
513-314-4904
Daniel B. McIlvoy was born in Springfield KY on July 16, 1912. He was the third child and first son of Daniel and Ruth Baker McIlvoy. His father was a tobacco farmer and his mother, a homemaker. McIlvoy's military career began at age 17 when he dropped out of Springfield High School his senior year to join the National Guard, at that time the National Guard was a cavalry outfit. The unit was sent to Harlan KY, Bloody Harlan it was called, during the violent coal mine strikes in the early 1930s. He returned to graduate from Springfield High School and then attended Western Kentucky University in Bowling Green KY from 1933 -1937. He was accepted into Tulane Medical School after college graduation.
He joined the Army Reserve in 1940 while in medical school. In 1941 he graduated from Tulane Medical School and was commissioned a first lieutenant in the U. S. Army Medical Corps Reserve. The day after he finished his internship at City Hospital in Winston Salem NC, he was ordered to active duty and received his initial training at the Medical Field Service School at Carlisle Barracks, Pa. He was assigned to the 96th Infantry Division at Camp Adair, Oregon. Wanting to get back to the south, he volunteered for parachute duty.
After completing parachute school at Fort Benning GA, McIlvoy requested overseas duty and was assigned to the 505th Regimental Combat Team of the 82nd Airborne Division, which was being sent to North Africa. Completing additional training, he jumped with his regiment into Sicily, where he was blown off the side of an ambulance by enemy artillery. After another combat jump on Paestum near Naples, the 505th was transferred to Quorn, England, for training in preparation for D-day.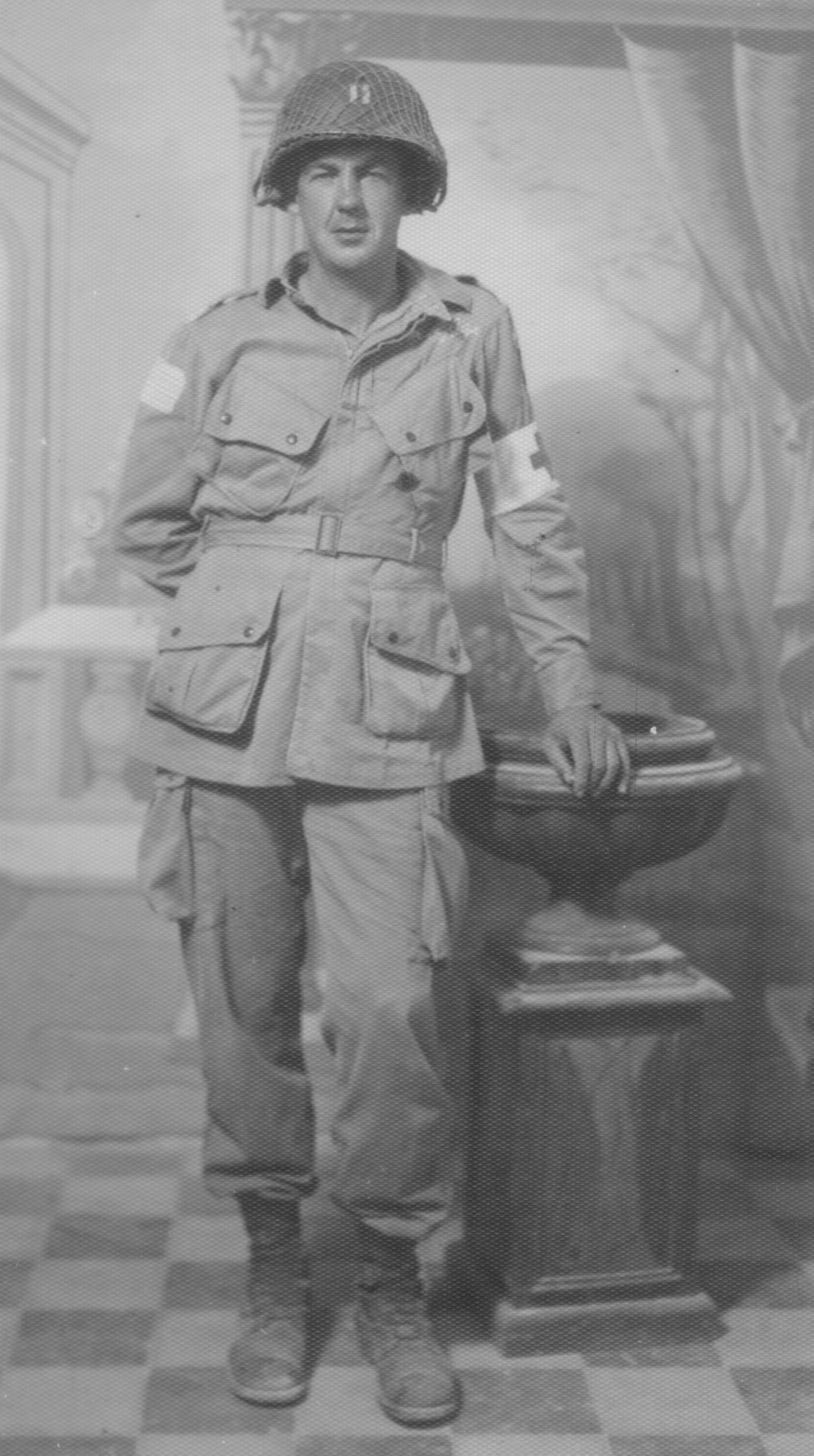 "Doc" McIlvoy in Sicily 1943.
While in England, McIlvoy set up a training program to familiarize the paratroopers with first-aid procedures and the use of the aid packs they had been issued. In addition, he studied the way medical supplies were dropped in combat and worked out an improved system. He and the other medical personnel of the 505th also improved their treatment of the wounded by setting up criteria for treatment and evacuation. The innovations of McIlvoy and his medical team are credited with saving countless lives during the next two years of the war.
Promoted to major and regimental surgeon, McIlvoy jumped with the 505th into Normandy. While treating a wounded soldier, he was cut off from the rest of his unit and listed as missing in action for two days. Later in the battle, he delivered a baby boy. The parents were so grateful they named him, Daniel, after McIlvoy. In late 1944, he parachuted into Holland with the 82nd Airborne during the ill-fated Arnhem Operation, and was in the thick of the fighting in the Battle of the Bulge. With the 82nd, 505th RCT, McIlvoy made four combat jumps, a distinction he shares with only two other medical officers in all of the Armed Forces. He received a Citation for Gallantry in Action from former Chief of Staff, General James Gavin; was awarded the Legion of Merit, Bronze Star with Oak Leaf Cluster, Unit Citations, Belgium Fourragers and Dutch Lanyard as well as the Purple Heart with Oak Leaf Cluster for wounds received in Sicily and Holland.
"Following the war, Dr. McIlvoy married Pauline Braddock and had three daughters, Mary Anne(Annie), Carol and Linda. After his internship in Pediatrics at Babies Hospital in Wrightsville Beach NC and a residency at Syracuse University Hospital in Syracuse NY, he returned to Bowling Green KY, where he attended Western Kentucky University. There he practiced pediatrics at Graves-Gilbert Clinic until his retirement in 1980. His pediatric practice was not an ordinary practice: he treated as many as 100 children a day, provided free medical care for those patients whose parents could not afford it. He had a standing account with the local cab company to bring children and their parents to his office for treatment, otherwise they would not have had the means to get there. He made house calls, sometimes in the middle of the night, up until the day he retired. He has been known to his patients as Doctor Dan, the bandage man. I once read that a hero is a person who has the courage to make a good thing of his whole life. I'm proud to say that I've met a real life hero, Dr. Dan B. McIlvoy." 1
After his death on May 31, 1998 at age 85, he was buried in Arlington National Cemetery with the highest military honors.
John Ospital, a chaplain's assistant in the 505th RCT, had this to say about Colonel McIlvoy in his book, We Wore Jump Boots and Baggy Pants. "The only way I can describe the Colonel is to say that if you took a poll of a cross-section of enlisted men as to what in their minds constituted the perfect officer, the composite of their ideas would result in Colonel McIlvoy. At this point I knew him very little, only by sight, but later I was to get to know him quite well and to appreciate the greatness of this man. He had a way of being jovial with his men when the occasion called for it, but when events at hand warranted seriousness, the tone of his voice was enough to relay the sense of gravity to his men. A respected officer and a warm human being was our Kentucky Colonel."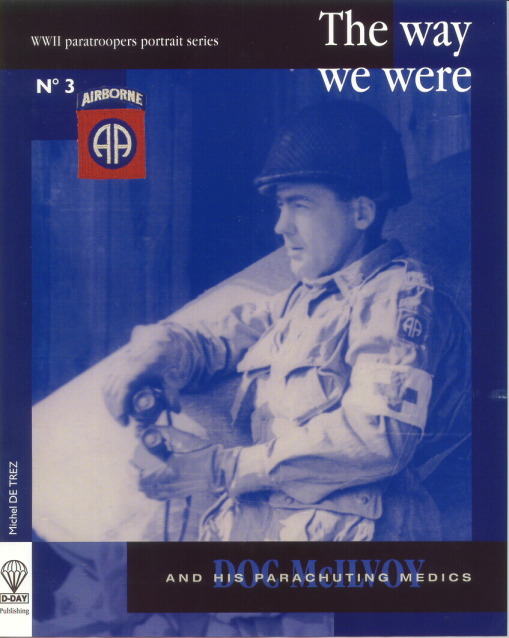 "Doc McIlvoy and his parachuting medics"
In 2004 a book titled Doc McIlvoy and His Parachuting Medics was published just before the 60th Anniversary of D-day. It is the third book in The Way We Were Portrait Series published by Michel De Trez(d-day@skynet.be) and D-day Publishing(www.d-day-publishing.be). "Lavishly illustrated with photographs and illustrations, "The Way We Were" is not only a chronicle of McIlvoy"s war experiences but also a history of the 505th Medical Unit. The third volume in the "World War II Paratrooper's Portrait Series," it discusses in detail the equipment, techniques and personnel of the 505th. While McIlvoy is the focus of the book, the actions of the other doctors and medical personnel area also detailed, including numerous personal reminiscences." 2
"The book, beautifully illustrated with photographs of McIlvoy and the 505th Parachute Infantry Regiment, 82nd Airborne Division is broken into small chapters and captions that capture the thoughts, conversations, and letters the bring WWII to life for the reader. The text imparts the incredible heroism of one man among many who served our country." 3
In the dedication page of the book, these are Doc McIlvoy's words, "War is an author's favorite subject, but then it mostly relates to generals and fighting men; little is written about the medical aid men and his contribution. The exploits and lives saved by the medics were many and deserve a book of their own.
Though the general public looks upon medical care in the Armed Forces as a group of doctors working over an operating table, few visualize what goes on from the moment a soldier is wounded until the time he reaches this table. Officers of the 505th RCT have the highest regard for that individual in their unit who took care of the first stages of medical treatment and evacuation: the Parachute Aid Man. Dropped with the men, living under the same adverse and hazardous conditions of war, the aid man does a commendable job. He has a warm and respected place among the parachutists he served with. He was affectionately called "Doc." He was watched over, fought for in pubs and protected as much as could be in combat. Many a man will tell you how his life was saved by the combat medic. A soldier, if he was not killed outright or wounded so badly that he would not live, became a human challenge. The medic felt like this soldier had every right to live, and his managing to evacuate so many of the casualties was amazing to the medical officers in both Battalion and Regimental Aid Stations. Only by his bravery, were we able to patch up and send back so many mutilated brave paratroopers to the medical teams of surgeons.
To a medic, a wounded man in need of help calls for action, irrespective where he may be. The aid man knows the risks involved, he has witnessed fellow aid men killed and wounded, yet he will unhesitatingly and repeatedly take these risks. When subjected to shelling, he must expose himself in order to help the wounded. When there are wounded around him, he knows that keeping down means that someone out there may die. These boy have responsibility over many lives. and they carry it well. To them goes the highest admiration of their medical officers and those who must live or attempt to live on the front lines. While the medics can remember only a few of the parachutists, they can rest assured they are remembered by many. Hundreds of paratroopers remember how the aid man cared for them during the war. There are many brave men buried over there. We had some mighty fine people that we didn't bring back and I always felt that we owe them and their families a written testimony of their story."4
In my Father's papers, I found a list of the 218 medics who served in the 505th/82nd Airborne. He had listed the dates for medics, who were KIA including the places where they were buried. He also had the most current addresses for the medics who survived and on the 50th Anniversary of D-day in 1994, he mailed this tribute to the hometown newspapers of each medic. (Example below)

Note to the Editor A BRAVE MAN

Galloway Turnipseed, Liberty, Mississippi Parachuted during World War II several times with Medical Detachment, 505th PIR/82nd Airborne, and helped save hundreds of wounded men. Whether he is living, dead or moved, please honor him in your newspaper on the 50th Anniversary of D-day in Normandy. Dr. D.B.McIlvoy Bowling Green, KY

I would like to close this short summary of my Dad's life with a quote that I know he would love.
The Brotherhood
I now know why men who have been in the military yearn to reunite; not to tell stories or look at old pictures; not to laugh or weep. Comrades gather because they long to be with the men who once acted at their best; men who suffered and sacrificed; men who suffered and were stripped of their humanity.
I did not pick these men. They were delivered by fate and the military. But I know them in a way I know no other men. I have never given anyone such trust. They were willing to guard something more precious than my life. They would have carried my reputation, the memory of me. It was part of the bargain we all made, the reason we were so willing to die for one another. As long as I have memory, I will think of them all, every day. I am sure that when I leave this world, my last thought will be of my family and my comrades. Such good men. (Author Unknown)
1. Western Kentucky Alumni Magazine, Spring,1994, D-Day Remembered by Lucinda Anderson
2. Bowling Green Daily News, Bowling Green KY, December 26,2004, Book Review by J. W. Thacker, history department, Western Kentucky University
3. Pulse Journal, West Chester OH, Book Review by Juliann Wetz
4. Dr. Daniel B. McIlvoy, Dedication Page in the book, Doc McIlvoy and His Parachuting Medics
---
Doc McIlvoy in Sicily - 1943 -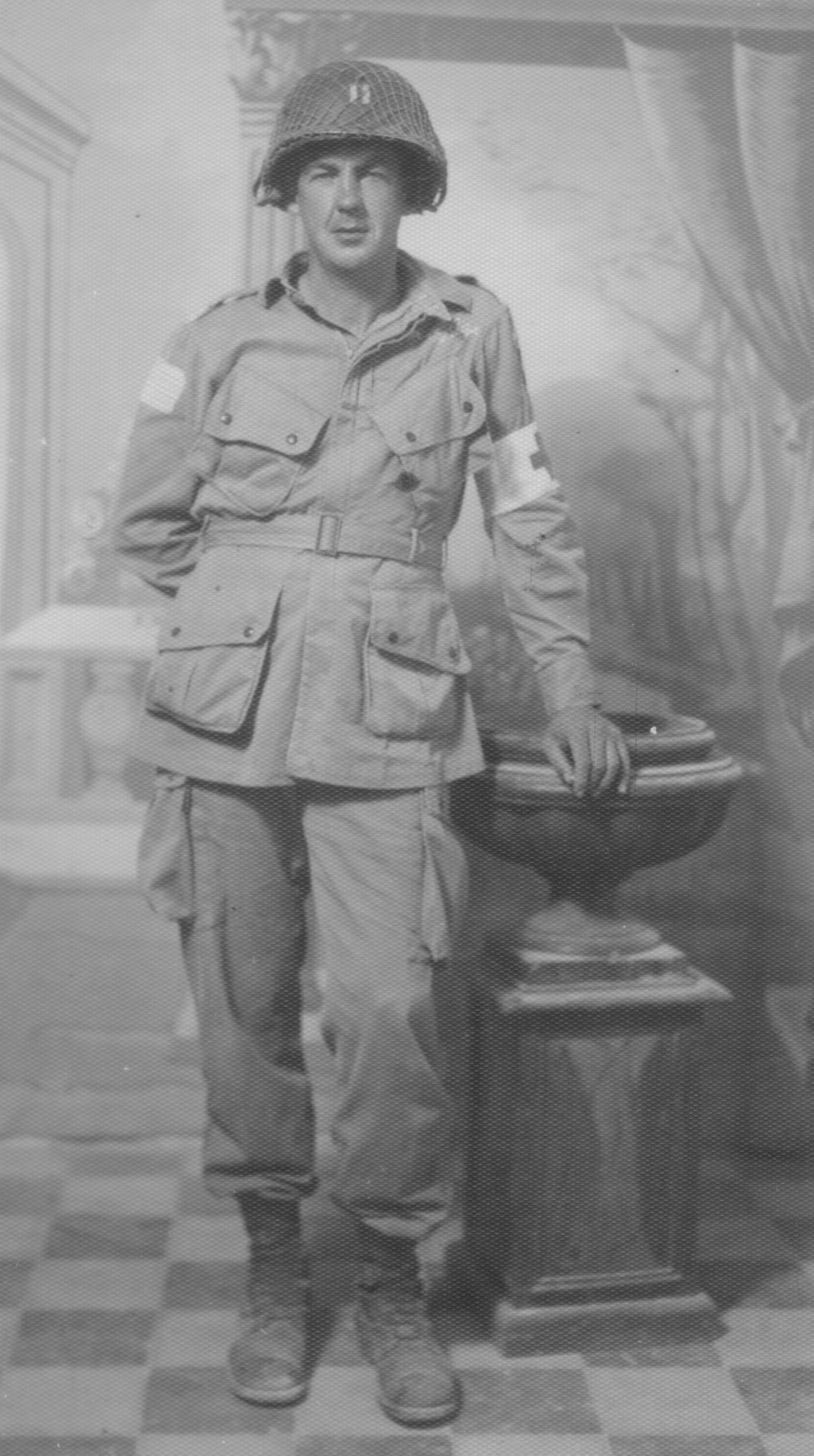 Captain Doc McIlvoy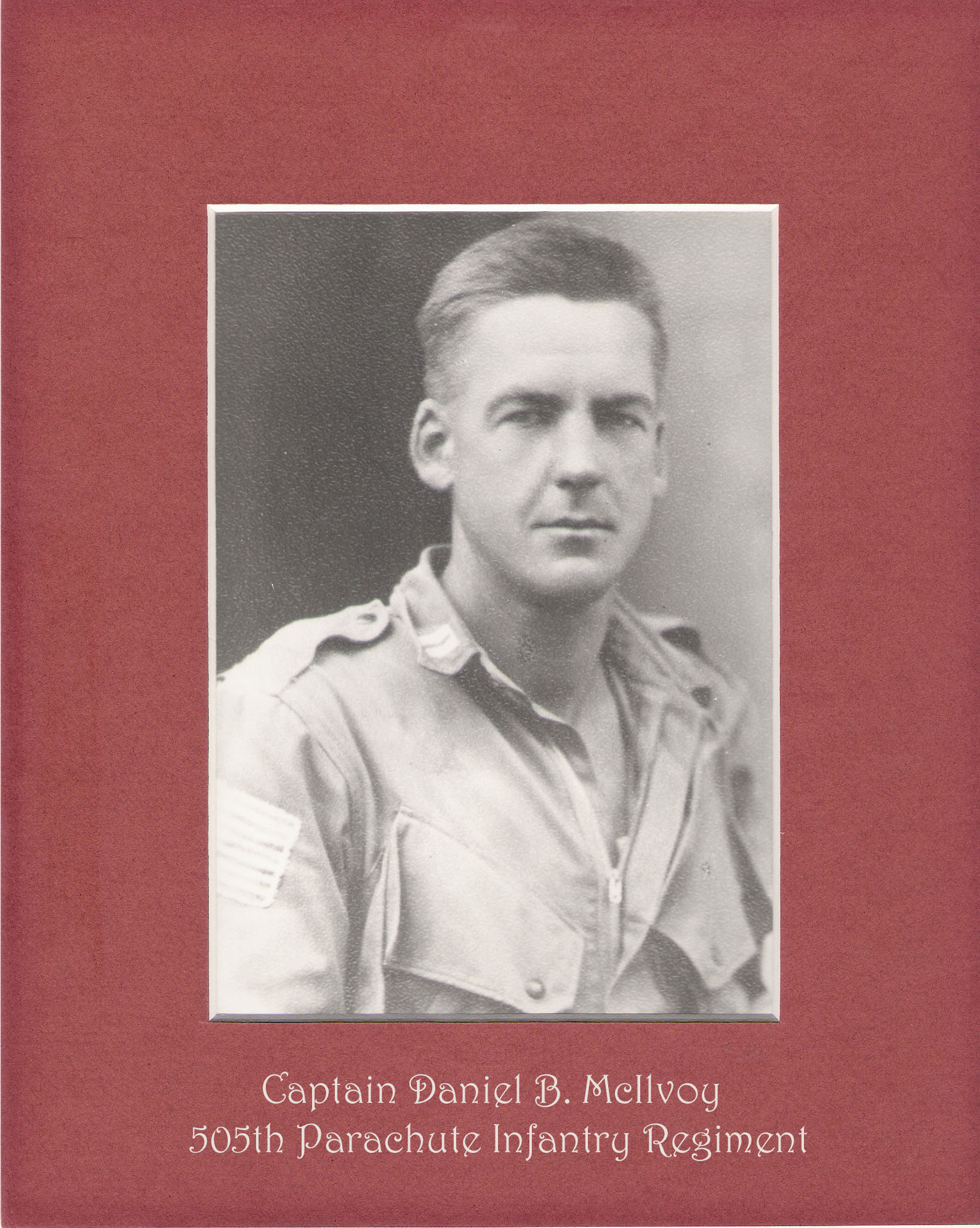 Book cover of Michel De Trez's "The Way We Were" a WWII American
Paratroopers Portrait Series #3.