Paratroopers of the 505th Parachute Infantry Regiment
This page is dedicated to Francis H. Markwood
Private First Class Francis H. Markwood was a decorated paratrooper of company " E ". He was from Los Angeles, California and enlisted in the Army from his hometown on January 12th 1944. Francis came to the regiment as a replacement and first served in combat during the Ardennes campaign. In early April 1945 the regiment was called upon to relieve the 86th Infantry Division who were holding positions along the west side of the Rhine river below Bonn, Germany. Along the east side of the Rhine were various elements of trapped German Divisions. It's estimated there were between 400,000 and 450,000 German soldiers in this large area that became known as the " Ruhr Pocket. " It contained Army Group B headed by Field Marshall Walter Model and was made up of Hitler youth, older men in militia groups, defeated and retreating elements of the Wehrmacht and some SS units.
On the night of April 5th 1945 company E sent out a four man patrol to cross the Rhine river and bring back prisoners for interrogation. Francis was part of this patrol as were Lieutenant Howard Jensen, Sergeant Frank Ensley and Private First Class James Keenan. In order for the patrol to get to the other side only small boats and kayaks used by the local population were available. When they reached the east side of the river the patrol came under fire and unknowingly ran into a minefield killing Francis and Sergeant Frank Ensley. Waiting until morning, the other two members of the patrol tried to make the river crossing back to their lines. As they started to cross the two became targets for the enemy, the early morning light would no longer provide cover their withdrawal. In the process of abandoning the boat to avoid becoming casualties, the two were going over the side when Lt. Jensen was hit and killed and Pfc. Keenan was forced to swim the distance to the west side of the river. Of the four members that started out on the patrol, Pfc. James Keenan was the only member to make it back alive.
Pfc. Markwood is buried in the Netherlands American Cemetery in Margraten, Netherlands. He received the Bronze Star medal with oak leaf cluster and a Purple Heart medal with oak leaf cluster.

Francis H. Markwood in the Frying Pan Area of Fort Benning, Georgia.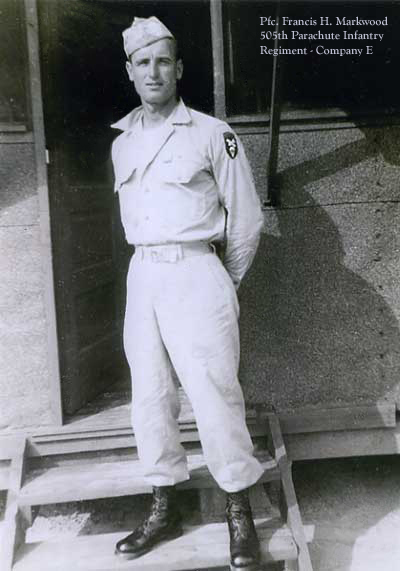 | | | |
Copyright © 2012 505rct.org, All rights reserved.
Webmaster