Dennis Charles Hannah, a quarter Cherokee Citizen born in Adair County Oklahoma on August 12, 1920 and a graduate of Muskogee High School was inducted into the United States Army on the day before his 22nd birthday, August 11, 1942. He entered basic training at Camp Walters, Texas near Mineral Wells and was qualified as weapons armor with expert ratings in rifle, pistol, and machinegun. He volunteered for the newly formed airborne service and departed Camp Walters on December 2, 1942 for training at Fort Benning, Georgia. Hannah completed his airborne instruction and qualifying jumps receiving his diploma as a parachutist and airborne wings on January 9, 1943. He received advanced training in infantry tactics and completed demolition school in January of 1943. Hannah was assigned to active duty as a parachutist with E Company of the 505th Parachute Infantry Regiment, (505th PIR) .
The regiment departed Fort Benning for additional training and maneuvers at Fort Bragg North Carolina on February 12, 1943. Upon its arrival the 505th PIR became of the 82nd Airborne Division. The 82nd had recently been brought out of retirement and newly designated as airborne. It consisted of two parachute regiments, the 505th and the 504th PIRs; one glider regiment, the 325th GIR; and supporting artillery, engineer, medical, anti-aircraft and other units. General Matthew B. Ridgway served as the commanding general. Extensive training, maneuvers, and specialist instruction was provided at Fort Bragg in preparation for the divisionís deployment overseas. Hannahís unit began its move overseas via Camp Edwards on Cape Cod in Massachusetts, thence by train to New York where it boarded the Matson Liner, USS Monterey for transport overseas. The Monterey, a passenger ship converted to a troop transport sailed from New York Harbor on April 29, 1943. The 505th PIR, as part of the 82nd Airborne Division, landed in Casablanca on May 10, 1943. From there the regiment moved from Casablanca, Morocco to the small Arab town of Oujda, just west of the Algerian border and about 30 miles south of the Mediterranean Sea. Here the division continued its training, eventually making their final move to bivouac sites in Tunisia for the assault on Sicily. (continued)
(Bio courtesy of Jay Hannah)








Private First Class Dennis C. Hannah.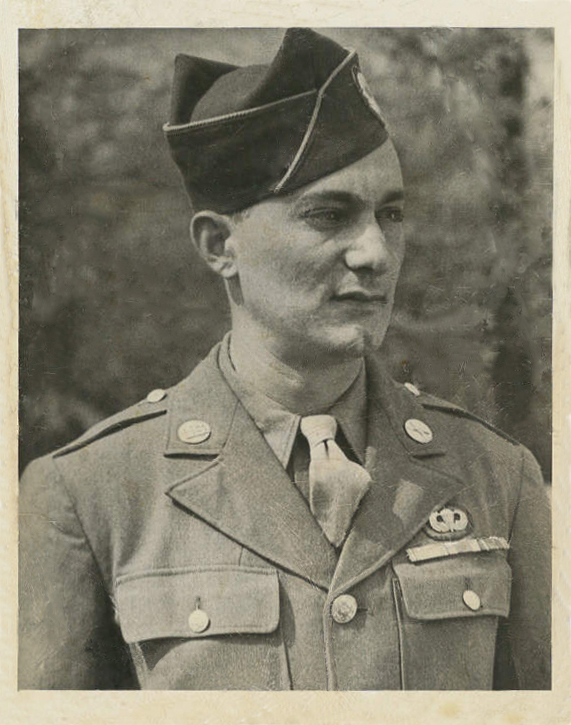 Private Dennis Hannah with new jump wings.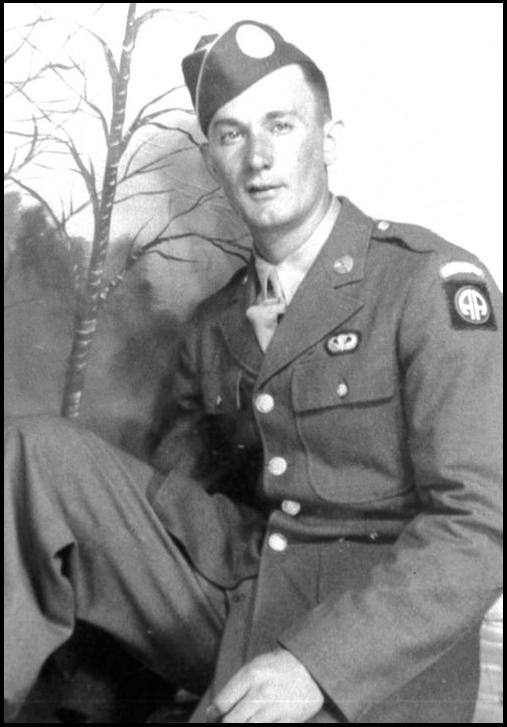 505 in Camp Quorn, England 1944.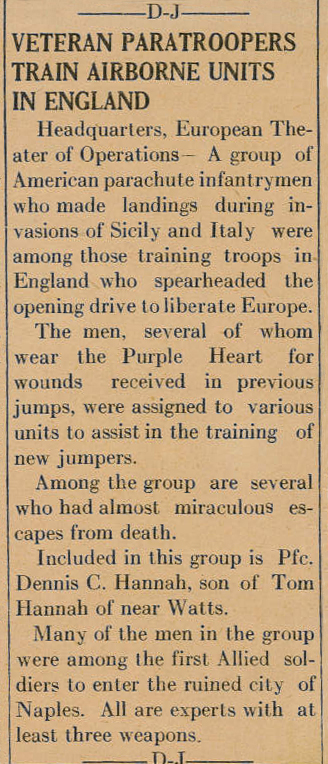 Break time, Dennis Hannah on right.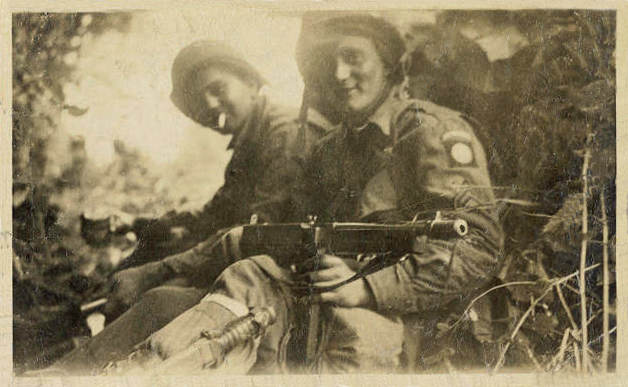 Pfc. Dennis Hannah awarded the Bronze Star medal.


Hurtgen Forest, Germany 1945.
R.J. Mueller on left, Dennis Hannah right with Thompson machine gun .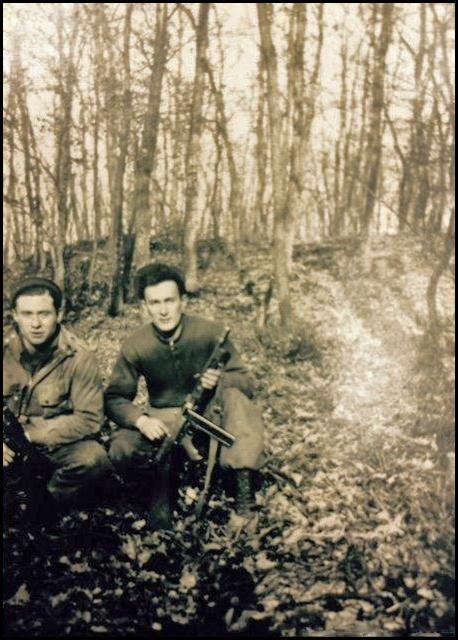 .

.

.

.

.

.

.

.

.

.

.

.


.

.

.