John Timothy Diffin was born in Brooklyn, New York on March 13, 1922. He entered the Army on February 15th 1943 from Baltimore, Maryland. John took his basics at Camp Howze, Texas and afterwards was assigned to the 86th Infantry Regiment. It was while serving with the 86th he volunteered for the paratroops. John sailed for the European Theatre on February 10th 1944 and arrived on February 22nd 1944. John made combat jumps in Normandy and Holland, he participated in four campaigns, Normandy, Rhineland, Ardennes and Central Germany. John earned the Bronze Star medal with oak leaf cluster and the Purple Heart medal with two oak leaf clusters. He remained with the Regiment when it went to Berlin to serve as the Army's honor guard even though his ASR score was 95 in September of 1945. He sailed home on the Queen Mary arriving in New York on January 3, 1946 and marched in the tickertape parade down Broadway for the 82nd Airborne Division. John was honorably discharged on January 25th 1946 and reenlisted the next day on the 26th of January. He remained with the 82nd Airborne Division until he retired, with the exception of two tours. The first tour was with the 187th (Airborne) Regimental Combat Team during the Korean War, and later, a tour in Vietnam with the 101st Airborne Division. In 1974, John flew to Europe for the thirty year D-Day commemoration service held in Sainte Mere Eglise, France, attending as an official representative of the 82nd Airborne Division. In October of 1975 Sergeant Major John T. Diffin retired after a 33 year career. At the time of his retirement he was the last active duty WW II veteran on the 82nd Airborne Divisionís roll.



Pfc. John T. Diffin, May 1944 at Camp Quorn, England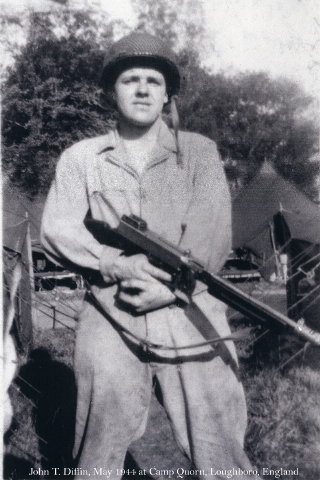 Floyd Helmick (101st A/B Div.) and John Diffin 1945. Floyd is
wearing John's spare field jacket.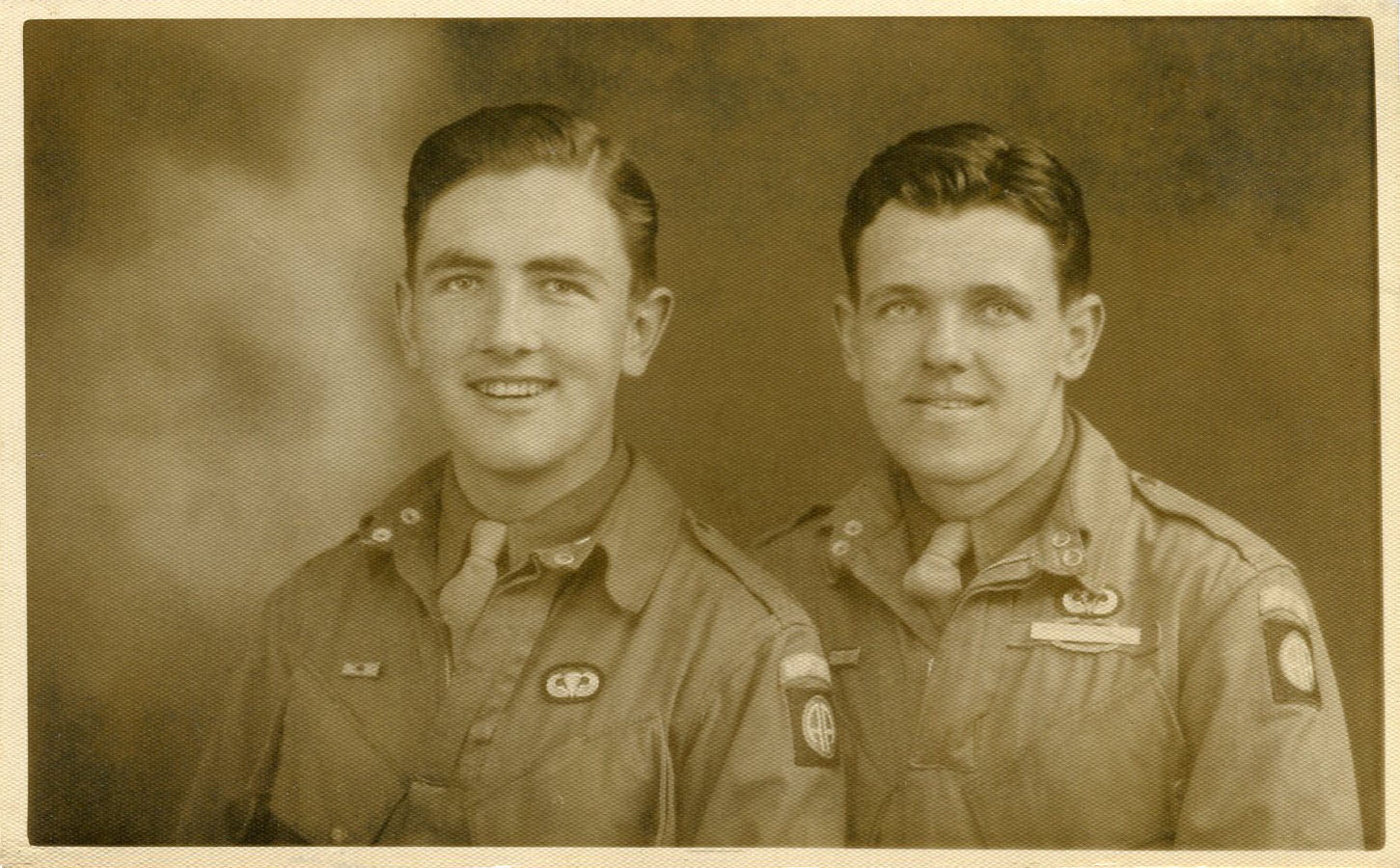 John Diffin of Brooklyn N.Y.and Ralph H. Smith of Gastonia N.C. - 1945.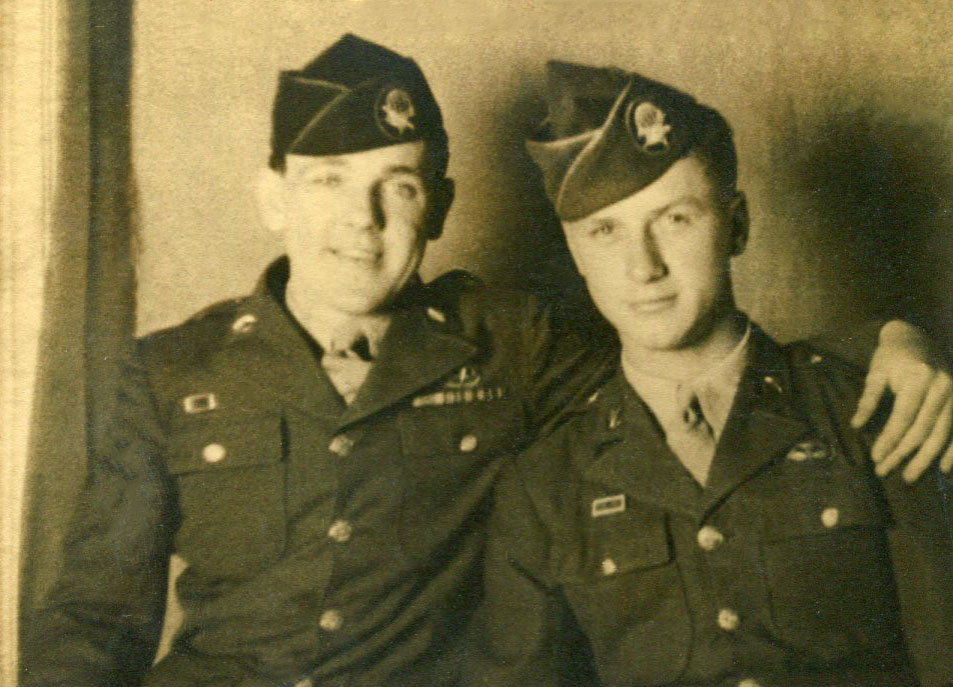 John and Ralph - Berlin 1945.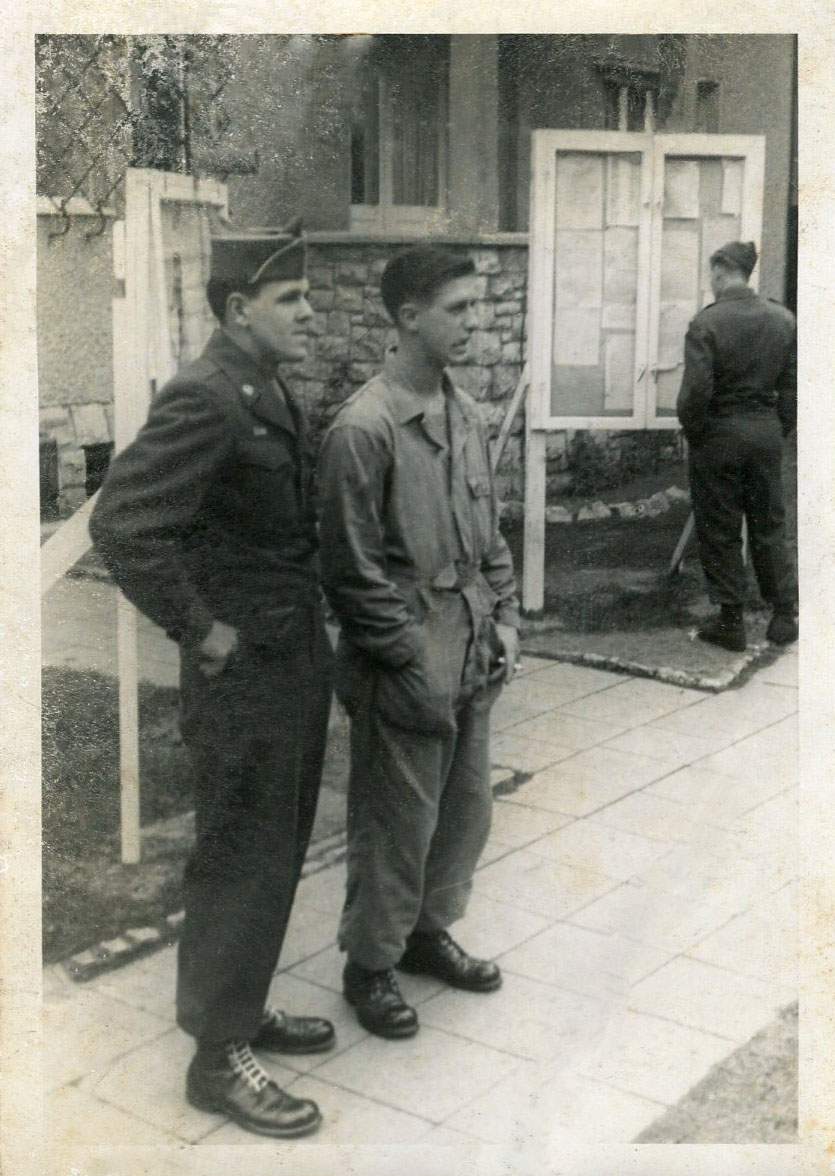 G company's John Alway, John Diffin and Smith(possibly William),
Berlin, Germany 1945.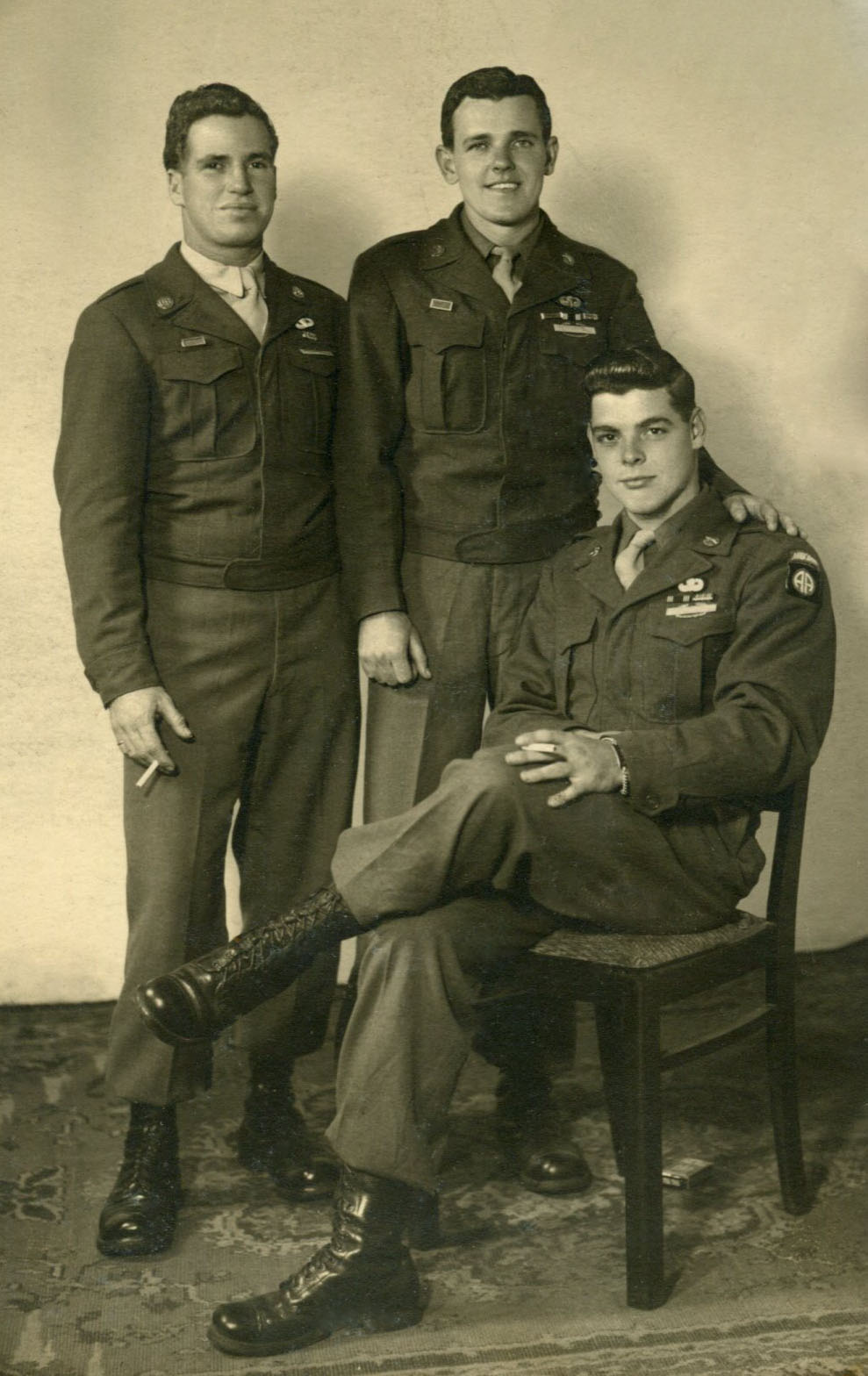 Smith(William),Ray Daudt ?, Ralph H. Smith, Eugene A. Lenz - Berlin 1945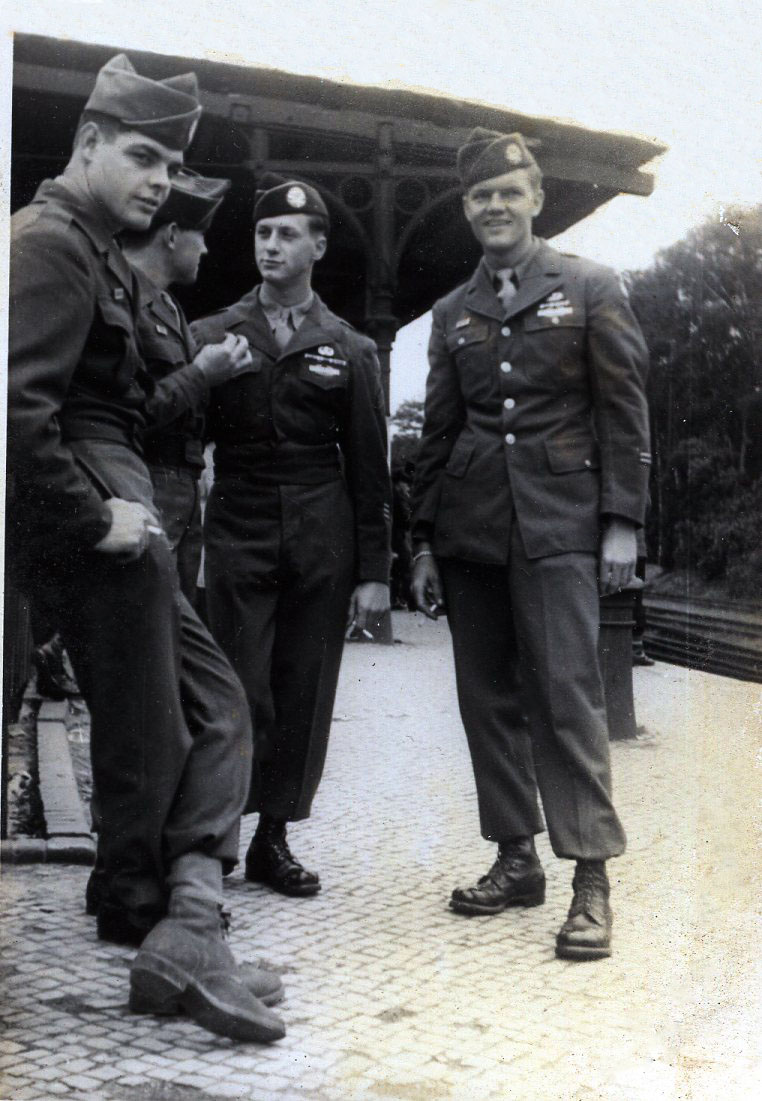 Unknown trooper and Tech.Sgt. John Cantrell of G Company.
Berlin 1945. John came to the 505 as a corporal, He earned
his CIB (Combat Infantryman Badge) in Holland.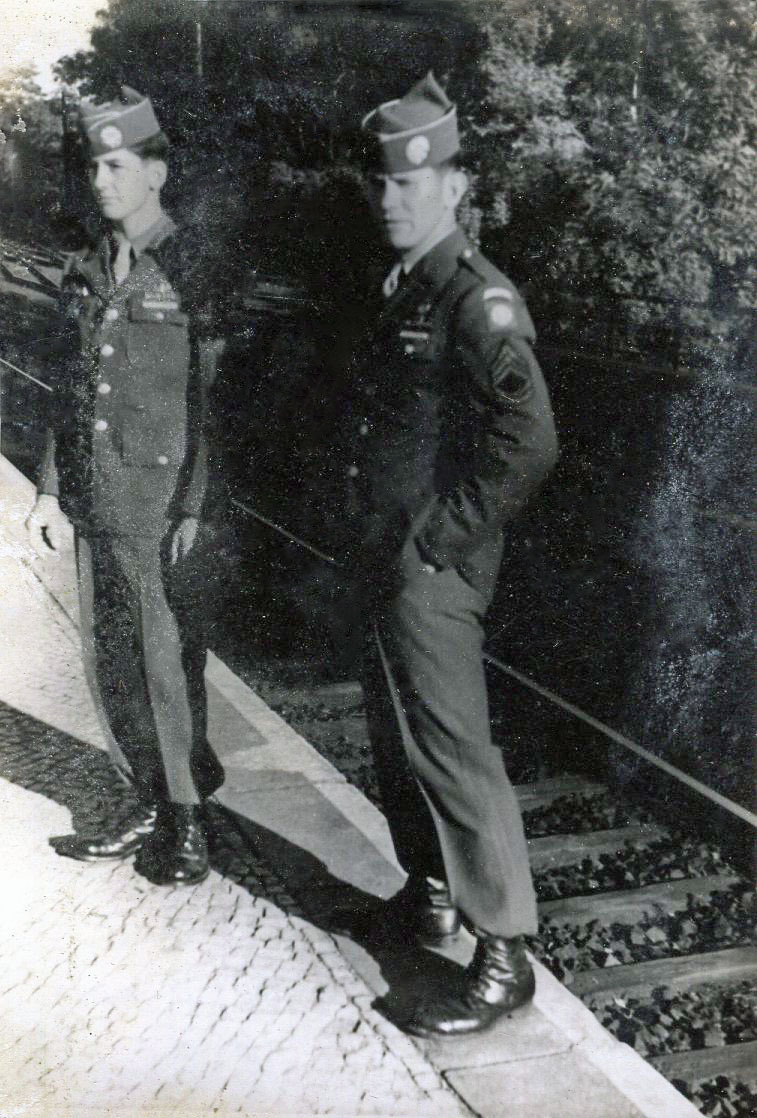 Private Eugene A. Lenz outside the 505's Berlin's Escort Company headquarters.

Ray Daudt and John Diffin Berlin 1945.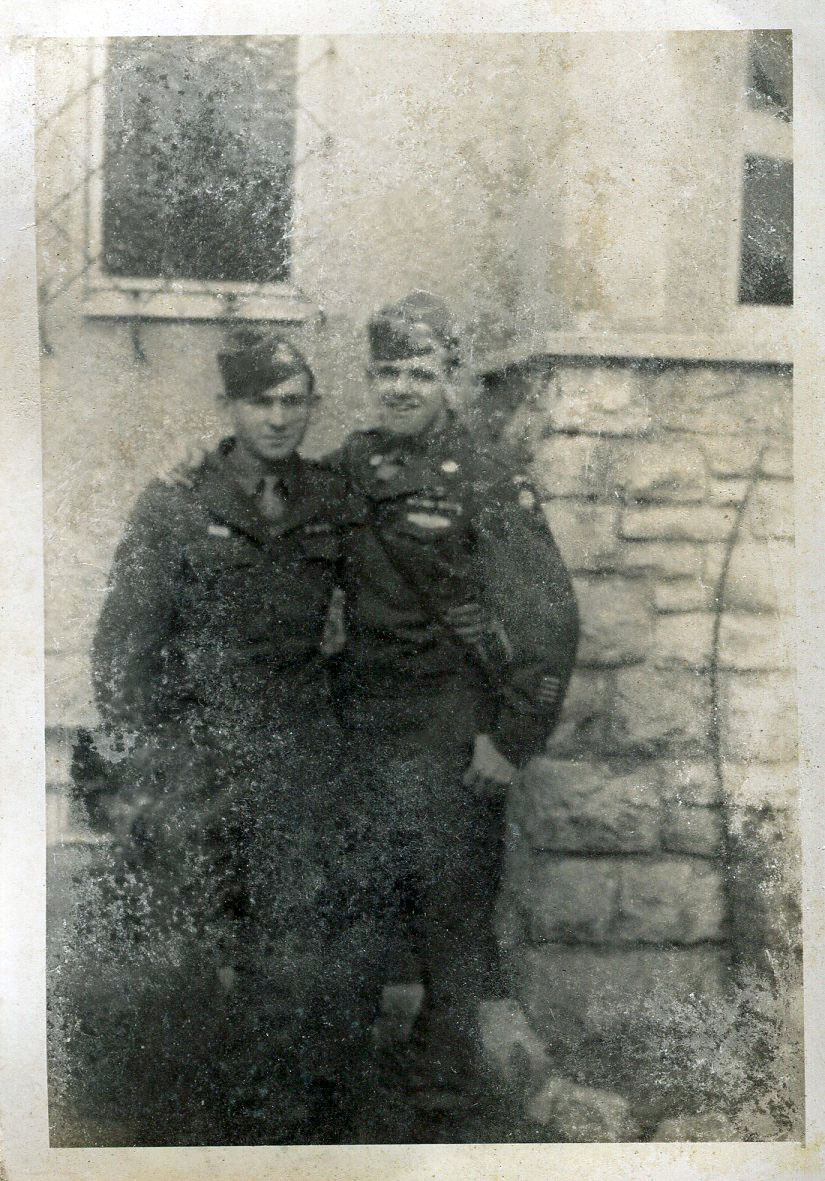 Captain Francis "Joe" Meyers, unknown trooper and John Diffin, Berlin 1945.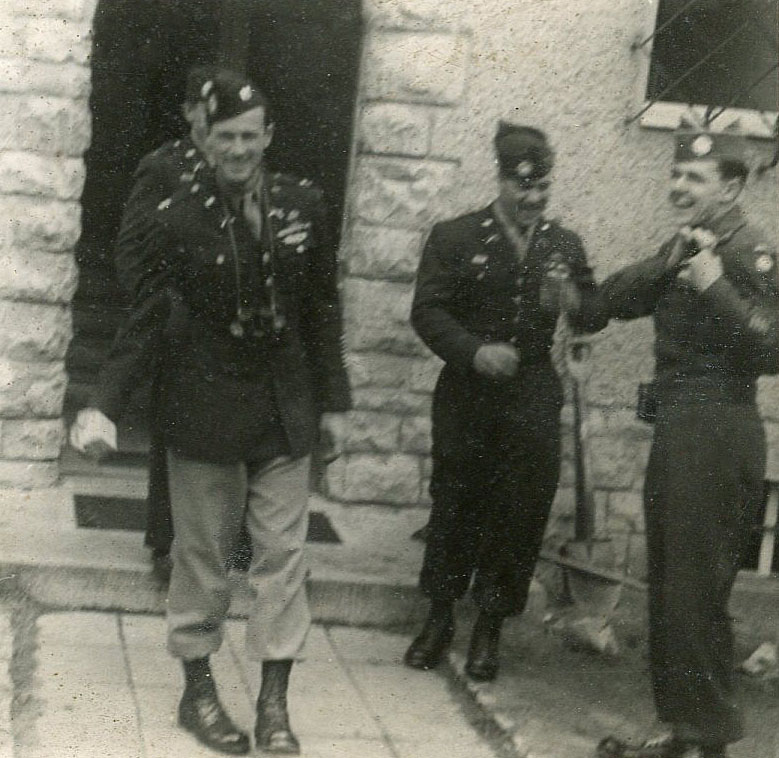 Some of the medals and ribbons John earned in WW-II, Korea and Vietnam.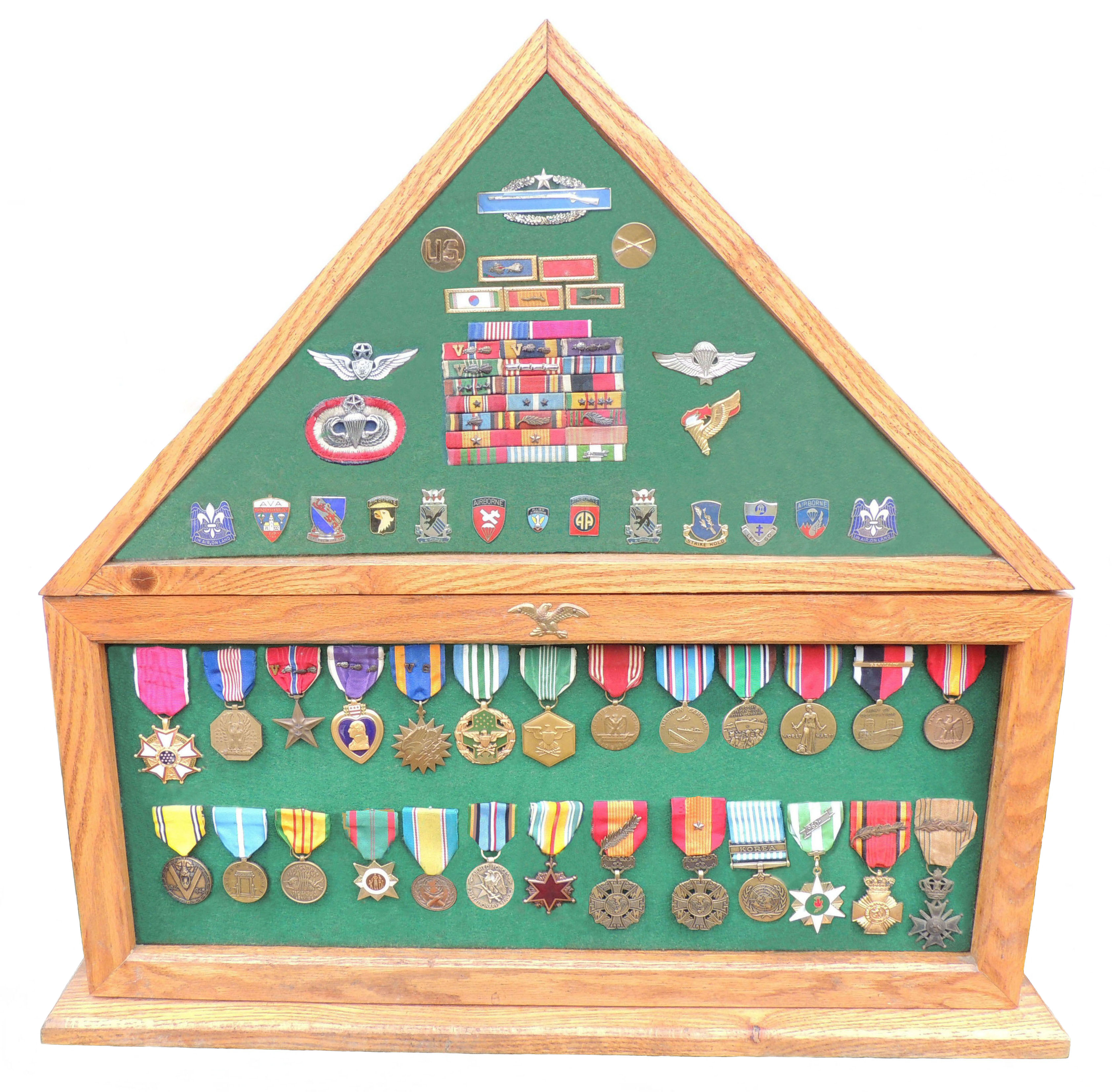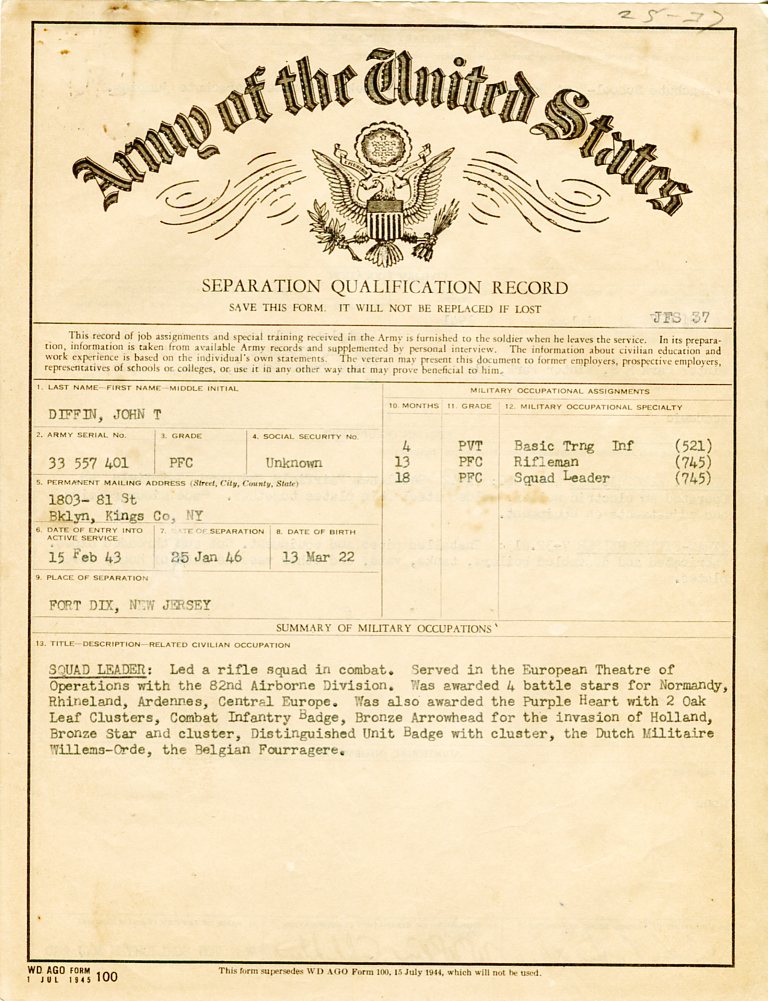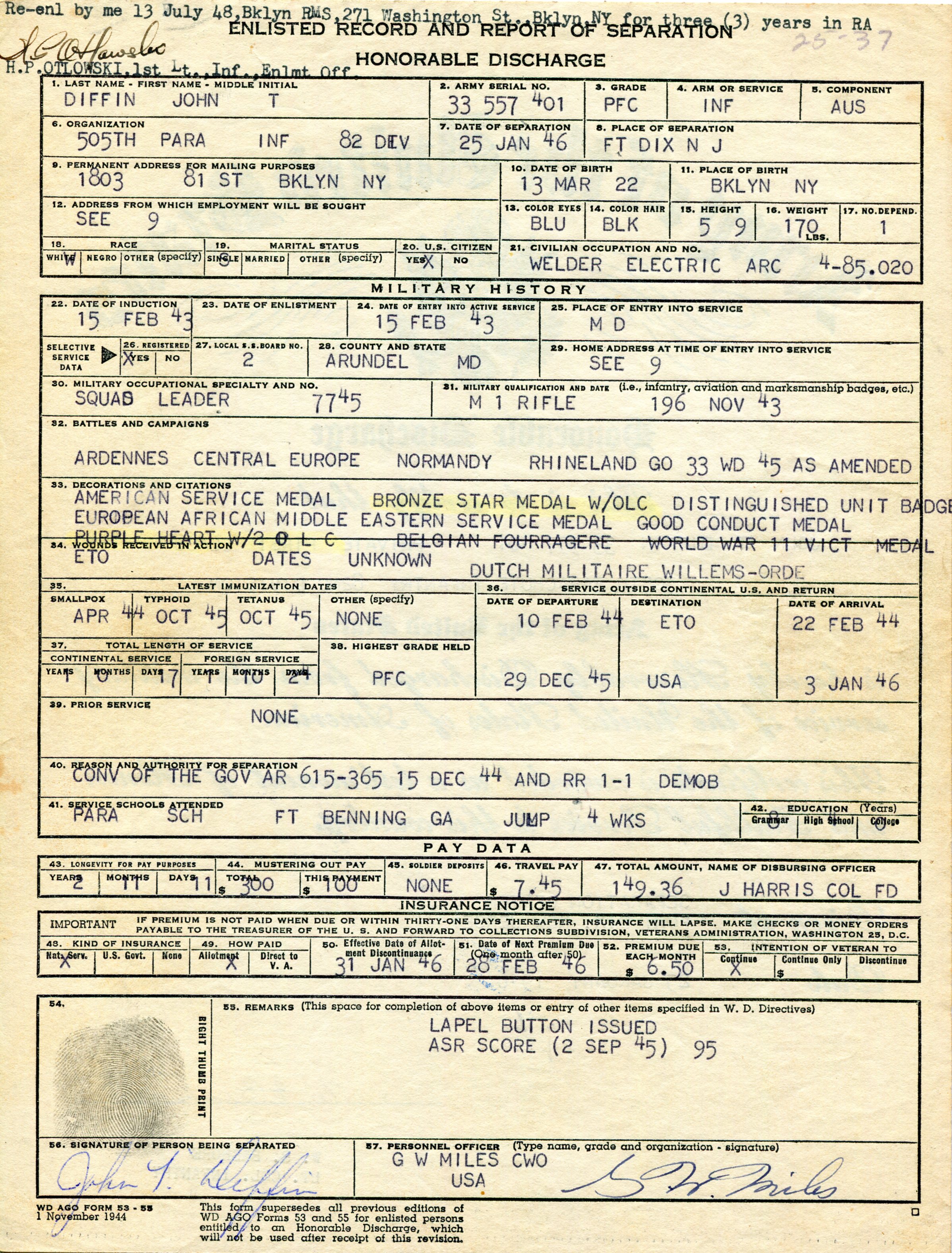 Links to a Stars and Stripes article from 1974 commemorating the 30th Anniversary of D-Day, held in Sainte Mere Eglise, France.
Sgt. Major John Diffin and General Matt Ridgeway during the commemoration of the 30th Anniversary of D-Day, held in Sainte Mere Eglise, France, June 1974. John attended as a representative of the 82nd Airborne Division.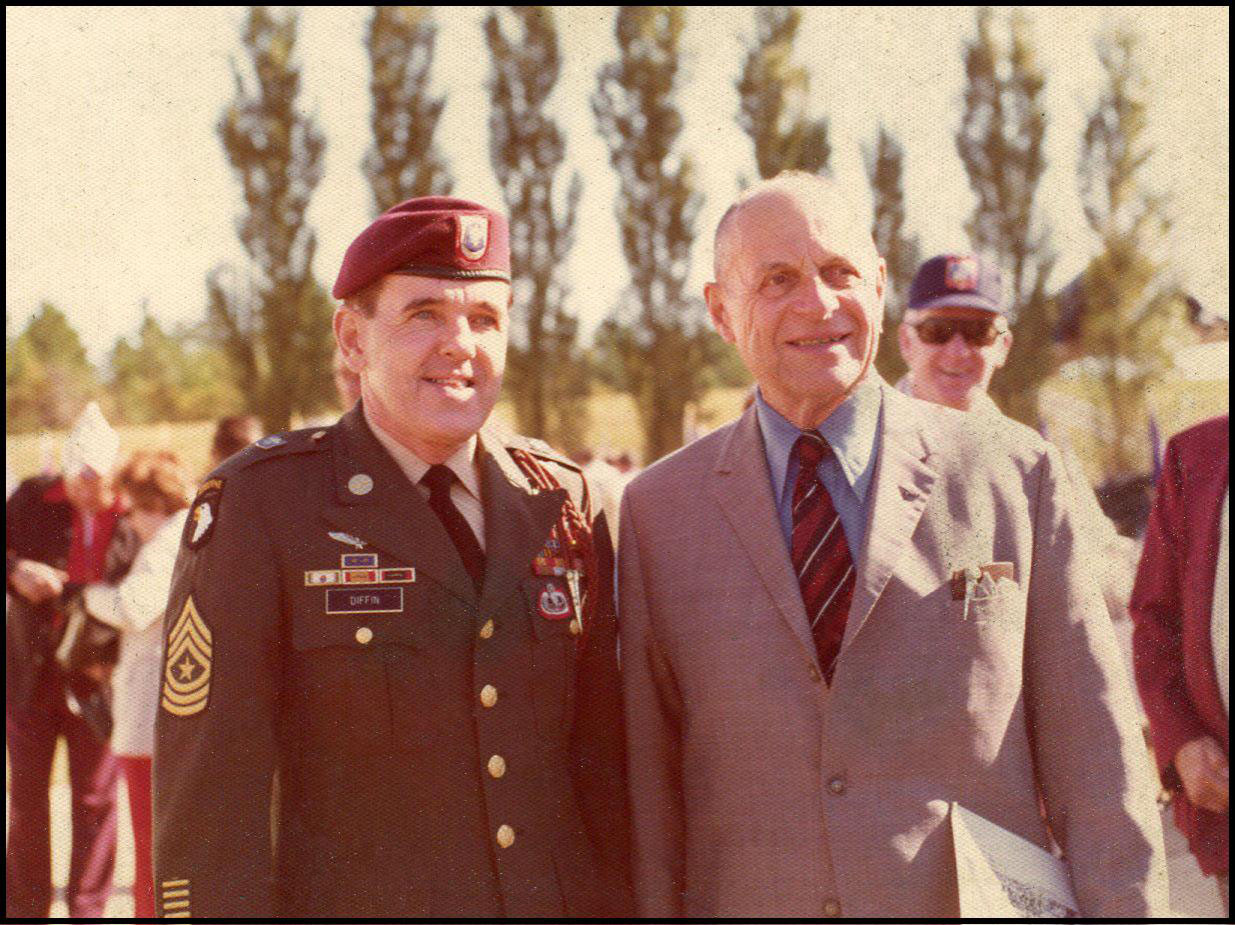 Many a paratrooper stopped by retired Sgt. Major Diffin's garage on Horseshoe Road, Fayetteville N.C. to trade stories between themselves.
(Pete Ling left - John Diffin right)