Dave Richard Bullington of Dyersburg, Tennessee enlisted in his local National Guard unit on March 12, 1940. He served with the 30th Infantry Division also known as the "Old Hickory" division, in honor of President Andrew Jackson. The Division was active during World War I and World War II. Dave took his basic training at Fort Jackson, South Carolina. On September 16, 1940, President Roosevelt federalized four National Guard divisions and called them to active duty for one year which lasted for the duration of the war.
Sometime in the latter part of 1941 Dave heard of the paratroops, a new outfit. He volunteered for the group but initially received no reply. Early in 1942 after the attack on Pearl Harbor, Dave reapplied for the paratroopers and this time he was accepted. He attended jump school for four weeks beginning on July 13, 1942. In August 1942 he earned his jump wings and was assigned to "A" Company of the 505th Parachute Infantry Regiment. In the latter part of 1942 in the Alabama area of Ft. Benning, Captain Ed Sayre became his commanding officer.
Trained as a sniper Dave parachuted into Sicily with the 1903 Springfield rifle. By the time he made his 3rd combat jump in Normandy, he was the squad's BAR (Browning automatic rifle) man. Dave participated in the Sicily, Salerno, Normandy, Holland, Ardennes and Central Europe campaigns. He was wounded four times during the war, twice in Sicily with the first and second times being on July 10, 1943. He was evacuated to a hospital in North Africa and released from just in time to make the second combat jump into Salerno. Dave was wounded a third time by shrapnel in Holland on September 22, 1944. The most serious wound was during the attack in Belgium on January 3, 1945 during the Battle of the Bulge. Dave was initially treated in Belgium for his fourth wound and then evacuated to a hospital in England. After spending several months in England recuperating from the wounds he received in Belgium, Dave returned to the 505th PIR and met up with his regiment at the Elbe River approximately fifty miles north of Berlin, approximately a week before V-E Day.
Dave, a high point veteran, was discharged August 25, 1945 from Camp Atterbury, Indiana. After a brief time as a civilian Dave re-enlisted from Fort Oglethorpe, Georgia with the rank of Sergeant on May 24, 1946 and continued to serve until June 30, 1967, retiring as a Master Sergeant after 26 years of faithful service. At the time of his retirement he was serving with the 8th Army in Headquarters Company.
He also served in Korea. Dave would have had a tour in Vietnam; however, he broke his leg during a training jump at Ft. Campbell, Kentucky just prior to his unit leaving for the war zone in the Republic of Vietnam. Dave made all four combat jumps with the 505th Parachute Infantry Regiment during World War II and made a fifth combat jump during the Korean War in North Korea serving with the 187th Airborne Regimental Combat Team.
For several years Dave served with the 101st Airborne stationed at Ft Campbell, KY and with the 503rd Regiment in the 11th Airborne Division. He was a member of the 3rd Army's All Army Pistol Team distinguishing himself as a Marksman, Sharpshooter and Expert with a 22, 38 and 45. He won many, many medals during those years including the Distinguished Pistol Badge.
Dave received the Bronze Star Medal for his participation in the Sicily Campaign and two Purple Hearts – one for a wound in Sicily and the other for his final wound in Belgium. As stated previously Dave was wounded four times and could have been awarded four Purple Hearts but choose to continue fighting. His alliance was to continue battle with his comrades. In August 2009 he received the Legion of Honor Medal at the home of the French Consulate in Atlanta, Georgia.




(Telephone interview with Dave Bullington, August 18, 2016 - Our thanks to Nancy Bullington Turnbo, his daughter.)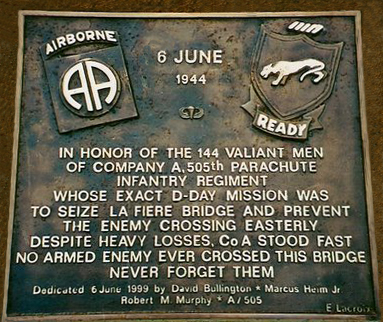 Dave's name, along with the names of his comrades from "A" Company of the 505th PIR, Robert "Bob" Murphy and Marcus Heim, Jr. are on a plaque near the La Fiere Causeway a few miles from Ste Mere Eglise in France. The plaque honors all the men of "A" Company. No enemy was able to cross the bridge.

Sergeant Dave R. Bullington of A company.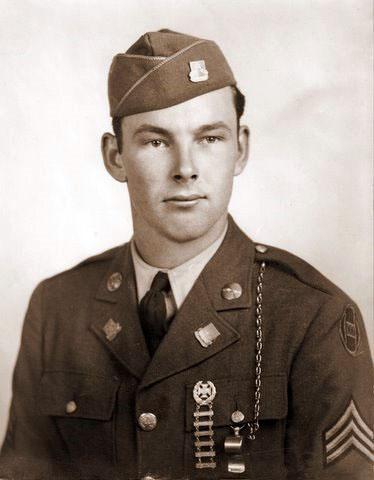 .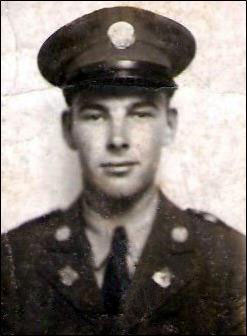 Dave Bullington in Italy 1943.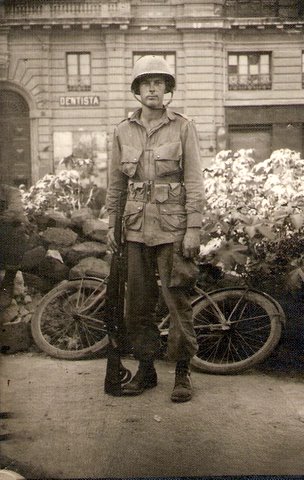 Brothers William and Dave Bullington.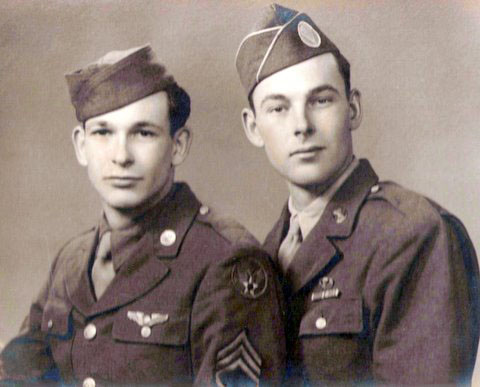 Dave and William.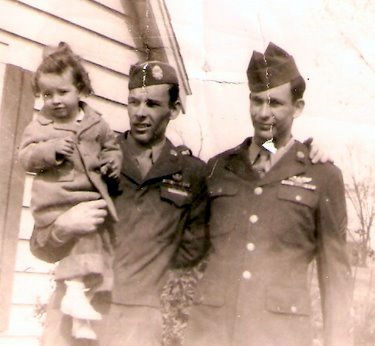 Left to right, Dave R.Bullington, Tennessee, Bill A.Harris, Oklahoma and Oscar
L. Queen of Texas. The photo was taken at camp Suippes, France after the
Holland jump. All three paratroopers were veterans of Sicily serving in the 1st
platoon of A company. Oscar L. Queen earned the Silver Star medal with oak
leaf cluster and the Purple Heart with two oak leaf clusters. Dave earned the
Bronze Star Medal and the Purple Heart with oak leaf cluster.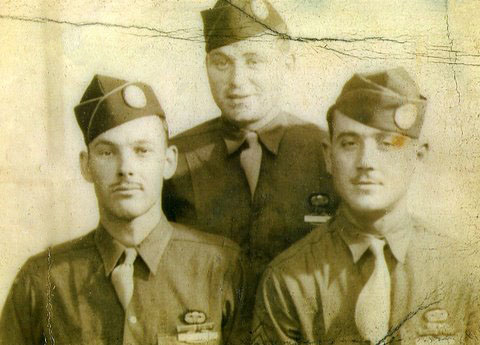 Dave Bullington (2nd from left, back row) during his time with the 503 after the war.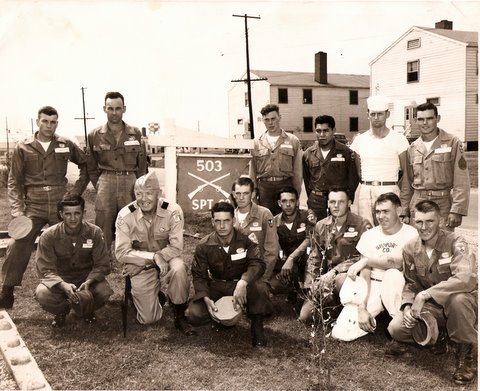 Dave Bullington, Bob-Murphy and Jim Blankenship.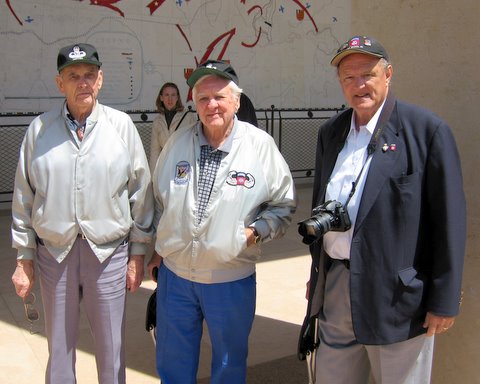 This picture, taken on July 6th 1947 at Fort Bragg, North Carolina, is of General Gavin and the original members of the 505. Dave Bullington is 3rd from the right on the top row and General Gavin is 4th from right.
General Gavin has signed the photo as follows: "To Sgt. Bullington A Combat Associate and Fine Trooper. James M. Gavin, Major General USA"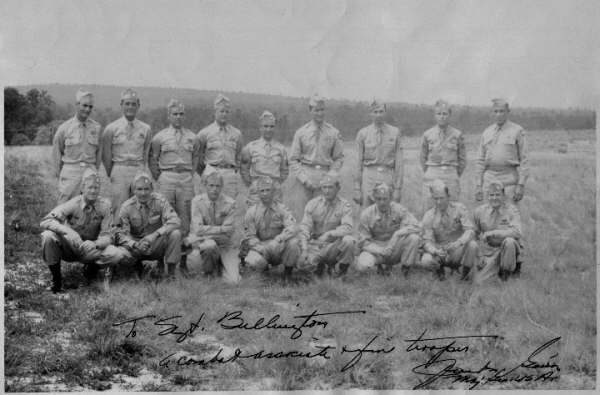 This is a close-up of General Gavin and Dave Bullington from the above picture