Medics of the 505th Parachute Infantry Regiment
This page is dedicated to James S. Wells

Hometown for James S. Wells was Falls Church, Virginia. He enlisted in the United States Army from Baltimore
Maryland on April 15th 1941. James was better known as Stanley to his fellow 505 troopers, family and friends.
James went to McKinley Tech High School in Washington D.C., a very athletic student, he was quarterback of
the football team, in baseball, his position was catcher, he also ran track and pole vaulted.

At the end of April 1943, the 505th Regimental Combat Team shipped out for North Africa, In July of 1943 James made his first combat jump into Sicily, his second combat jump was made in September of 1943 into Italy. The regiment returned to Africa in late November 1943. From Africa the regiment was moved to Ireland in December of 43. Two months later James arrived at Quorndon, England where the regiment prepared for the D-Day jump. In the early hours of June 6th, 1944, James made his last jump, landing in a tree from were he could see John Steele hanging on the church steeple in the town of Ste. Mere Eglise. All three jumps were made with D Company of the 505(as medic Fred Morgan recalls). After the D Day campaign, the 505 returned to Camp Quorn England. Stanley suffered a relapse of malaria, which he had contracted either in North Africa or Sicily. He'd go into the hospital, get well and then go back out into the field, where he'd get sick again. This went on for some time, finally doctors decided to ship him back to the States where he would be able to recuperate fully. According to Rick Wells, James' son, this happened just before the Market Garden campaign. As the war in Europe was drawing to a close James received orders to return to the battlefield. He never returned, he didn't have to. The war was over!
Photos and bio information supplied Rick Wells, James' son.

Medic technician fourth grade (E-5) James Stanley Wells is standing to the
left rear. His best friend James E. Westbrook is seated in front of him.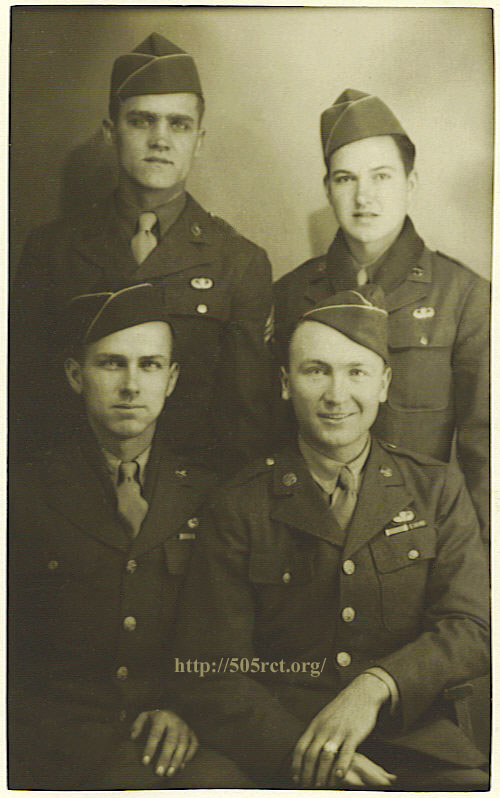 James S. Wells is 2nd in from the left. To his left smoking a
pipe is his visiting brother-in-law Tom McGhee. To his right
is James E. Westbrook. The other five medics are unknown.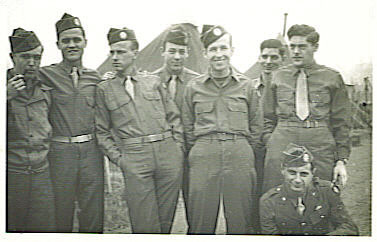 Ready for combat, medics of the 505th.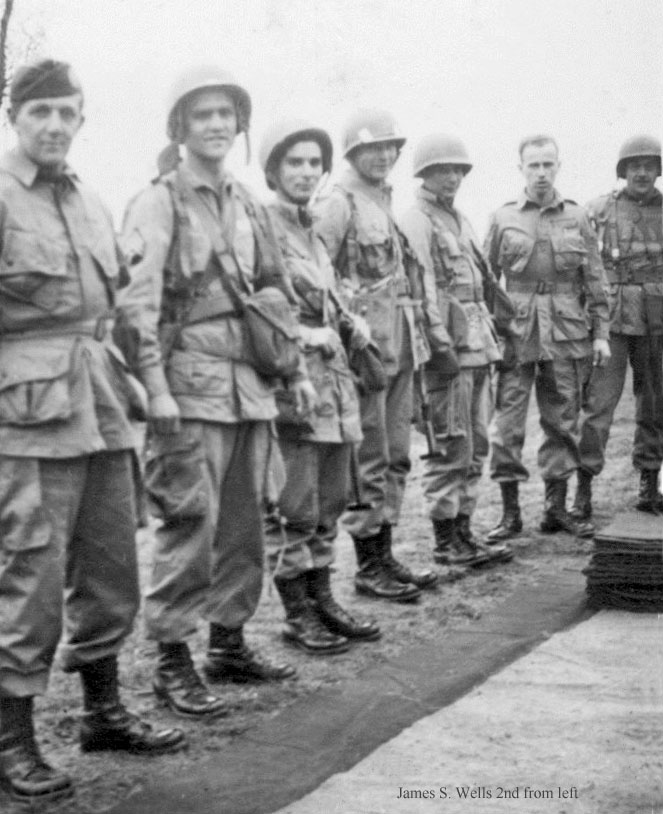 | | | |
Copyright © 2012 505rct.org, All rights reserved.
Webmaster