80th Airborne Artillery
Interesting Information
The 80th should be referred to as the 80th Airborne Anti-Aircraft (Anti-Tank) Battalion. Originally, it was known at the start as the Anti-Aircraft and Anti-Tank Battalion but was shortened to 80th Airborne Anti-Aircraft Battalion (80th Abn. AA or 80th AA) in after action reports and most paperwork. Generals Ridgway and Gavin actually referred to Lt. Colonel Singleton as their antitank commander, as this was the role most often played in the defense of the 82nd lines and its attack formations. Anti-tank units and tank destroyer battalions attached to the 82nd in campaigns reported to Lieutenant Colonel Singleton who drew up the anti-tank (AT) logistical plans and operations for the various campaigns.
The word "artillery" was never used because the .57MM anti-tank gun was considered a "rifle". Yet, when the 80th was born from the infantry companies of the 325th and 326th infantry regiments, the then battalion commander, Major Whitfield Jack, rejected the idea that his men should be considered infantrymen as was the case of all other anti-tank companies in the Army. He argued that only one-half the battalion was heavy weapons (.50 caliber Machine Guns) and that the then .37MM gun was an Anti Aircraft weapon in some units like Coast Artillery. This is how the 80th AA wound up with the Insignia of Coast Artillery Corps. (Crossed cannons and a shell in the center - see below). No greater misnomer could have befell the 80th, the unit had no artillery weapons nor did it ever guard the coast.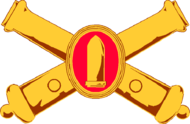 Coast Artillery Corps (CAC) insignia.

80th Abn. AA Bn. insignia
Anti-Tank units and Anti-Aircraft units of the regular infantry divisions earned Combat Infantry badges as they were part of the infantry companies and were obviously right in the thick of things when on the line. Unfortunately the 80th AA men were denied the Combat Infantry badge because they were "Coast Artillery".

| | | |
Copyright © 2012 505rct.org, All rights reserved.
Webmaster