HOLLAND
Operation Code Name - MARKET
September 11,1944 through November 16,1944
.
"Where is the Prince who can afford so to cover his country with troops for its defense, as that 10,000 men descending from the clouds, might not, in many places, do an infinite deal of mischief before a force could be brought together to repel them?"
- Benjamin Franklin
Within a few hours of the Allied paratroopers landing in Holland, the Germans found a complete set of battle plans for operation Market-Garden in a glider that crash landed within their lines.**
Either because of German proficiency or the fact these plans were truly discovered, higher ups in the German Army organized and mobilized every German combat unit in southern Holland.
Photo was taken near Groesbeek, Holland at a British minefield.
Lt. Richard S. Aiken, 456 PFAB is in the photo.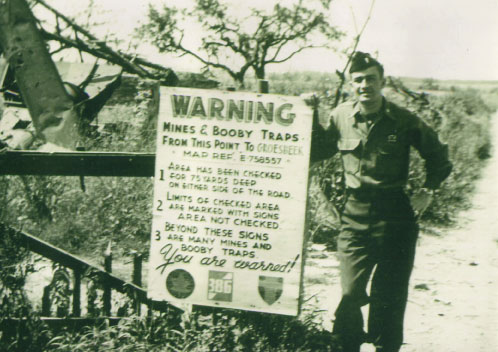 [TO BE CONTINUED…]
**This statement has not been confirmed, page 333 "Ridgway's Paratroopers"
THE BEGINNING | NORTH AFRICA | SICILY | ITALY | NORTH IRELAND | ENGLAND | NORMANDY | HOLLAND | CENTRAL EUROPE | BERLIN