Paratroopers
This page is dedicated to Robert M. Matteson

Robert served as a Marine and mustered out prior to WWII. He was then drafted into the quartermaster corps and from that unit volunteered for the paratroops. Robert was one of the older members of the 505-PIR, serving from the early days of the regiment he remained with them throughout the war. He is mentioned in Marshall's "Night Drop" at the battle for the LaFiere Bridge. He was a Silver Star recipient in Sicily. A sergeant during most of his time in the ETO he received a battlefield commission to 2nd Lieutenant. sometime after LaFiere battle. I believe he was in Able Company of the 1st Battalion.

He was KIA on January 3rd 1945 during the Bulge counter offensive and is buried at Henri Chappell cemetery. He is listed in Allan Langdon's book "Ready" as KIA in the Ardennes.






Below is an envelope containing a letter from paratrooper Bob Murphy to his sister. The bottom left corner of the envelope shows that it was censored by Lieutenant Matteson.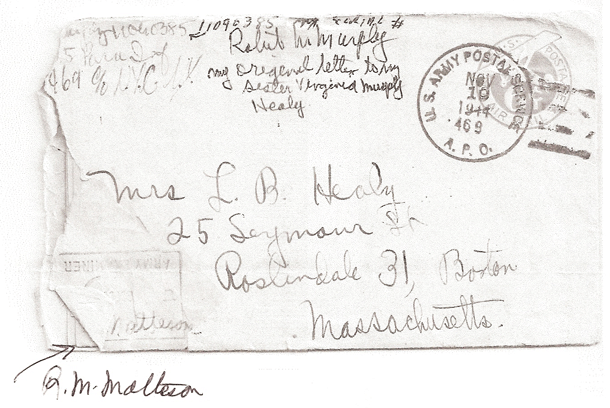 According to fellow paratrooper Robert Murphy: "2nd Lt. Robert M Matteson was a 1st Sergeant in 'A' Company 505 and received a battlefield commission after Normandy. He was a great combat soldier and was KIA in Reharmont, Belgium on January 3rd 1945. He may have been attached to the 325-GIR when he was KIA."

| | | |
Copyright © 2012 505rct.org, All rights reserved.
Webmaster